Photo credit: Samuel Thomson
Boardmasters International Surf Competition will return this summer to the UK's surfing mecca, Fistral Beach welcoming even more global pro-surfers than ever before as it hosts the World Surf League (WSL) Longboard Qualification Series. Boardmasters 2015 will take place along the stunning Cornish coastline from Wednesday 5 August to Sunday 9 August. Tickets are available NOW from the website.
Held across five days, this year's Boardmasters International Surf Competition categories will include the newly added WSL LQS1000 Mens Longboard and WSL Womens Longboard comps, the Mens Open, Womens Open, Pro Junior (mens U18) and new comp Pro Junior (womens U18) as well as the much-loved Whippersnappers U12 (mixed) competition.
Fans and festivalgoers in their tens of thousands are expected to descend on the heart of UK surfing, Fistral Beach and watch their local heroes as well as global stars battle it out to be named surf champion. With the return of the WSL LQS1000 Mens Longboard competition, all eyes will be on Boardmasters legend, Ben Skinner who is sure to return this year to defend his title.
An exciting new addition to the International Surf Compeititon will be the WSL Womens Longboard event. For the first time in Boradmasters Longboarding history, the girls are lined-up to showcase their agility, strength and poise in the water, making the Longbaording events certainly ones not to miss.
Boardmasters 2015 will also be continuing to champion young talent with its Pro Junior and Whippersnapper competitions. New this year, focus will be on the rising female talent competing in the new Pro Junior (women's U18) competition. Boardmasters is expecting some thrilling surf action when it gets underway at the event this summer.
Returning once again to oversee all the surf competitions is Contest Director, Dave Reed, "This years Boardmasters is again growing in strength. We have a fantastic opportunity for International and British surfers to compete for big prize money and good media exposure in the biggest surf festival in the UK. The highlight will undoubtedly be bringing back two International WSL (formally ASP) events; the Men's and Women's Longboard divisions. This will give the opportunity for the best British Longboarders to compete on the International stage in the UK."
Commenting on Boardmasters hosting two World Surf League Longboard events, Tour Manger Rob Gunning said, "For the WSL it is a great pleasure to be returning to Boardmasters with two longboard events that will showcase both local and international riders as they battle it out at Fistral beach. The Boardmasters longboard Pro Newquay will kick off a three-event leg of Longboard Qualification Series events this season and will count towards the final year's rankings for qualification into the elite World Longboard Championship. The British contingent, lead by local rider Ben Skinner, will have the opportunity to compete on home soil, which is a huge advantage and a great support from the event organisers."
Boardmasters Festival Director, Andrew Topham said, "We're thrilled to confirm all 7 categories of surf competitions, welcoming the return of the two international World Surf League events (previously ASP) and to be able to increase prize money again this year. In the WSL Men's Longboard Open, we're looking forward to seeing the world's best battle it out and Ben Skinner returning to defend his title. Last year's competitions were so well received, attracting the biggest waterside crowds we've ever seen and we want to build on that triumph."
Entry registration for the WSL Longboard Qualification Series is via the WSL website Entry for all other Boardmasters categories will be via the Boardmasters website.
Click this link for information on the Boardmasters Interational Surf Compeittion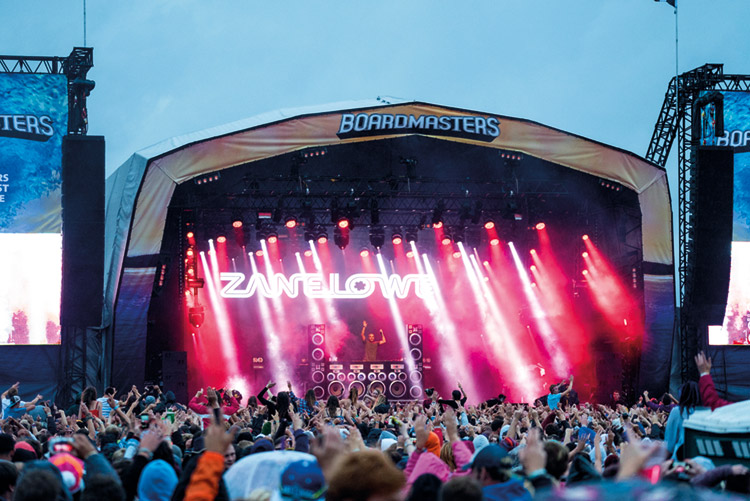 In addition to the International Surf Competitions, Boardmasters will also host the 'Beach Sessions' gigs in the evenings of Wednesday 5 and Thursday 6 August. Acts performing will be announced soon!
The festival will then continue down at Watergate Bay for a weekend of explosive live music from Friday 7 to Sunday 9 August. Confirmed headline acts so far are Bastille and Rudimental. Other performances across the weekend will come from Clean Bandit, De La Soul Live, Duke Dumont, Nick Mulvey, Lower Than Atlantis, Reef, MNEK, Sunset Sons, DJ EZ and The Darkness with more still to be announced including the third and final headliner.