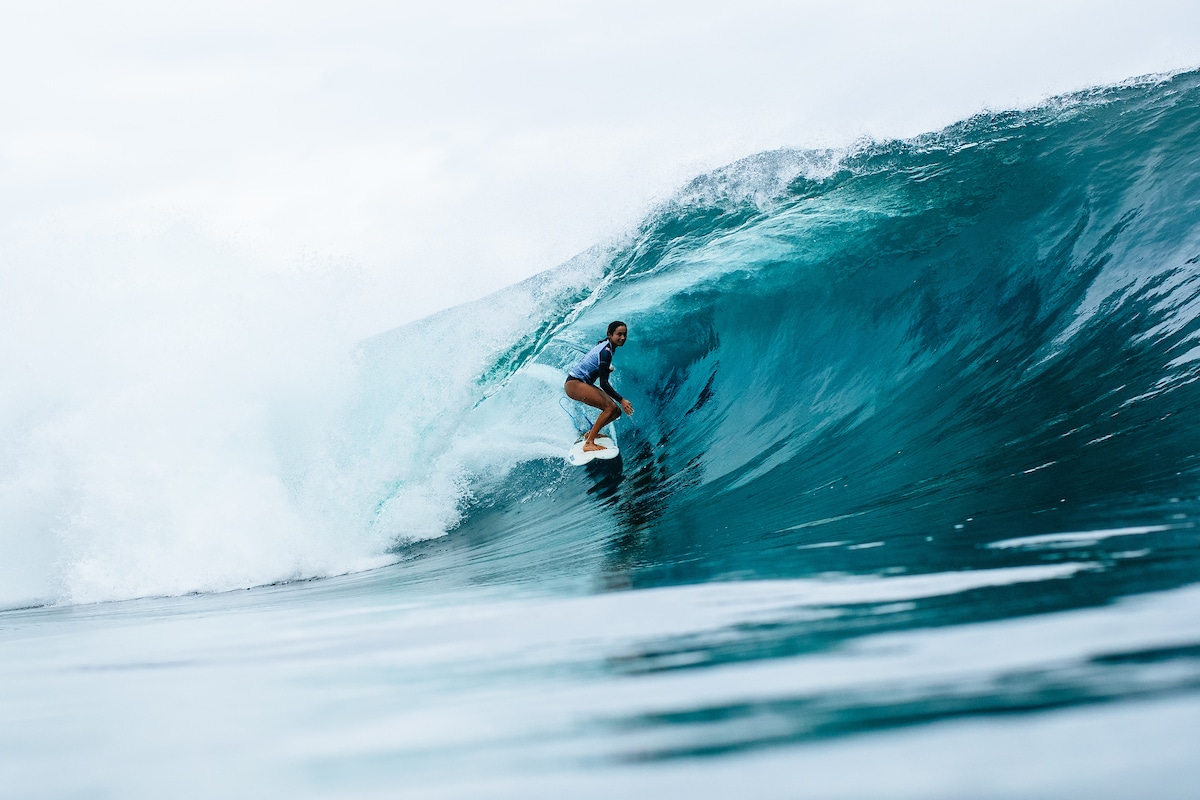 Local wildcard Vahine Fierro (FRA) on one of the best waves of the opening day at the Outerknown Tahiti Pro. WSL / Poullenot
The Outerknown Tahiti Pro, Stop No. 10 on the World Surf League (WSL) 2022 Championship Tour (CT), saw a short yet historical day of competition with the women making their return to the left-hand barrels of Teahupo'o. After a number of days of sub-par conditions, competition finally got underway today in clean, inconsistent three-to-four foot surf for the completion of women's Opening Round.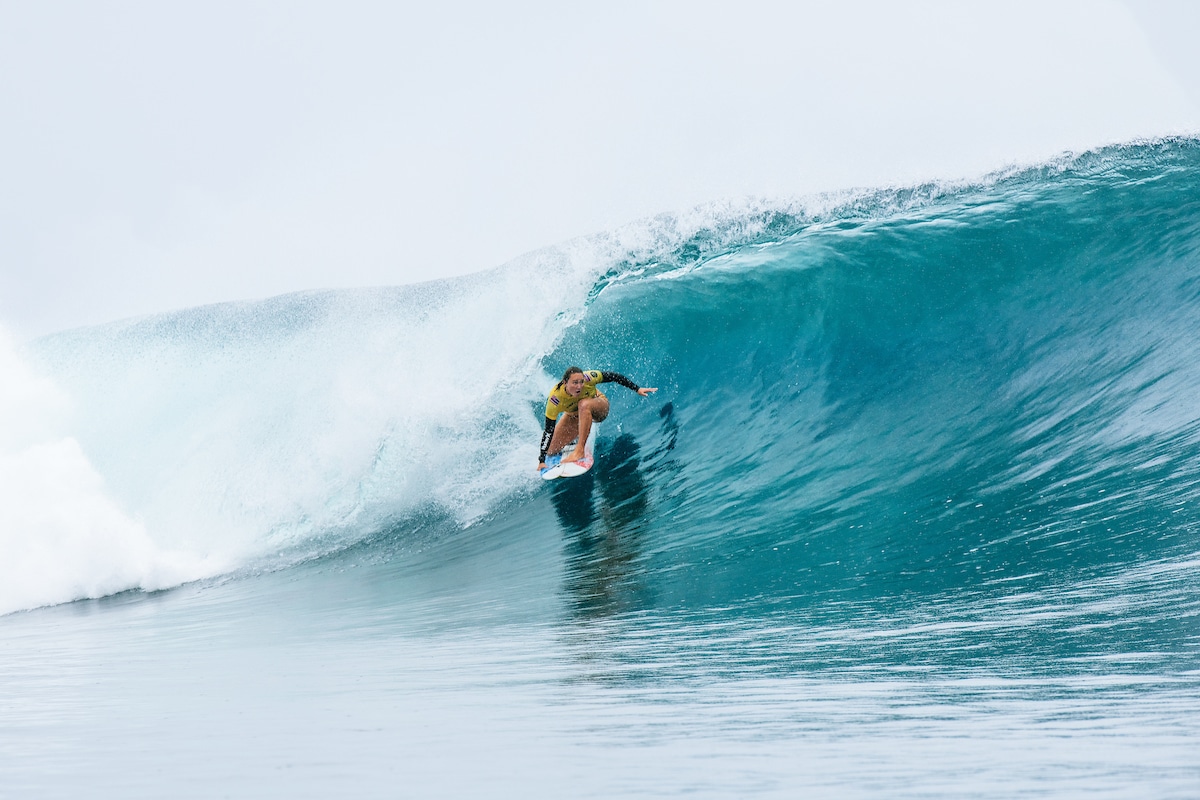 Carissa Moore (HAW) was the standout on Day 1 of competition. WSL / Poullenot
Reigning World Champion Carissa Moore Dominates Day 1 at The End of The Road
The second heat of the day saw two of the event favorites in five-time WSL Champion Carissa Moore (HAW) and local wildcard Vahine Fierro (FRA) do battle with CT rookie Gabriella Bryan (HAW). The match-up didn't disappoint as Fierro and Moore went wave for wave, both finding set wave tubes in the 35 minute encounter. Fierro showed her effortless style on her best ride, stroking into a long hollow pit for a 6.90 (out of possible 10). But, it was no match for Moore who found two of the biggest barrels of the day to post a two wave combination of 13.84 (out of possible 20) which included a near excellent 7.87. Moore claimed the highest single wave score and highest two wave total score of the Opening Round.

"I was a little nervous out there – there has been nerves building up for months coming into this event so it was cool to finally be out there and know I was finally surfing my first heat in Tahiti," Moore said. "I knew there was a strong chance I'd come into this event as the top seed and would probably find myself coming up against Vahine (Fierro). I have spent the last few months watching clips of her and seeing the waves she gets out here and she truly is the Queen of Teahupo'o so I'm glad to get the win in that heat. Then to come in and find out I've clinched the top spot in the Final 5 – I'm super stoked."

WSL Final 5 Scenarios Begin to Take Shape in Tahiti
Playing as the final event of the WSL Championship Tour season, the Outerkown Tahiti Pro is the last chance for surfers to clinch their spot in the WSL Final 5 ahead of the Rip Curl WSL Finals at Lower Trestles next month. With her result today, Carissa Moore (HAW) clinched the No. 1 seed spot in the Finals with Johanne Defay (FRA) also locking in her spot in the Top 5, meaning there are only three spots left to clinch. Stephanie Gilmore (AUS) won the opening heat of the day, progressing into the Quarterfinals and closer to clinching a spot at Trestles and having a shot at a record-breaking eighth World Title.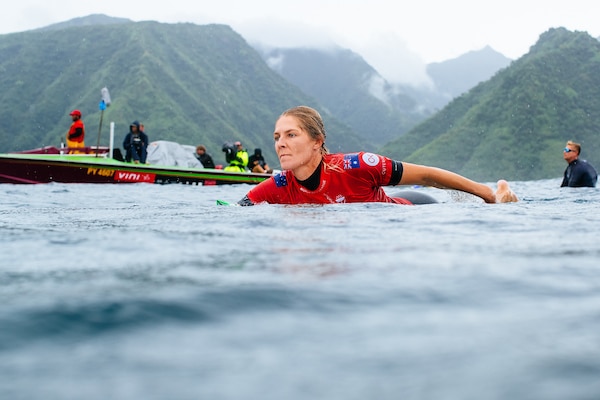 Stephanie Gilmore / Poullenot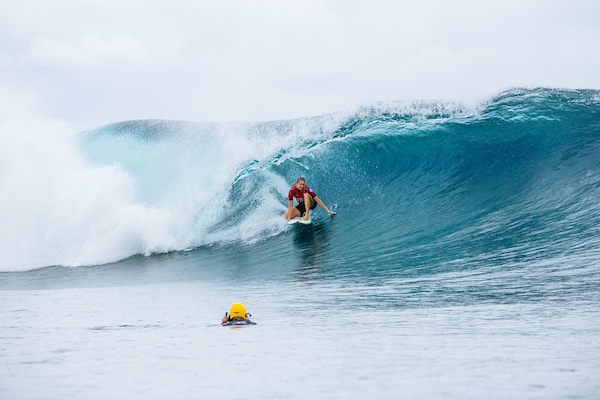 Stephanie Gilmore / Beatriz Ryder
"To be honest I was so nervous and excited during that heat," Gilmore said. "All three of us were sitting out there looking at each other being like 'alright let's go' which was really cool. It's really cool that we are here and have this opportunity go out at Teahupo'o and try our best. It was really slow out there so my strategy was to just stay busy and and get scores with turns and if a barrel comes, hope to be in the right spot, which worked out. That heat in particular was stressful because Brisa was in it and we are both fighting for our spot in the Final 5 and she is right there with me, so it was a really important heat for both of us."
With Gilmore moving through and two surfers already clinching, there are a handful of surfers with a mathematical chance of still clinching. The surfers, including Tatiana Weston-Webb (BRA), Brisa Hennessy (CRI), Lakey Peterson (USA), Tyler Wright (AUS), Gabriela Bryan (HAW), and Isabella Nichols (AUS), were all unable to progress into the Quarterfinals today meaning they will all face off in the Elimination Round and are in danger of losing their existing spot or potential spot in the WSL Final 5. These scenarios will play out massively when competition resumes in Tahiti.
Marks and Conlogue Stamp Authority at Teahupo'o
Having travelled to Teahupo'o on a number of occasions over the past few years, goofy-footer Caroline Marks (USA) has an obvious affinity with the left-hand slabs here in Tahiti. Her experience was on show in Heat 3 of the Opening Round as she threaded a long tube to claim a solid win over Johanne Defay (FRA) and Tyler Wright (AUS). Marks will be looking forward to the forecasted increase in swell size as she looks to push herself in solid barrels and claim her first CT win of the year.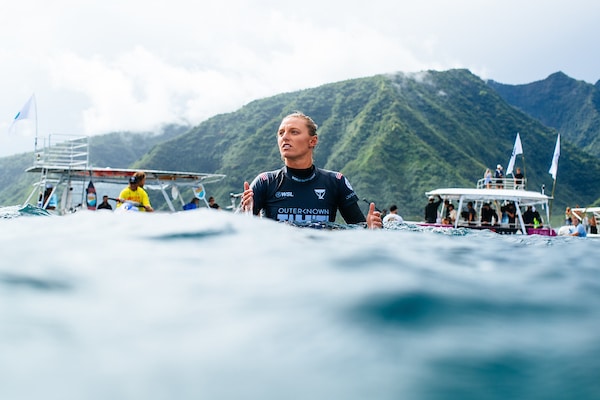 Lakey Peterson (USA) must overcome Tyler Wright (AUS) in the Elimination Round if she is to clinch a spot in the WSL Final 5. WSL / Poullenot

"That was my first heat out here, which was really exciting," Marks said. "This is a dream come true for me. I thought about this as a kid and I grew up watching the men out here and knowing what a scary intimidating wave it is, so it's cool to see how far the women have come and to be out here sharing the lineup with the girls. It's super exciting to see the forecast we have on hand and although it's been a long wait to get started, Tahiti is such a beautiful place to hang so we've all been enjoying it and having a lot of fun. When the wave come they're really fun but it's just a bit slow, looks like it's only getting better from here for the rest of the week."
Marks will be joined in the Quarterfinals by fellow USA representative Courtney Conlogue (USA), who put on a strong backside performance to progress through her Opening Round heat on day 1 of competition.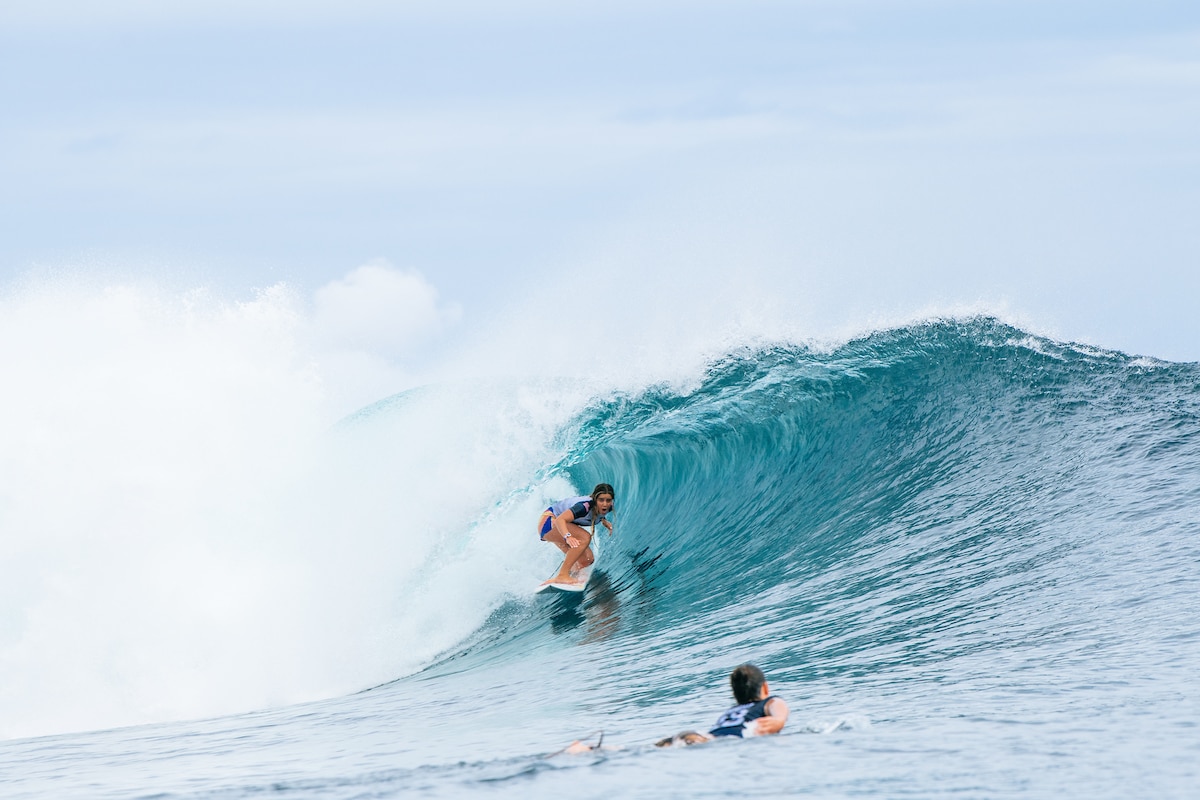 Caroline Marks (USA) looks to be one to beat at Teahupo'o. WSL / Ryder
Outerknown Tahiti Pro Women's Opening Round 1 Results:
HEAT 1: Stephanie Gilmore (AUS) 7.50 DEF. Brisa Hennessy (CRI) 5.60, Isabella Nichols (AUS) 2.67
HEAT 2: Carissa Moore (HAW) 13.84 DEF. Vahine Fierro (FRA) 11.73, Gabriela Bryan (HAW) 1.63
HEAT 3: Caroline Marks (USA) 9.50 DEF. Johanne Defay (FRA) 6.20, Tyler Wright (AUS) 3.80
HEAT 4: Courtney Conlogue (USA) 7.77 DEF. Tatiana Weston-Webb (BRA) 7.44, Lakey Peterson (USA) 4.90

Outerknown Tahiti Pro Women's Elimaintion Round Matchups:
HEAT 1: Johanne Defay (FRA) vs. Vahine Fierro (FRA)
HEAT 2: Brisa Hennessy (CRI) vs. Gabriela Bryan (HAW)
HEAT 3: Tatiana Weston-Webb (BRA) vs. Isabella Nichols (AUS)
HEAT 4: Lakey Peterson (USA) vs. Tyler Wright (AUS)