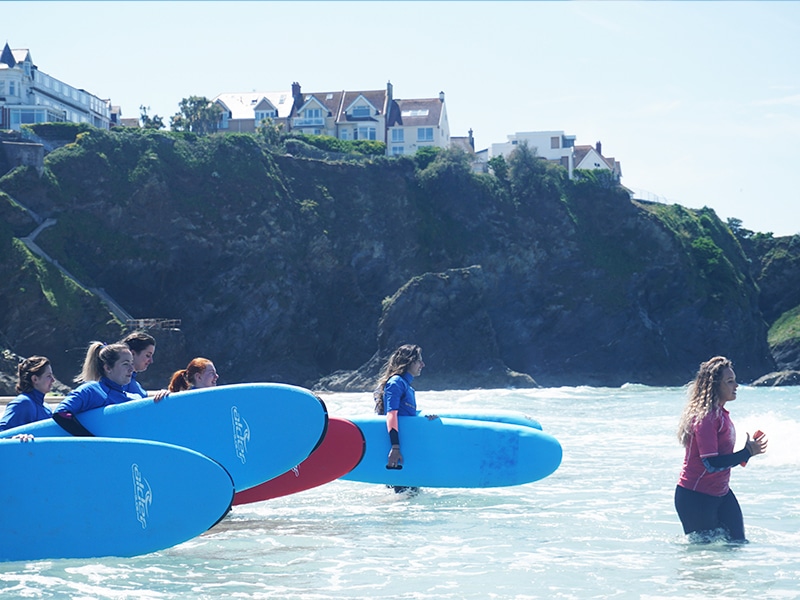 Have you always wanted to learn to surf but keep putting it off? Maybe you don't feel strong enough, healthy enough, or you don't have anyone to go with. Well there's no better time to learn to surf than now. It is really as simple as booking a surf lesson and going for it. That's it! The rest you'll get taught during the lesson, and the more you practice, the more knowledge of the sport you will absorb. Here we share our tips on how to prepare for learning to surf.

TIPS FOR GETTING STARTED:
Book a surf lesson
First up, the most important thing you can do for your future surfing self is to book a surf lesson. Within the lesson you will learn all there is to know about the surfing basics and it will fast-track your surfing. Find a highly recommended surf school at the beach of your choice and book either a group lesson or a one-to-one. Just be sure to tell them you're a beginner when booking. Once you've had a series of lessons and been out a few times on your own to practice, it's always worth coming back to hone your technique.
Manage your expectations
You may not stand up on your first surf lesson but this is OK, so remove any unnecessary pressure that you put on yourself. Just enjoy the lesson, embrace the wipeouts and remember that surfing is a challenging sport to master, and even the professional surfers had to start somewhere. It may take several attempts, lessons or even months of practising before you get to a stage when you can catch waves independently.
Ask questions
Don't be afraid to ask questions about surfing, the beach or anything about surfing. For example, what you may need to bring for your lesson. Knowledge is power, and this couldn't be more prevalent when discussing learning to surf. Ask your instructors and any friends who surf.
Learn about the waves
Knowing about waves – how they are formed and what types of waves there are – is a crucial element to becoming a surfer. Find out about the weather too, as this affects the surf, which can determine how much fun you have in the water.
Go with a friend
If you can convince someone to join you on a surf lesson then be prepared to laugh at lot! Surfing with friends is a wonderful thing, so do your best to find a buddy to share your surfing journey with.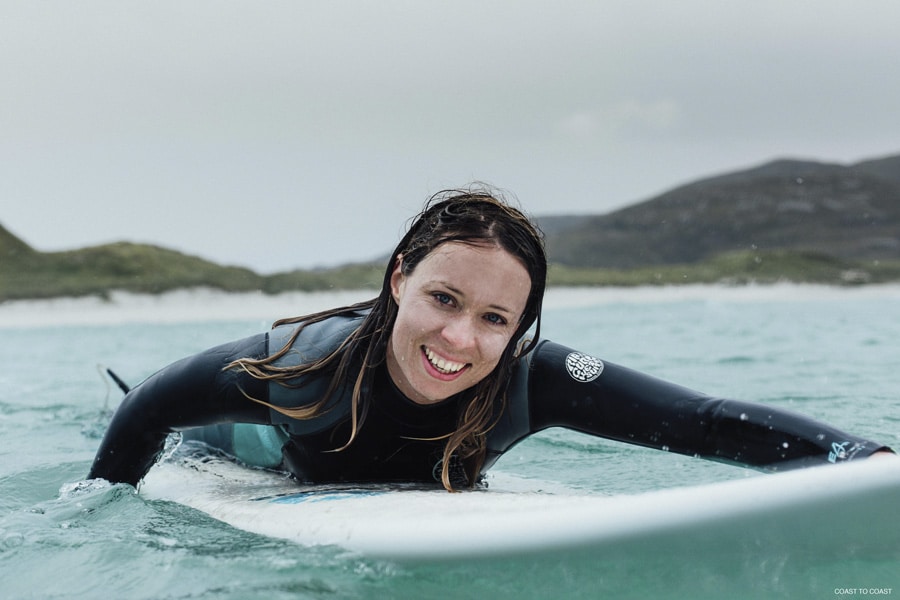 If you're a beginner or an improver, fast track your surfing at one of the UK's best surf schools. Learn how to stay safe in the surf, grasp the fundamentals of wave riding and get expert tips from the coaches in groups or individual lessons. Surf schools offer so much more than beginner surf lessons these days, so check out what's on offer and book up some lessons.

Saltburn Surf School
Location: Saltburn By The Sea, North East England.
We offer lessons from beginners to advanced surfers,  Adult or Junior Surf Courses to progress, or just a fun day out for all the family. International and Surfing England approved. All instructors are DBS checked and hold Water Safety Awards.

The Jersey Surf School
Location: Jersey
Jersey's oldest surf school operates from the bunker at Le Braye Slipway on St Ouen's Bay. Joined with a health café and yoga classes, our aim is to bring a well-rounded experience, encouraging fun with a touch of mindfulness.

Freewave Surf Academy
Location: Bude, Cornwall
Come and meet the team at Freewave Surf Academy. We run awesome surfing lessons, exhilarating coasteering experiences, super-fun SUP adventures, and unforgettable surfing and yoga holidays, all in Widemouth Bay near Bude, Cornwall. 

Smart Surf School
Location: Sennen, Cornwall
Smart Surf School offers bespoke group surfing classes and tailored private lessons. They also provide accommodation for all-inclusive breaks at their beautiful base, Sennen Cove. Meet the pro surfing family team and learn to surf with the best! 

Escape Surf School
Location: Newquay, Cornwall
Newquay's specialist Surf School provides surf coaching for beginners to advanced surfers, from our highly experienced coaching team. Facilities include changing rooms, hot showers, premium surfboards and wetsuits, bar/restaurant, surf hire.  Open all year. Online booking available.


Surf Sanctuary
Location: Newquay, Cornwall
Bespoke surf school located in the fantastic Headland Hotel overlooking Fistral Beach. We offer experiences and coaching in all elements of surfing and ocean sports, and are specialists in building confidence and ocean awareness. Superbly equipped with excellent facilities, open all year. 

Kingsurf Surf School
Location: Mawgan Porth, Cornwall.
Kingsurf Surf School provides fun, professional and safe surfing lessons for all abilities. From one lesson taster sessions to week long progressor surfing courses, we are the areas number #1 provider of quality surf tuition!

Coast to Coast Surf School
Location: Scotland
Scotland's premier surf school, with innovative, high-quality surf instruction by experienced surfers. Enjoy surfing, bodyboarding and stand-up paddleboarding on the east coast of Scotland, south east of Edinburgh, and unique Scottish Surf Tours on the west coast islands.