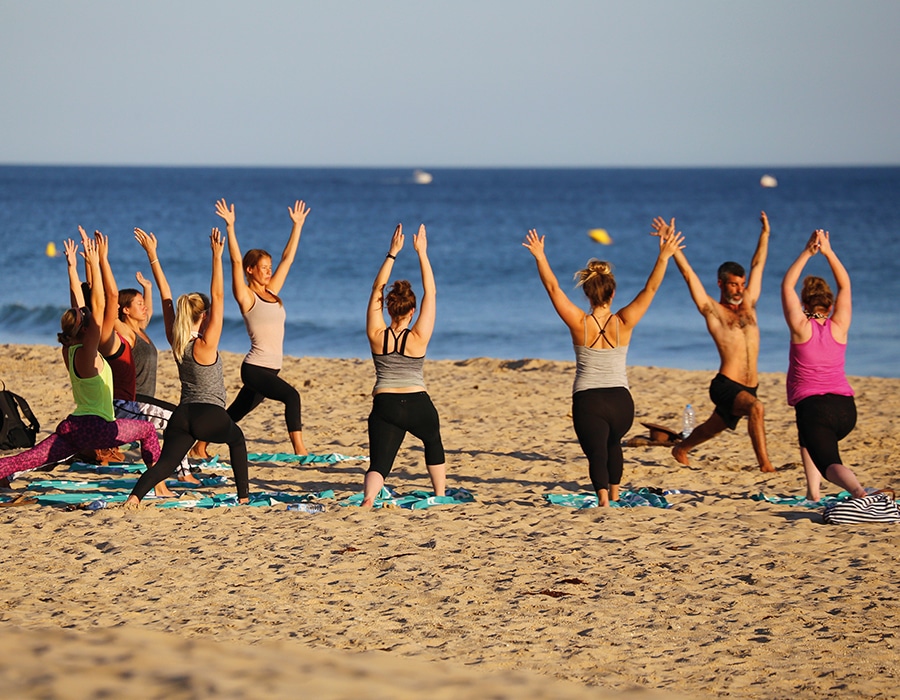 For the last 28 years, The Surf Experience have been creating the ultimate surf holiday in Lagos, the heart of Europe's thriving summer surf scene. Options of surf school, surf safaris, pro bootcamps, longboard and yoga weeks combined with awesome accommodation options, unrivalled catering and music events, makes this one of the greats. We caught up with team for more information…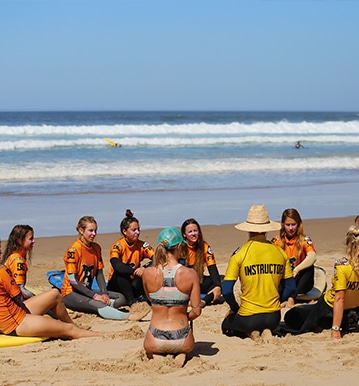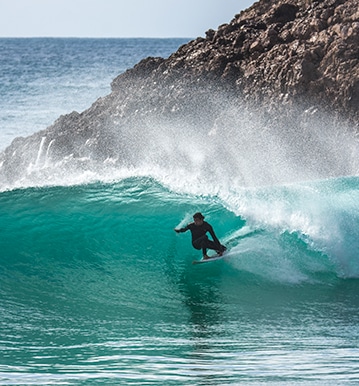 What types of yoga do you have available at the camp?
There are specific YOGA weeks available for healing, classic and private retreats but in true Surf Experience style we have requested a more relaxed style to appeal to both first timers and experienced – bringing all our crew together in a different environment. This is also adapted to the end-of-the-day work down after a great day of surfing.
What should budding surfer girls expect if they book onto the Mad To Live Retreats at Surf Experience?
The trips are heart-racing, unforgettable adventures with a focus on physical and mental wellbeing and learning new skills to take home. Hosted with the Surf Experience, the original and Europe's oldest surf & lifestyle company based in the heart of Europe's thriving summer surf scene, Lagos, Portugal. At the heart of Mad To Live Retreats is an empowering experience of being immersed in the energising surf scene and culture, a bonding experience with the fellow guests, and leaving feeling charged, healthy and invigorated by the experience of a lifetime. You are in the supremely safe hands of the team and coaches who go to all-lengths to ensure the trip of a lifetime.
Where do guests stay?
The SURFHOUSE is social, full of features and has cool décor. This is the main hub but we also offer the PENSAO ensuites & 3 Marias Guest and Garden houses 90 seconds from the Surf House. Our new base for MTL weeks moves up a few levels to VILLA KILLARA – a fully equiped luxury villa with outdoor areas, pool & tennis court based in the beautiful town of PRAIA da LUZ. 5 mins drive from Surf Experience HQ. The house is social, full of features and has cool décor. This is the main hub but we also offer the Boutique, a fully equipped modern apartment which is located 90 seconds from the Surf House, the Casa Mae Hotel and our self catering apartments.
Any women's only weeks?
Yes. We have once again partnered up with Mad to Live for our women's only surf and fitness week. This is a jam-packed 7 days of surfing with expert tuition, sunset beach yoga sessions, horseback riding, sunrise trail running through the stunning Algarve landscape, 1:1 boxing sessions and adrenaline-pumping mountain biking across the beautiful cliffs. You will also have the opportunity to kick back and relax. We have weeks in June 20th – 27th, September 26th – 3rd and October 3rd – 10th.
We also host the all female SURF & CULTURE weeks. 16 – 23 & 23 – 30 May. Hosted by Swedish archeologist generally entails, surfing , searching skate parks, pastel de natas, vinho verde and of course taking in some historical and geographical elements of our beautiful coastlines.