CT rookie Caitlin Simmers (USA) won the MEO Rip Curl Pro Portugal Presented by Corona, the third stop on the World Surf League (WSL) 2023 Championship Tour (CT), in firing 8-to-10 foot surf at Supertubos in Peniche, Portugal.
A massive day of action in Portugal gave the CT rankings a good shake-up. Now, just two events remain before the Mid-season Cut narrows the field following Stop No. 5, the Western Australia Margaret River Pro. The stakes are even higher this year as the world's best surfers are also eyeing Olympic qualification for the Paris 2024 Olympic Games through the CT rankings.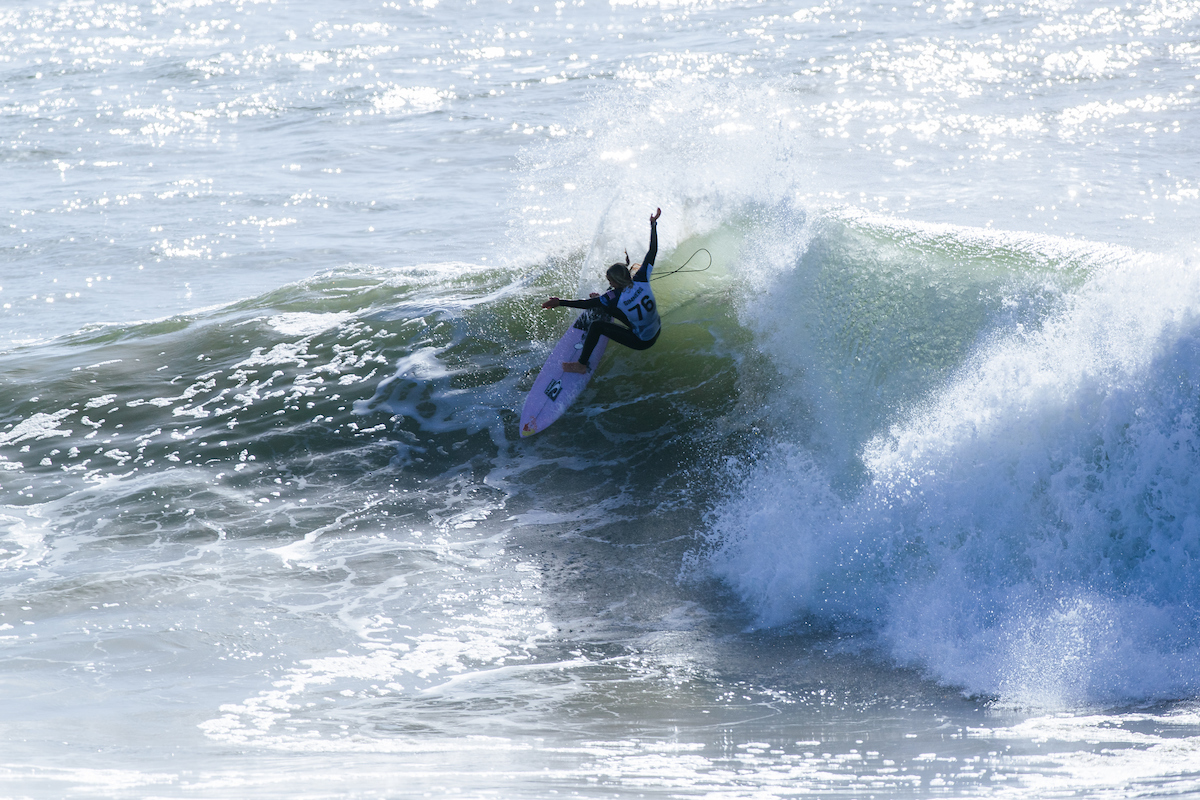 Conditions were somewhat unruly at first this morning but gradually cleaned up throughout the day to provide an incredible day of high-performance surfing as well as deep and technical barrels. The wind switched offshore in the afternoon, just in time for the Semis and Finals to show the true potential of the wave at Supertubos.
When the dust settled on an epic day Molly Picklum retained the rankings lead and yellow Leader jersey heading to their home country for the next two CT events. Caitlin Simmers (USA) took a giant leap from 9th to 2nd, now tied with 5X World Champion Carissa Moore (HAW) after her win.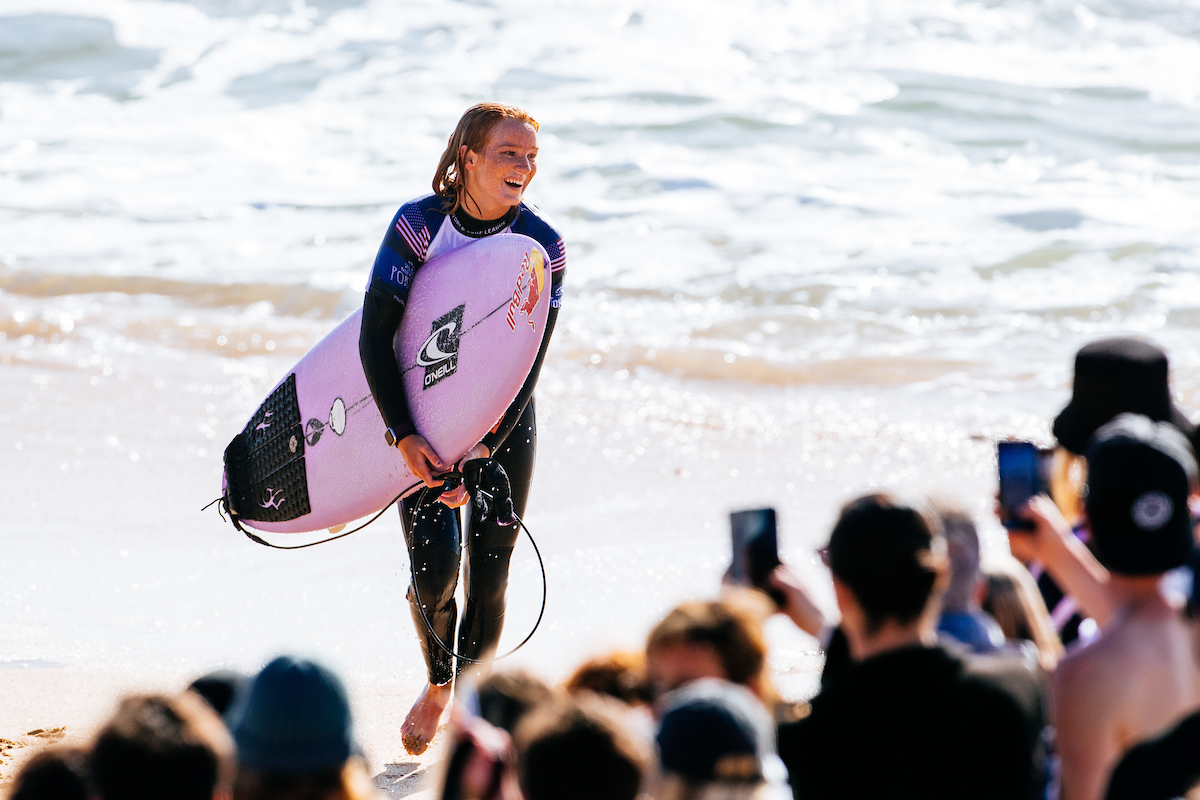 Caitlin Simmers Fights Rough Final Start, Claims First CT Title
In an outstanding performance, California's Caitlin Simmers (USA) became the first rookie to win an event on the Women's CT since Lakey Peterson(USA) at the 2012 Nike US Open of Surfing. The MEO Rip Curl Pro Portugal was only her third event at the highest level of professional surfing. After a commendable 9th and a 5th place in the first two events of the season, the 17-year-old went all the way in Peniche, claiming her career-first CT victory and moving all the way up to 2nd on the rankings. Far from a walk in the park, Simmers had to regroup after a difficult start in the Final and showed resilience to keep fighting, turning the heat with two good scores in the later part of the matchup.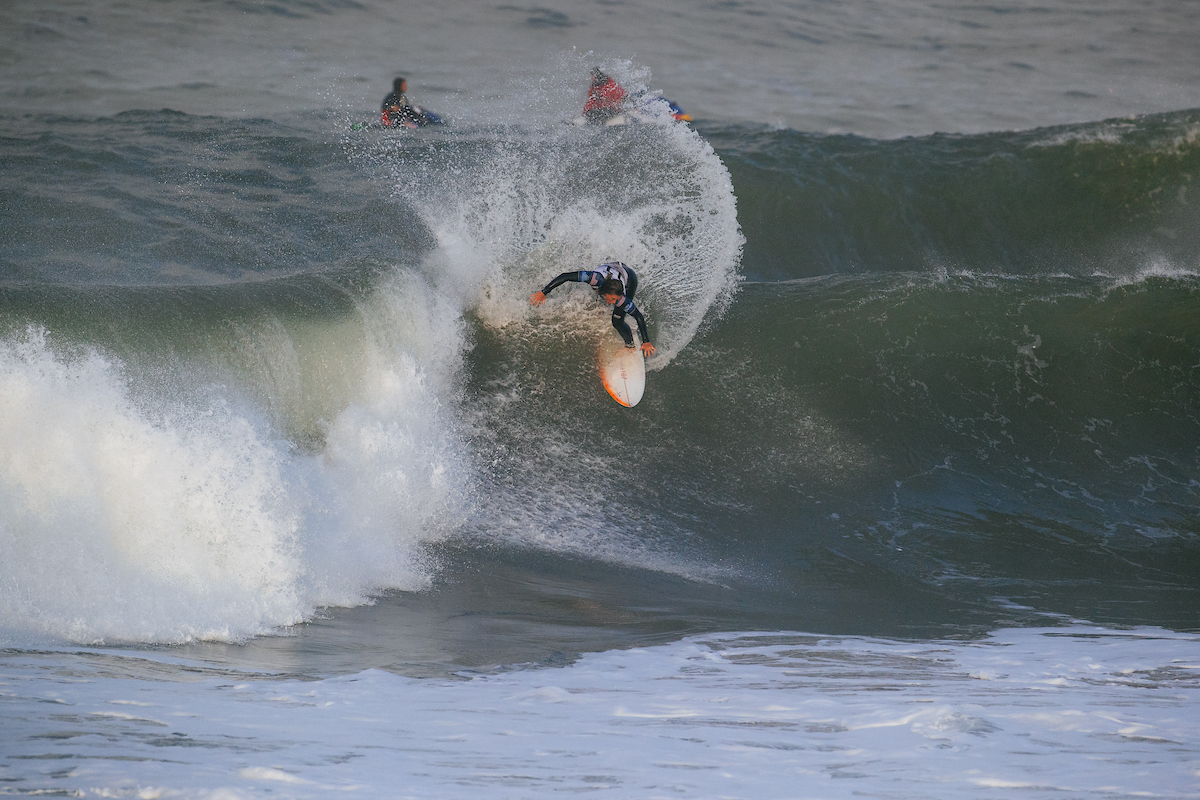 "I really can't believe it honestly," said Simmers. "Courtney (Conlogue, above) got really tubed, and I was like ok this is starting. I tried to get some away from her and paddle up and down the beach to find one and then it happened and I was really happy. This is my favorite kind of wave, I surf beach breaks pretty much everyday. I'm really grateful for everyone here, Portugal is really cool. I'm grateful for surfing, and I don't know what else to say, thank you!"
In the Final, it was Conlogue who started with a bang, finding the excellent barrel she had been chasing all day, to post an incredible 9.00 ride early on. It took almost 30 minutes for Simmers to really get involved in the heat, but she eventually did, finding her own good barrel for a 7.17 to get right back in the battle. The young rookie wasted no time to back it up with a two-turn combination under her opponent's priority and turned the heat with a 6.33 to apply pressure on Conlogue.
The tour veteran got a good opportunity on a solid left but unfortunately hit a foamy patch on the bottom turn that threw her off, losing a scoring opportunity and the priority which eventually cost her the win.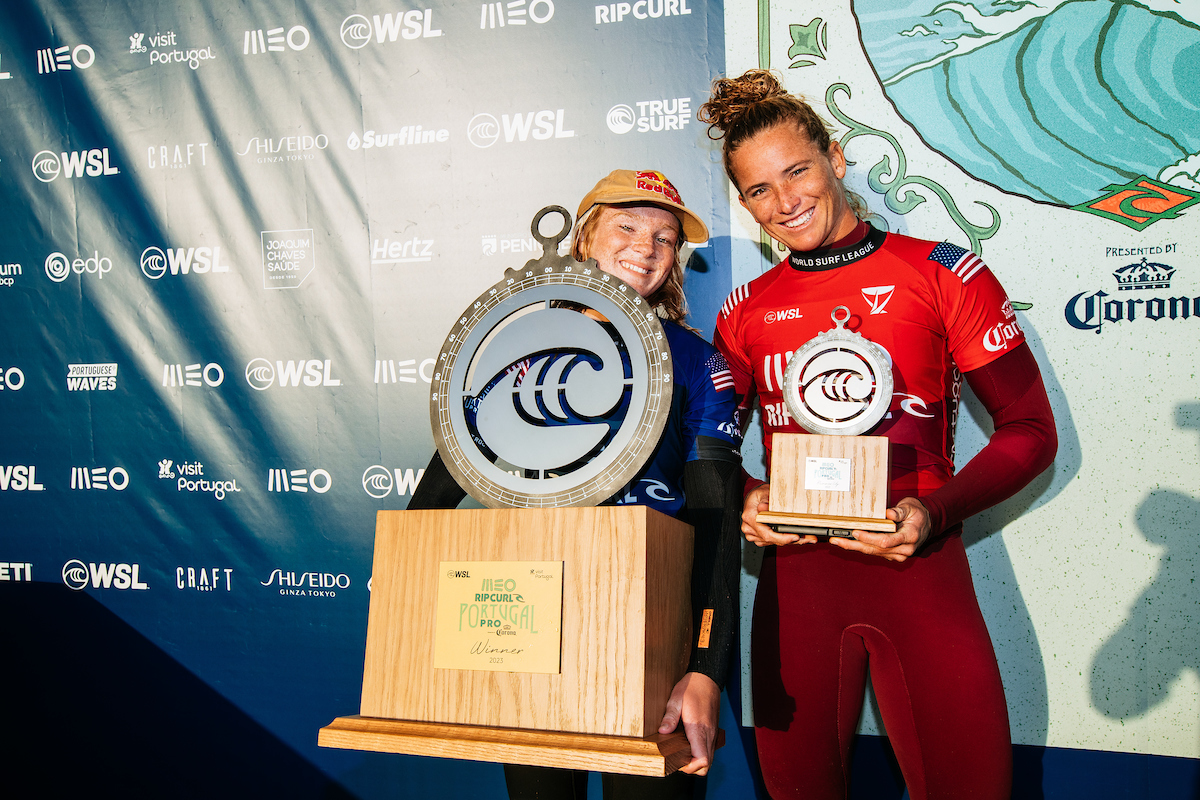 Courtney Conlogue Finds Her Rhythm in Pumping Portuguese Surf
After the worst possible start to her season, Courtney Conlogue (USA) bounced back in a big way, making her first Final appearance since Tahiti last year. Coming in ranked 16th after two Elimination Round losses in Hawaii, Conlogue was in real danger of not making the Mid-season Cut. She has made her attempt at a comeback story much easier with the runner-up finish today. Conlogue was a standout all-event at Supertubos, taking maximum risks and hunting the biggest barrels out in the lineup, true to her charger mentality. CT win No.14 may have to wait for Conlogue, but the Californian has definitely found her winning formula at the right time. The tour now heads to Bells Beach where she has won three times in the past.
"I'm honestly just so grateful to get a result finally," Conlogue said. "Tricky conditions but I was very grateful to share the Final with Caity (Simmers), and off to Bells now. I'm just going to keep manifesting good results."
Conlogue and Simmers made their way into the Final after overcoming defending event winner Tatiana Weston-Webb (BRA) and Macy Callaghan(AUS) respectively in the Semifinals.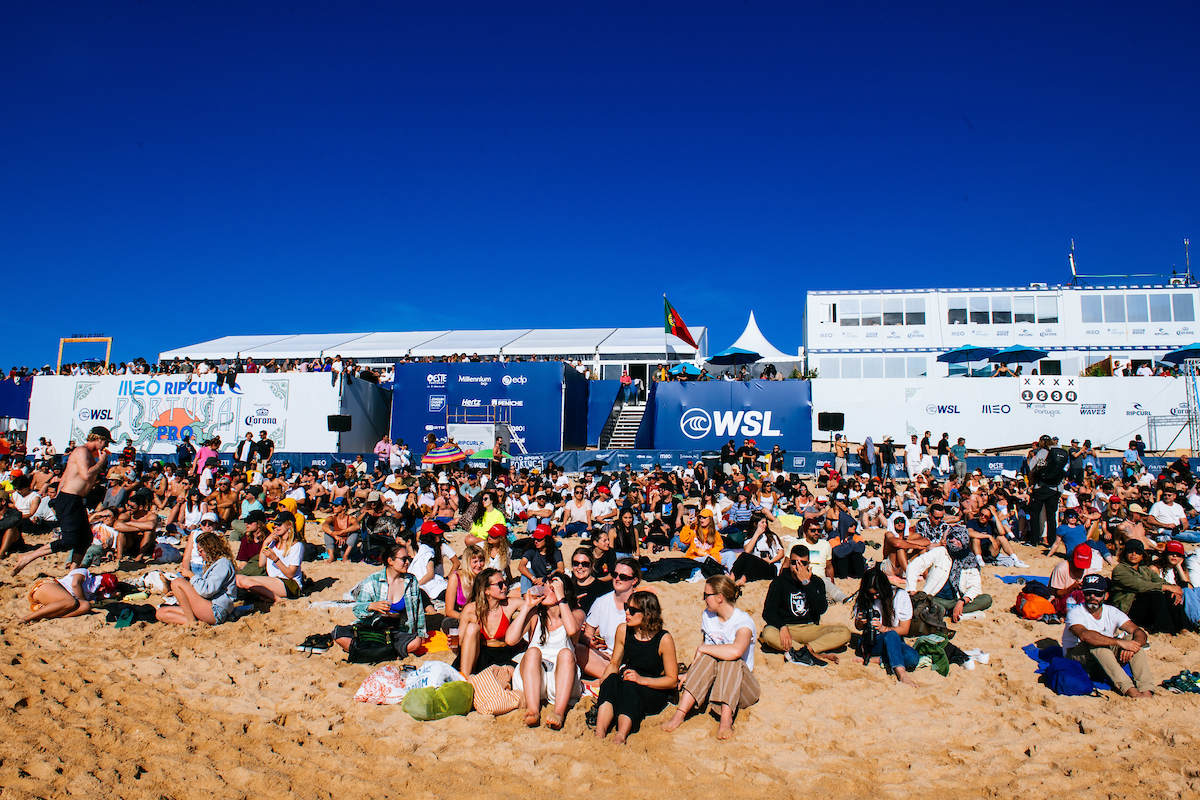 Molly Picklum Stopped in Quarters, Retains Rankings Lead into Australian Leg
World No.1 Molly Picklum (AUS) advanced one round ahead of her direct competition, 5x World Champion Carissa Moore (HAW), by making it into the Quarterfinals here at Supertubos. Picklum will now head to Australia as the only woman wearing the yellow Leader's jersey. In her second season among the world's best, Picklum has found her groove and is putting on a fantastic start with two equal 5th places and her maiden win at Sunset recently.
"Going home in the yellow jersey is everything," Picklum said. "All my team will be there, my friends and family so that's a pretty cool moment in itself. I feel like I'm in a good space, heat-wise and surfing, not taking any momentum really, I feel like each event has its challenges and we'll see what Bells brings. Of course I'm super psyched and kind of feel pressure-less and free to surf and rip.

Women's Championship Tour Rankings following MEO Rip Curl Pro Portugal:
1 – Molly Picklum (AUS) 19,490 points
2 – Carissa Moore (HAW) 17,355
2 – Caitlin Simmers (USA) 17,355
4 – Tyler Wright (AUS) 14,930
5 – Tatiana Weston-Webb (BRA) 13,440
5 – Gabriela Bryan (HAW) 13,440
MEO Rip Curl Pro Portugal Women's Final Results:
HEAT 1: Caitlin Simmers (USA) 13.50 DEF. Courtney Conlogue (USA) 12.83
MEO Rip Curl Pro Portugal Women's Semifinal Matchups:
HEAT 1: Courtney Conlogue (USA) 12.27 DEF. Tatiana Weston-Webb (BRA) 11.73
HEAT 2: Caitlin Simmers (USA) 13.00 DEF. Macy Callaghan (AUS) 6.04
MEO Rip Curl Pro Portugal Women's Quarterfinal Matchups:
HEAT 1: Tatiana Weston-Webb (BRA) 7.80 DEF. Molly Picklum (AUS) 7.40
HEAT 2: Courtney Conlogue (USA) 12.60 DEF. Sally Fitzgibbons (AUS) 11.83
HEAT 3: Macy Callaghan (AUS) 9.03 DEF. Yolanda Hopkins (POR) 7.94
HEAT 4: Caitlin Simmers (USA) 9.93 DEF. Sophie McCulloch (AUS) 8.66
Next Stop: Rip Curl Pro Bells Beach