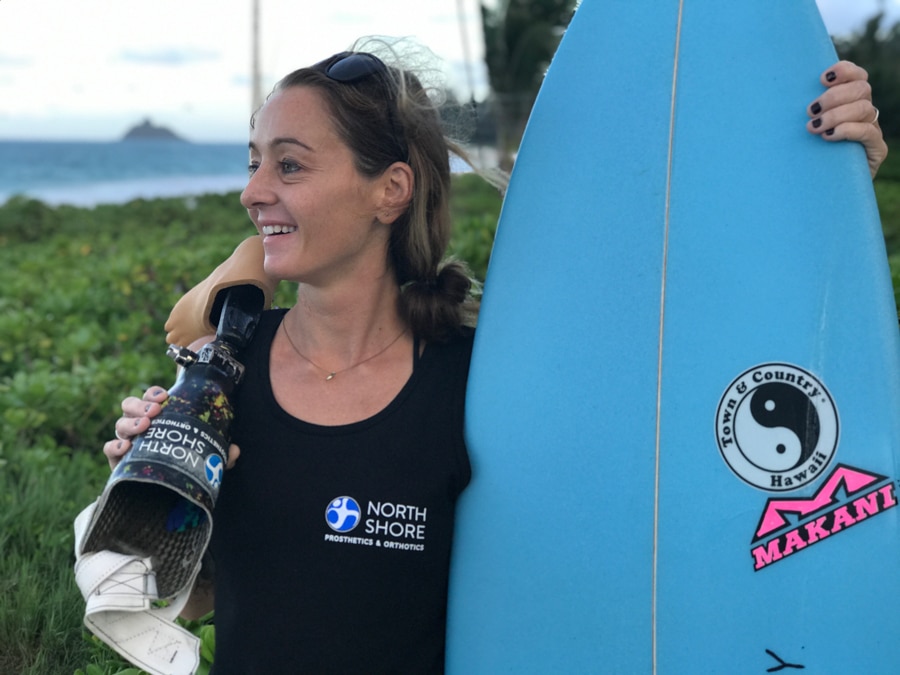 Sarah is an adaptive athlete, she's just competed with all men in the USA Open Adaptive Championships at Oceanside Pier in September and is now facing her next challenge to become a Para Snowboarding athlete and represent USA in the next winter's Olympics. Here's her story. 
On December 28th 2017, I was walking home against traffic when I saw a huge truck go over the fog line and come straight towards me. I took the kickboxing stance so to brace the impact, as I was currently taking kickboxing, and I got hit head on at 70 mph by a Dodge Dakota in pitch black and got thrown over the guardrail. The truck driver is still anonymous. It was that night I made a choice to either fall asleep peacefully, or to crawl up the rainy embankment and find help. I choose the harder route back; life.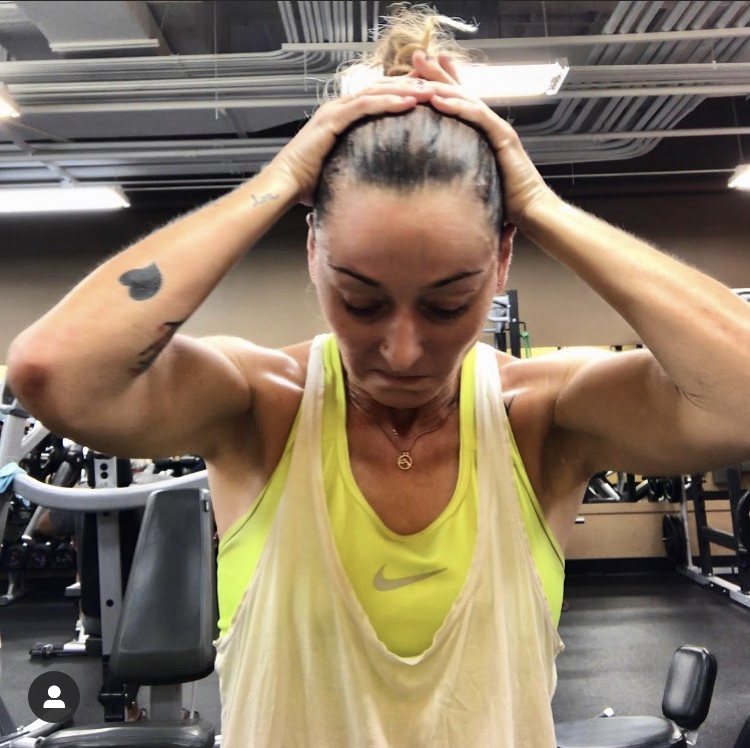 I had severed my tibia completely and my entire hand bone was sticking out and yet somehow I was able to stand on two feet after I crawled underneath the guardrail onto the Hwy 305, and wave down three cars for help. I was immediately airlifted to Harborview Medical Center where I underwent eight surgeries and 12 blood transfusions.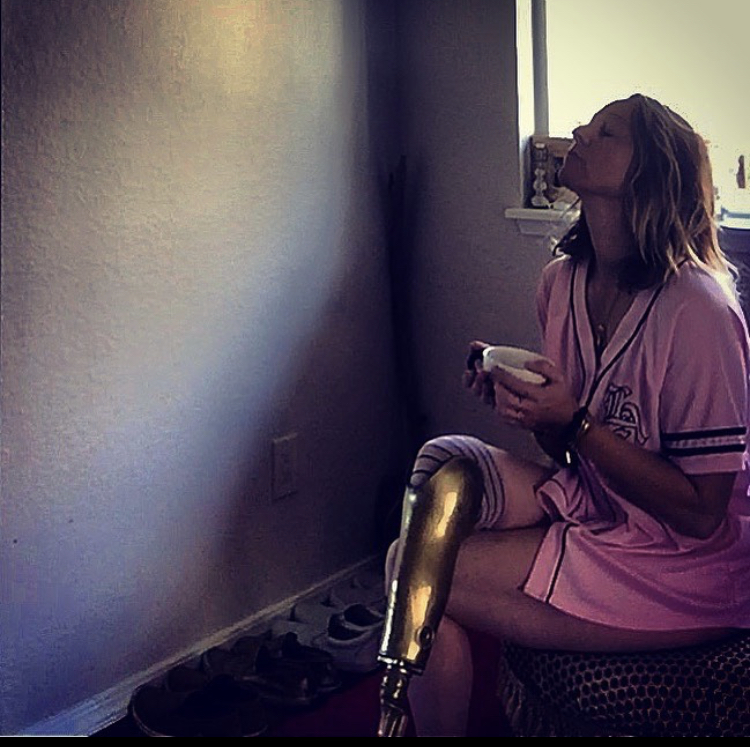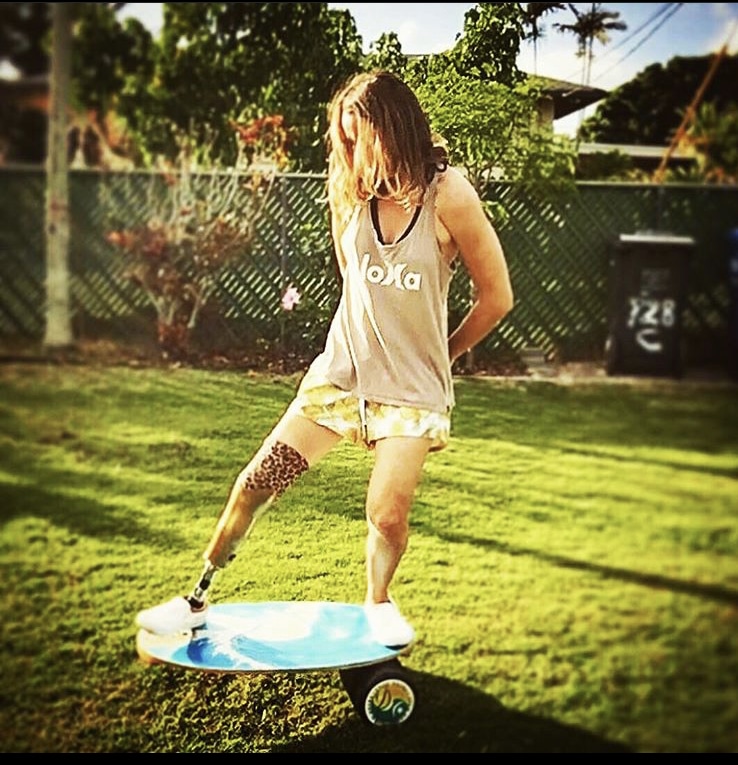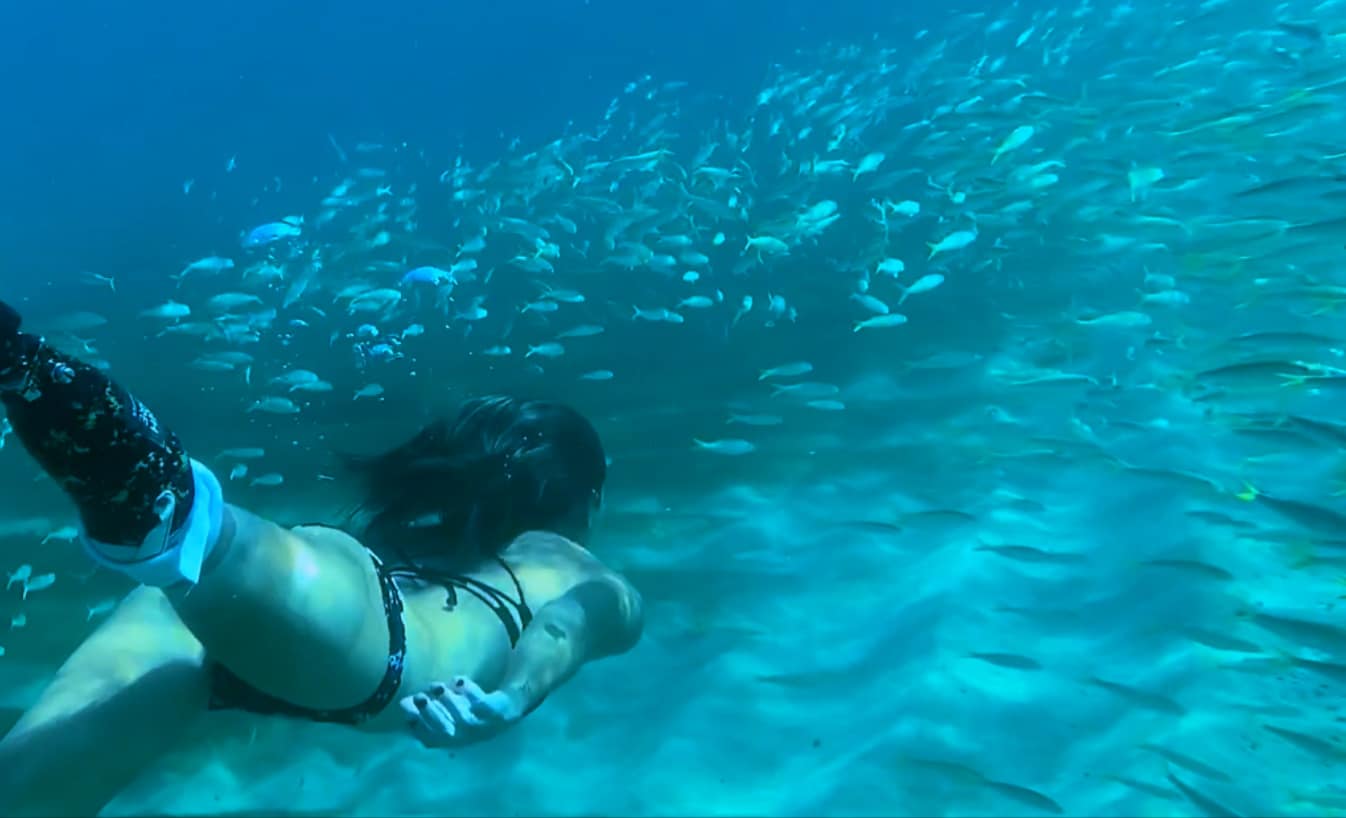 The hardest part of this entire ordeal was to accept the "new" Sarah. It especially hit hard when I moved back home to Hawaii a year later, where I left as a semi professional surfer and returned now as an amputee. I soon realized I could no longer just skip into the oceans water without complete fear or freedom like I once did. I had to rely on others for a long time. Thanks to Coach Chris of ASA and my friends from my home break Ala Moana Bowls, I made my return to the ocean, but not without a lot of tears and frustrations. Luckily I was picked up by T&C Surfboards and worked with a good friend whose known my surfing since the day I started, and he made me the best boards to date! North Shore Prosthetics sponsored my surfing and they still do as I endeavour this Olympic challenge to Beijing 2022. In the end, my mind knew what my body was capable of and it was just a matter of time before the two synced together.
The smile that grows and the happiness I feel when I'm on a wave or back inside a barrel is what motivates me to continue surfing. I went on a surf trip with a previous surf sponsor to Puerto Rico for two months and something just "clicked" while there. My surfing came back to me. My pop-up, my balance, no one knew me, I had nothing to prove and it was that trip that made me feel for the first time, that I had both my feet back again. I 100had a spiritual awakening, and within three weeks I was back to riding double oversize waves and earning my place in the line up at a very notorious spot called Wilderness.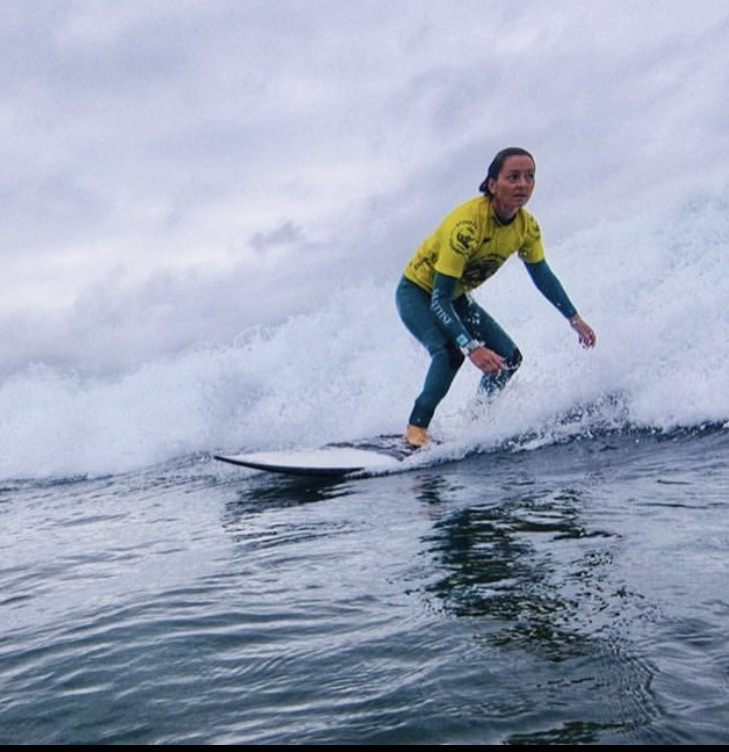 Due to that trip, all in the year 2019, I went from relearning how to surf as an amputee and by September 29th 2019 at the US Open championships in Oceanside CA, I made Women's Adaptive Surfing History by being the only female to podium in an all men's division, and earned 3rd place, making me officially a pro surfer again. I knew I could do it regardless what others were saying or thinking because I know what I'm capable of and how far I had come. So I put the pen to paper and made it happen on an international stage. To this date, that day is by far the best day of my life!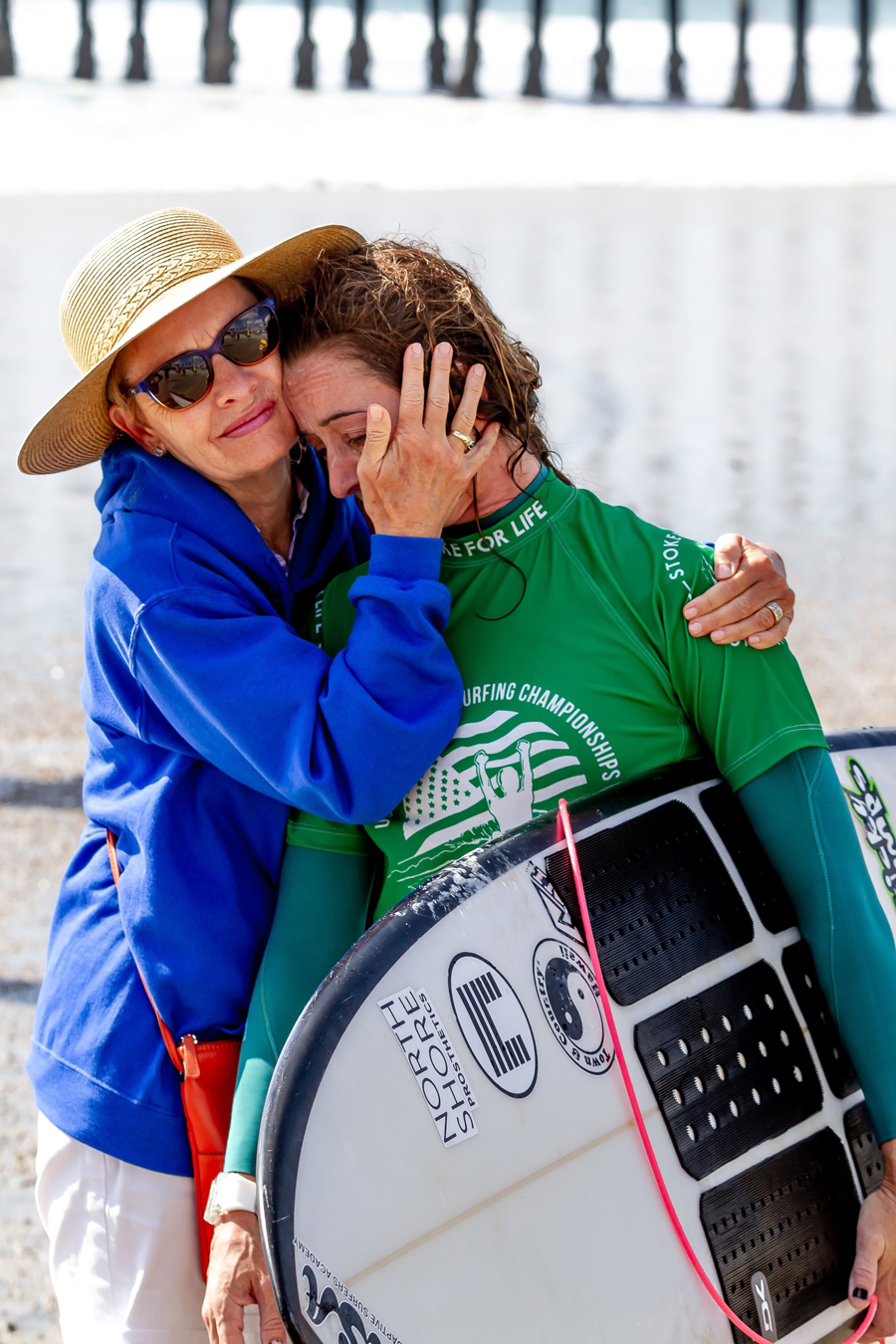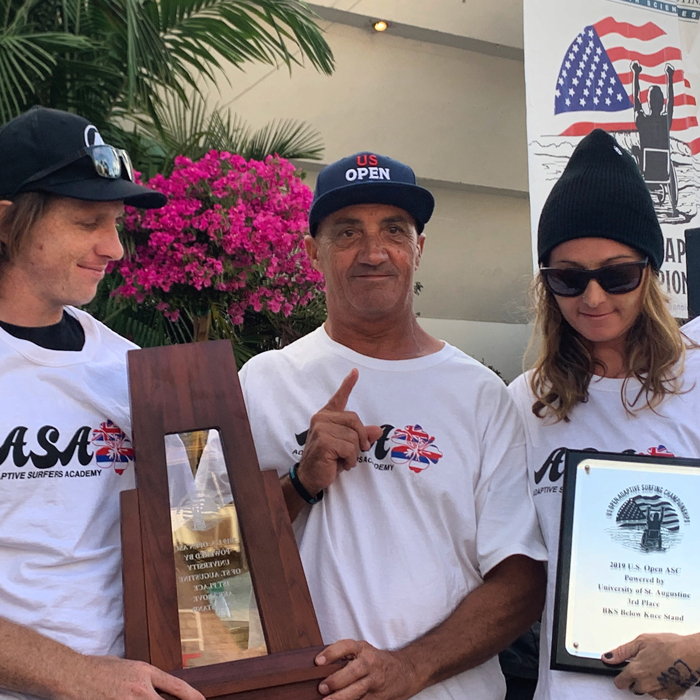 Snowboarding was my first love. I grew up in Washington State and at age four when I began ski lessons with my dad, and by age seven I started snowboarding double black diamonds with him. We skied every weekend, Whistler, Snoqualmie Pass, and various other mountains in that area. My first run I ever took as a snowboarder, was at a spot called Bomber Bowl where there still is the remininse of a airplane that crashed (hence the name), and indeed it was a double black diamond. I followed my dad and made it through the moguels and as I entered the icy 40 mph track and I unfortunately collided with a lady that came out of a cat track and I broke my tail bone. My father had to catch the chair lift back up and he made me buck up and I continued that Friday through Monday vacation, snowboarding with a broken spinal cord. I just sucked up the pain and continued on riding with no complaints. I believe it's that kind of upbringing of "tough love" that got me to bounce back so quickly from my amputation. You can either be a victim or a victor. I choose at a young age to be a victor. As for my plans for being a Paralympic Snowboarder I first have to qualify to be on Team USA. I have several races this winter so to meet the requirements to gain a spot on the team and without any endorsements. It's a $10k year expense so to make it to each qualifying event. it's not free like surfing! However, snowboarding is my roots and its what got me to surf with some of the best in the world in such a short amount of time. It is just another board sport yet the snow isn't moving underneathe your board like surfing is. However, the risk of injury is a lot higher seeing how I will be going down an icy race tracks at 30-40 mph. A helmet and probably a mouth guard is a must knowing my past lol.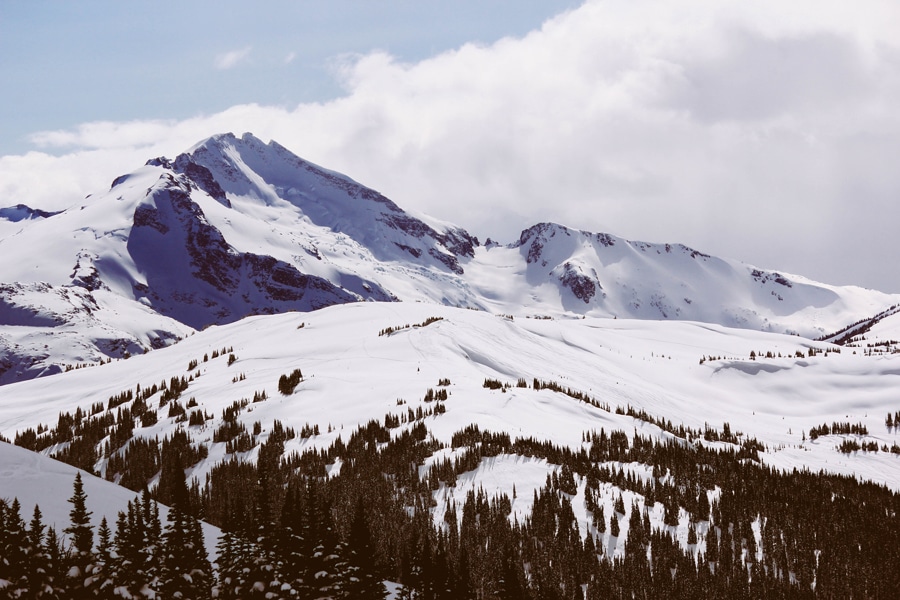 Frankly, to make the team, it will require A LOT of snowboarding and getting back to rail to rail and in every condition. There are no days off in the Olympics so I will have to buck up to the freezing conditions and ride like I know how I did, fearlessly and with zero complaints. I'm not even three years from the date of my amputation, scientifically I'm still healing, seeing how my amputation wasn't until March of 2017. I take everything that comes at me and I give it my 100% to a fault or injury, because I love going big! The scarier the better, simply because I love the adrenaline rush. However Team USA does not. They want clean and precise. So at first, its going to be slow n steady wins this race, but eventually it will come down to ridiculously fast and graceful. I will be training at least twice a day, traveling throughout USA and Canada to qualify and hopefully make the cut this year. I have next winter too but I want to make the team this year for obvious reasons. I will literally go non-stop until my coach tells me to stop. That's just who I am and always will be.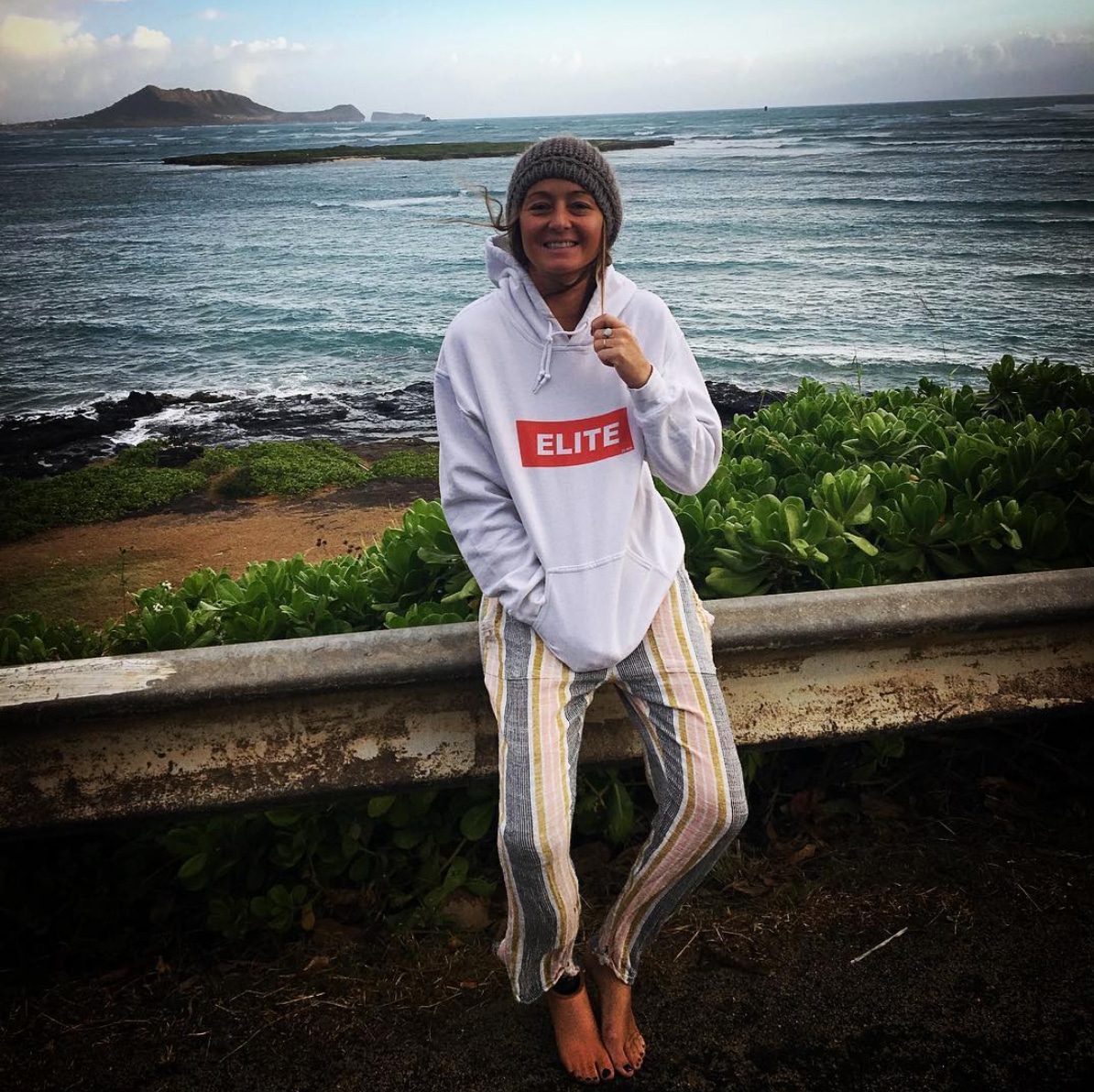 If I were to give any advice to someone in a similar position as myself, I'd say "Be a better version of yourself than you were yesterday, and know deep down inside, you are your only competition". Trust in God that he spared your life because he has plans for you or else you'd of been dead a long time ago. I am sober because there is no way I could go through all this with a foggy mind or a hangover, so I am sober from all things and plan on dying that way. I want to be a role model for kids and adults that are dealt with alcohol abuse or drug addiction and show them that they too are worth it. Able bodied or adaptive, we have all been through the ringer many times and its up to us to make that choice. Choose life because we need more role models in this world we live in today.
What makes me happy at the end of the day is knowing I gave it my all. I did the homework and put the pen to paper and hopefully I inspired just one person today to be motivated enough to get out of their depression and pursue their potential. I truly live by the motto that "You are your only competition". That God wouldn't of saved your life if he didn't need you in it, so DO SOMETHING ABOUT IT, and give back to God because he gave you another shot at life. He needs you for a very specific reason and its up to you to figure that out but I guarantee if you simply do what you love most and follow your heart, you will find out quick what that is and where it can take you.
I'm a proud amputee because I took a negative and turned it into a positive like many of my role models have. Reach out to your biggest idols, and watch, they will get back to you. Take peoples support and put down your pride. It's useless. But the power of reaching out can bring you to a place you never dreamt of and its worth every penny because all of this journey called life, is truly priceless.
Aloha & Mahalo
Follow Sarah's journey @sarahkatherinedean