Sally McGee at Yonder Girls Surf Club CIC teamed up with This Girl Can and her local University to get young girls in the water for the first time in chilly Northern England with fantastic results. 
About the project Sally says, "We have some of the most amazing waves in the north east of England, tucked down farm tracks and underneath steep cliffs. It can be hostile here, short mid-winter days with icy northerlies marching down the coast, propped up by the prevailing west winds finding hidden corners of the coastline to show the dedicated few their perfection. Right now it's the opposite. Small south easterlies trickle in and families battle for space on the crowded beaches. Armies of surf instructors push day-trippers into waves and the lifeguards keep a keen eye on the rental SUP's floating around the huge bays. It's a stark contrast between now and the winter.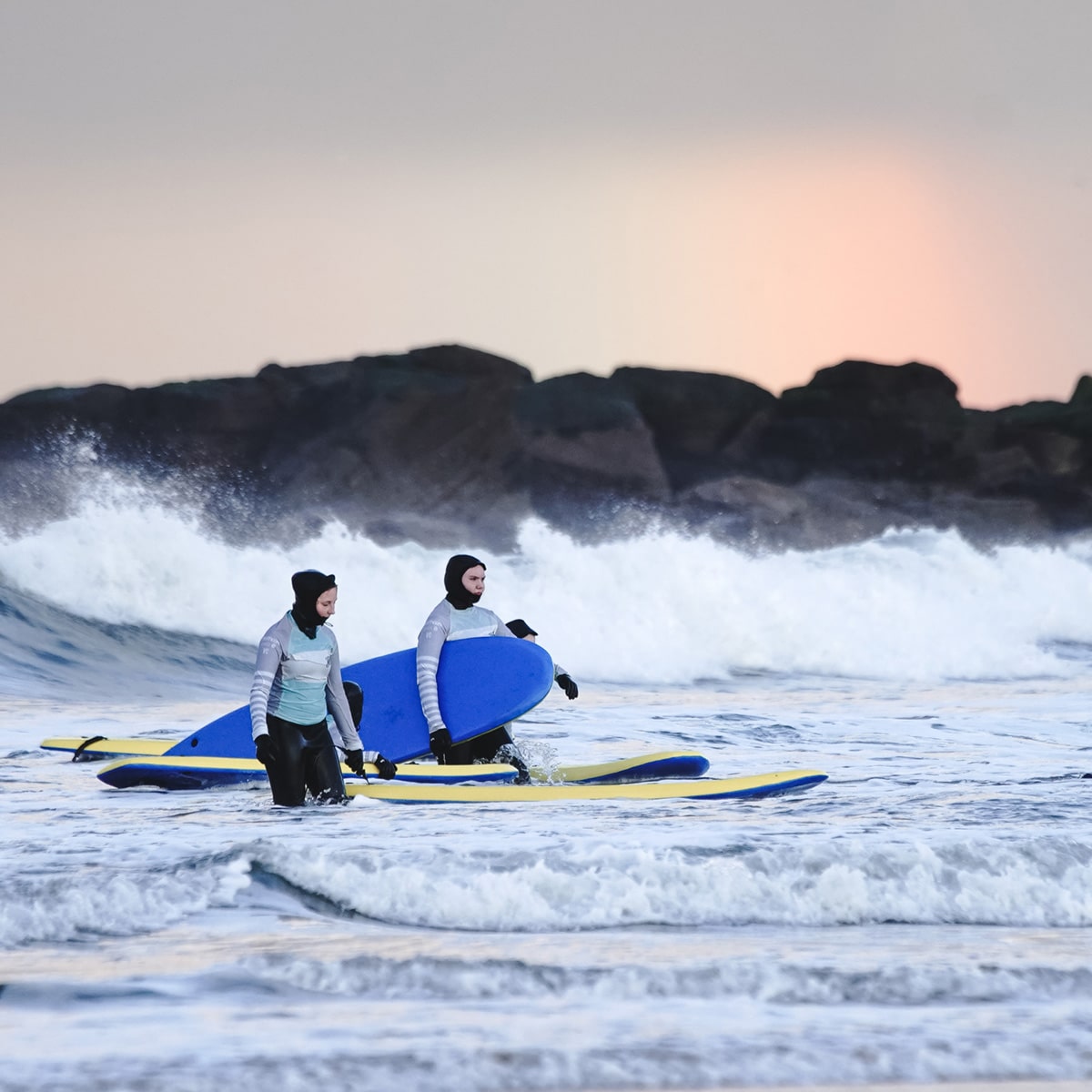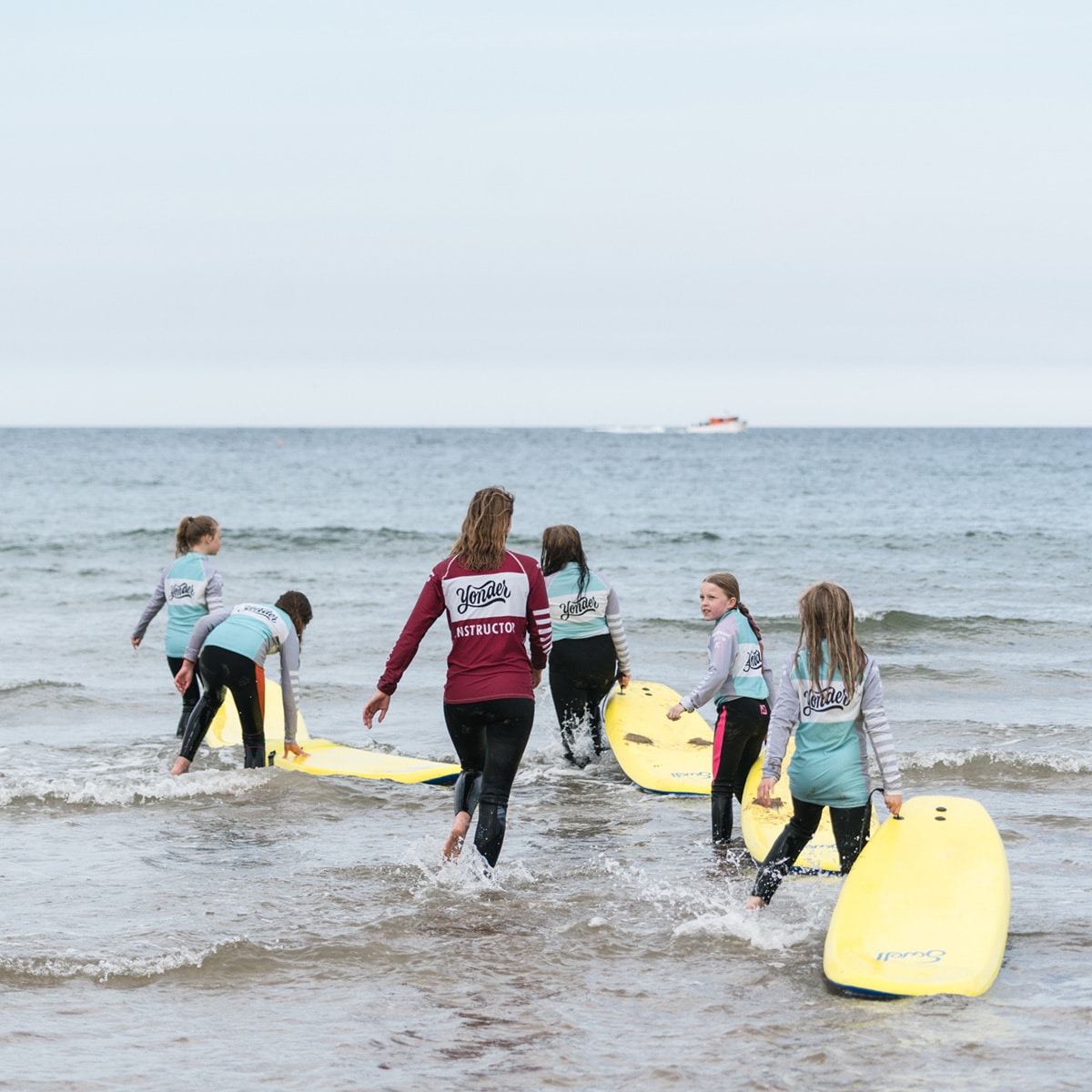 I've been running surf coaching sessions with Yonder since 2018, focussing on getting women of all abilities to develop confidence in the ocean. We run regular sessions up and down the coast when the surf is appropriate – packing up the Yonder Sprinter van with boards and wetsuits in the back and often camping over ourselves in between lessons to surf parts of east and north Yorkshire and Northumberland. We focus on quality and developing trust with everyone who comes to surf with us. Small groups, good equipment, honest advice and building a network and community of women.
Two years on and our fledgling female surf scene is starting to gain an identity and become a noticeable entity here in the North East, it's growing all the time and with that growth comes a sense of community. There are characters dotted up and down the coast, dedicated women who look past the fact that the number of millimetres of neoprene they wear is greater than the water temperature in degrees. Here at Yonder we are doing our best to instil the surf stoke young, but do it properly. Yonder's reason for existence is to nurture and celebrate a wide and diverse community of empowered female surfers. For me, it's really important to give our local community the chance to become surfers in order to influence the future of the local surf culture here in the North East. We have teamed up with a few local schools and youth projects and are working with them to offer heavily subsidised introductions to surfing in intimate (max. six girls), safe, fun and nurturing environments. For all of the beauty, great surf and blue flag beaches, the area isn't without its issues. Just a handful of miles from the surf there are areas facing real deprivation. We want to break down barriers and show people their home in a new light.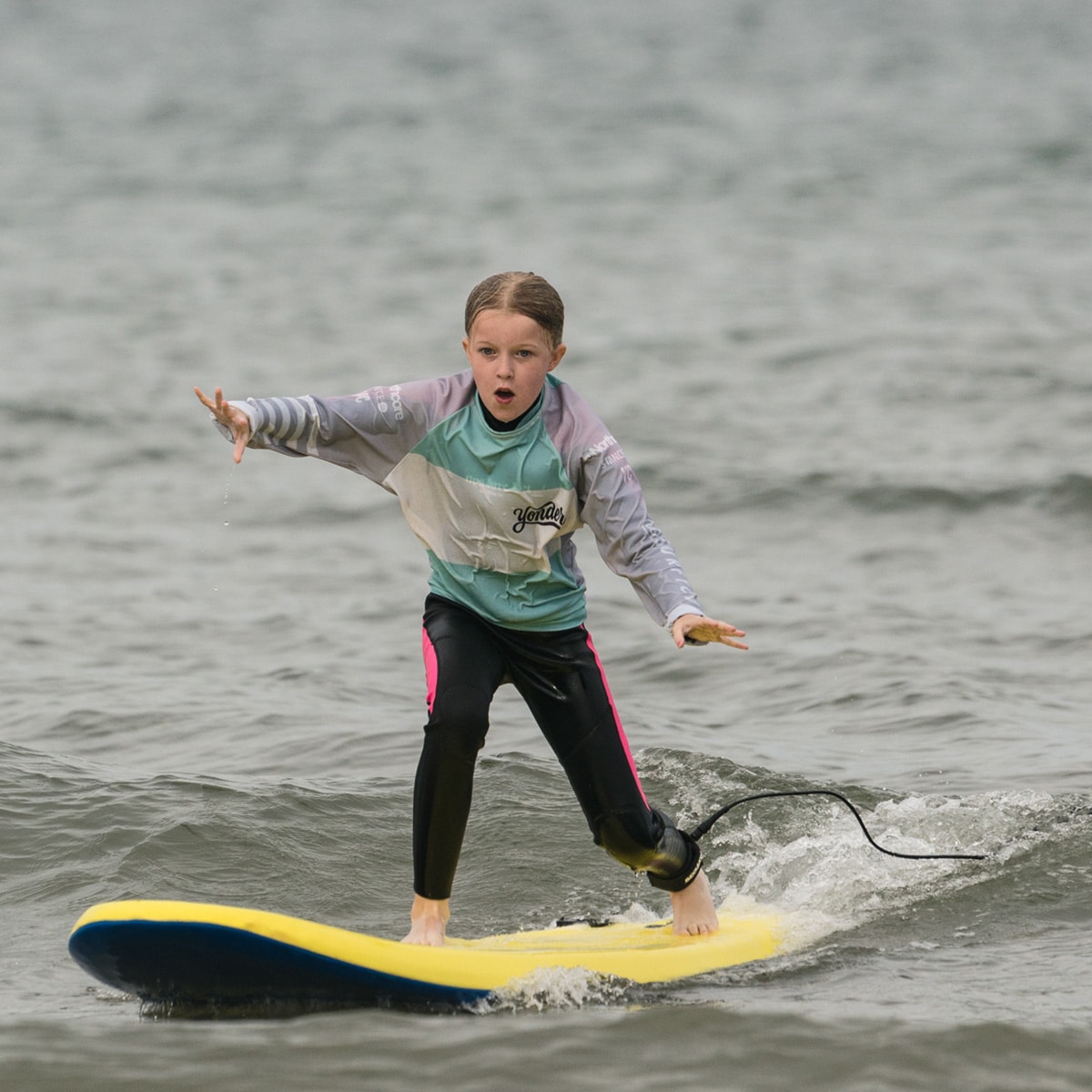 Director of Sport at John Spence school in nearby North Shields stressed that the project was important because "some pupils put a lot of pressure on themselves to look, act or be a certain way. Yonder really helped many of our young people who suffer with anxiety and stress related mental health issues, by helping them to be comfortable in their own skin. The small, intimate, female only groups really brought the pupils out of their shells and propelled their confidence."
The Yonder Surf Academy CIC feeds into our all girls weekly Yonder Girls Grom Club. I want to see progression, achievement, community, ownership and pride in all of our students, whatever that looks like to them. I want to see the pure joy of young women riding waves and the achievement that comes along with learning and the dedication and resilience needed to become confident, independent surfers. I would love to see a crew of awesome young girls who keep coming back as the days get shorter, the temperatures drop and the surf gets better. Saltburn Grom Freya Buckley told us that "I don't just love surfing because it's fun, but because it de-stresses me, it keeps me fit, it's taught me countless lessons (bravery, respect, individuality to name a few) and given me opportunities I never dreamed of when I started out." I am hoping that as a small little weekly community that meets and shares waves, we can together light a fire in a group of young girls that burns bright enough to carry them through those difficult teenage years with confidence and I hope that surfing takes them to some of the places it's taken me."
For more go to surfyonder.com