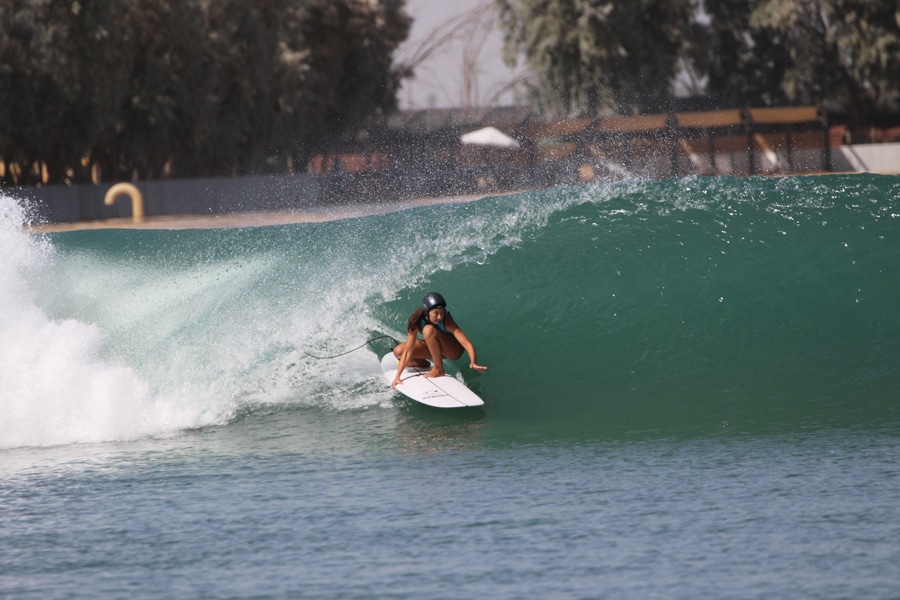 We caught up with Sally Cohen to find out what happened at the Surf Ranch before the Cuervo Surf Ranch Classic, and how she turned things around to make the semis.

Sally how stoked were you to be doing the Tour again?
I was so excited to put the jersey back on again. It has been about over a year and a half, (almost two years) of not competing- due to covid, and I was so thrilled to compete and see all of my friends from around the world again! Especially after my foot injury prior to my injury at the Surf Ranch, when I fractured my toes, being my first injury ever, I thought I would never be able to surf again, let alone compete again.
You were badly injured before the Cuervo Surf Ranch Classic, what happened?
So it happened right around when the WSL confirmed that the tour will begin again this year. And announcing that the first stop was at the Surf Ranch. I was so excited- working and training hard to get back into shape and working a lot with physical therapy for my foot injury. Feeling confident and good again with my surfing, I had been invited to go to the Surf Ranch by my sisters' boyfriend, Jamie O'Brien.
I was super grateful and very excited to get some practice before the WSL event. During my second practice session, I really wanted to push my limits and see how barrelled I could get in these amazing waves at the Ranch. Unfortunately I got too deep on my left (backside) barrel and my nose of my surfboard got caught and I fell into the wave. Underwater, the board came up and hit me in my chin, resulting with two huge lacerations on my chin. (The rail of the board is what had hit me). One in which went all the way through into my mouth. I had received over 30 stitches. And I also had to remove 4 of my bottom teeth, as they were fractured at the root. Along with a hairline fracture on my jaw.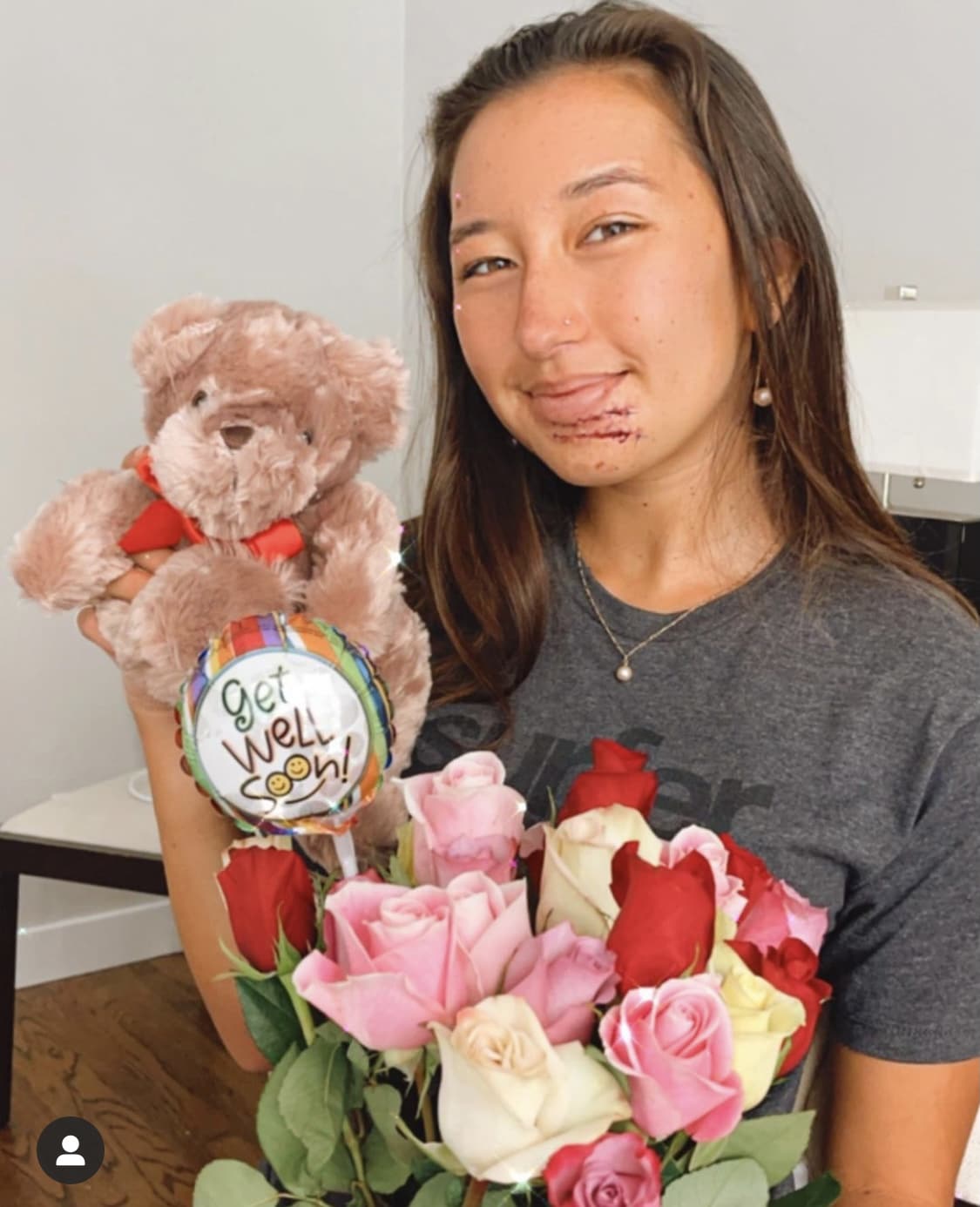 How did you deal with the fear and get back into competition? You're really brave!
Surprisingly, the injury had made me feel super fired up to go back to the Ranch and earn my redemption. It really got me determined to make the backside barrel that had caused my injury. Of course, with the fracture in my jaw I had to wear a helmet, as any more trauma could have lead to a worse injury. I was medically advised to wear a helmet. It also gave me that bit of confidence to feel comfortable again surfing the wave pool.
Did you think you could surf at the Ranch again? What was it like surfing your first wave?
Yes, totally. I was so excited, especially seeing everyone going out there and pushing their limits. A few of my friends had told me maybe I shouldn't go back, but I knew I had to do it and I had so much fun!
I've always been competitive and love to push my limits, whether in school, training, surfing, etc.
After my first wave, I got so many messages from my friends and family telling me they were so proud of me. It was so sweet and kind! I felt good but there was a bit of frustration I had felt in myself and my surfing as my body hesitated due to the PTSD I had from my injury. I didn't get as deep and push as hard as I wanted to on my first few waves.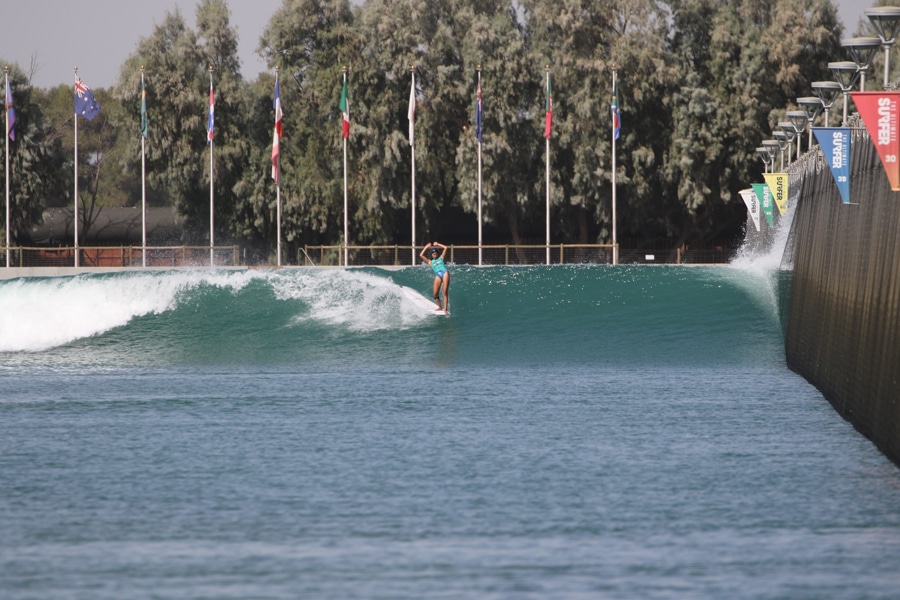 How stoked were you to make the semis?  That's such an amazing achievement!
Again, I was super stoked to just go back and surf this wave again. It truly is an amazing wave and I don't regret going at all! I was super stoked to make the semis and wish I could've made the final as I was just short of the qualification by .8.
As a competitive person, I was a bit frustrated because I felt like I could do better. I'm always working on my weaknesses and trying to correct them.  However, I was so stoked because although I didn't make the finals, I had accomplished what I really wanted; going back to the ranch and making it out of my back hand barrel. Throughout the event I had avoided the left barrel because of my injury. But on my very last wave, a left, I told myself I could do it. I grabbed my rail, set my line, and made it out! It was one of the biggest accomplishments and obstacles I had ever faced as a professional surfer.
How much are you looking forward to Malibu?
I am very much excited for Malibu! I am currently sitting 8th on the world ranking for WSL WLT and this year they had cut the tour down to 18 girls. 10 in which will re-qualify. I am looking forward to surfing my best and keeping my ranking in the top 10 to re-qualify into next years CT and work on my next goal; being world champion 😉
The World Surf League (WSL) 2021 Longboard Tour will conclude at the Jeep® Malibu Classic presented by Havaianas on the shores of Malibu, California's iconic First Point. The competition will run over two days, on October 11 – 12, 2021, and will be broadcast LIVE on WorldSurfLeague.com. Event organizers determined the run days within the October 3 – 13 window after working closely with swell forecasters to decide the best possible days.