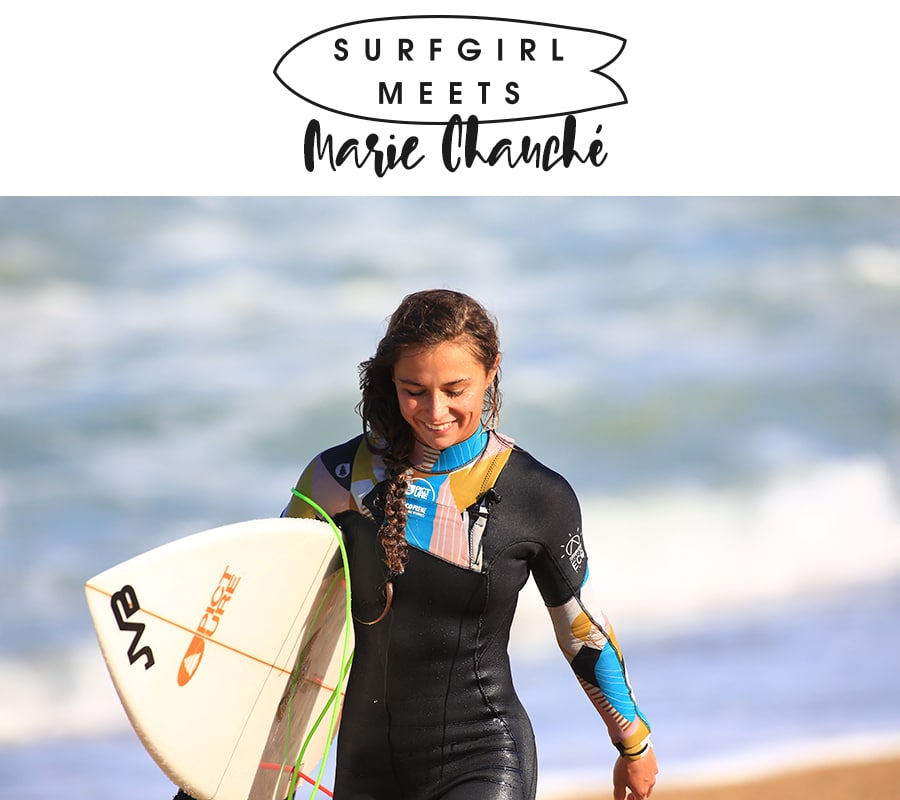 Marie, what's it like where you live?
I live in Anglet, in the Basque Country, SW France. It is little town between the Atlantic's ocean, Pyrenee's mountains and Spanish border. There's lots of great beach breaks and I am closed to Landes, famous for its barrelling waves. During winter, when swell are too big, I surf more in the south, around Guethary, Bidart where there are some good point breaks and waves for charging.
When there's no surf, I spend my days in the Pyrenees hiking, bivouac, and foraging mainly mushrooms and forest fruits, depending the season. All amongst the beautiful landscape and wildlife of the mountains.

What got you into surfing?
I grew up with surf, I got on a board for the first time at three years old. My father Eric Chauche is a surf photographer and my godfather, Laurent Miramon has a surf camp in Morocco, the first Moroccan surf school. In Surfland, I grew up with surf movies, music, and a surfing lifestyle with a lot of big brothers and sisters to inspire me and show me the way to go.
At home, there are surf posters, post cards, surf magazines, everywhere. I spent weekends at the beach with my family since an early age. My father regularly went on surf trips to follow surfers around the world. He always brought us back many treasures from his travel such as shells, sands, stamps, artisanal objects. He also told us many stories that made me dream. Mum showed us in a map where dad was and my only wish was to go with him one day; he promised to bring me the day. His destinations were often difficult to access and isolated, and there were not holidays for my dad (although it was a great experience).
I started to surf regularly, including during winter, at 13 and began to enter longboard competitions at 15.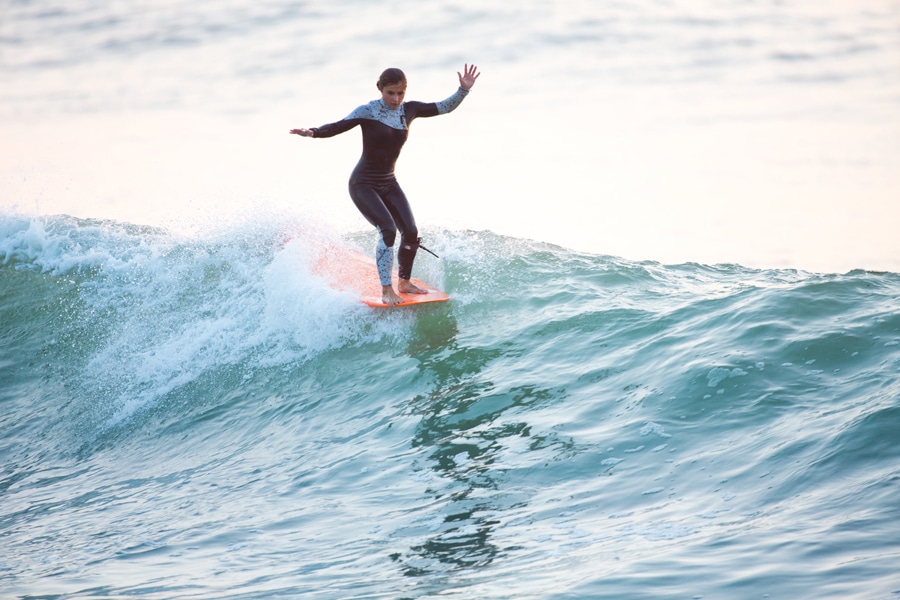 Your dad Eric is a well known surf photographer, has he been a big influence on you?
Of course! He transmitted me the love of nature, sense of contemplation, and perfectionism, and to make sense in what I do.
Are you looking forward to surfing through the winter?
I am excited to surf winter swell but I don't miss cold water ! If Covid restrictions allows it, maybe I'll go on a trip in Portugal or Canaries.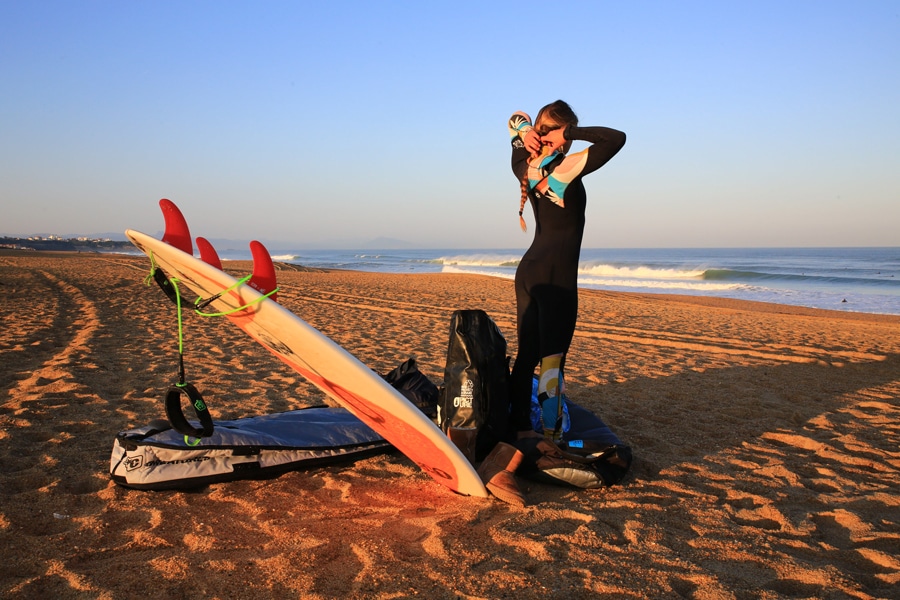 What are your tips for staying warm during cold water surfs?
Take a lot of waves! Wear a good wetsuit, 4/3 at least, and prepare a bottle of hot water for after the session. Dad's friend and great surfer, Regisse Daudignon, taught me that if you are cold in the water that is because you don't take waves enough, and that's right!
How do you feel that the next generation of female surfers?
I am optimistic about the next generation. There are more and more female surfers charging and the level is increasing hugely and rapidly. I see every day women having respect in the lineup by their flow and level. I hope we will finally get past the cliché of naive, sexy woman surfing only in small conditions and posing in the beach, which still promoted by some surf brands and media. We are more and more in the line-up and many associations are created to promote woman surfing. It is a victory of emancipation, which we must all contribute to fight against.
Which surfers do you look up to?
Rell Sunn // Miki Dora // Justine Dupont // Lola Mignot // Kepa Acero // Vahine Fierro // Johan Deffay // Delpero brothers // Carissa Moore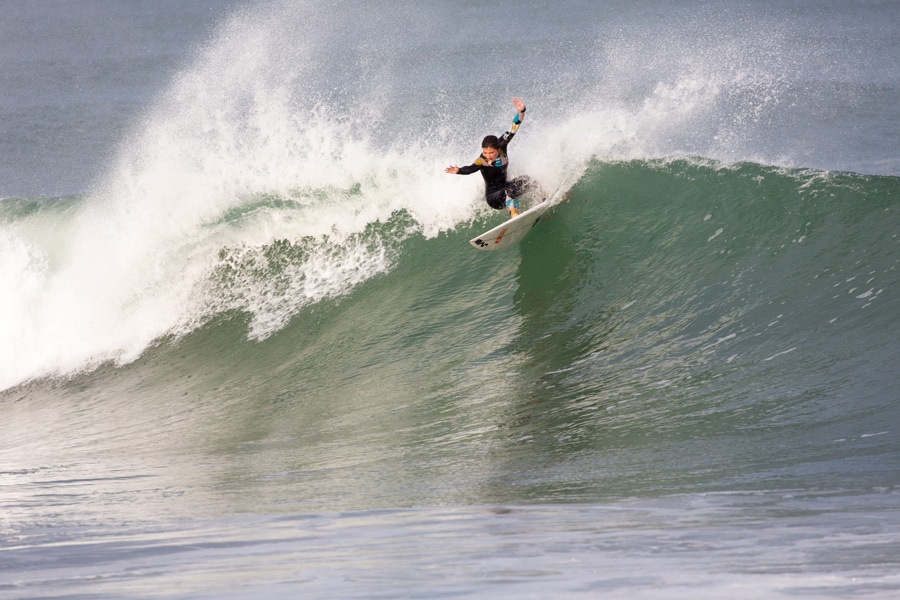 How has the pandemic affected you?
I was in Canary Islands, in Tenerife for my studies, I had to cut my stay short and went back home two months earlier.  However, I was happy to spend the quarantine at home, and I took advantage of this time to do things that I do not have the time to do ordinarily. I continued my university's lessons by Zoom, and I enjoyed this time to play music, draw, read, write and spend time with my family … even if I missed the surf and I was happy to back to the water!
What are your plans for the future?
Continue and finish my studies. Travel and discover new waves and new countries live new adventures and meet new people. Continue to surf, improve myself in longboard and shortboard, maybe start to compete in world longboard tour.
What motto do you live by?
Keep moving forward no matter what.