Kima Surf Camp Canggu:
Where luxury meets ultimate surfing experiences in one of Bali's hottest spots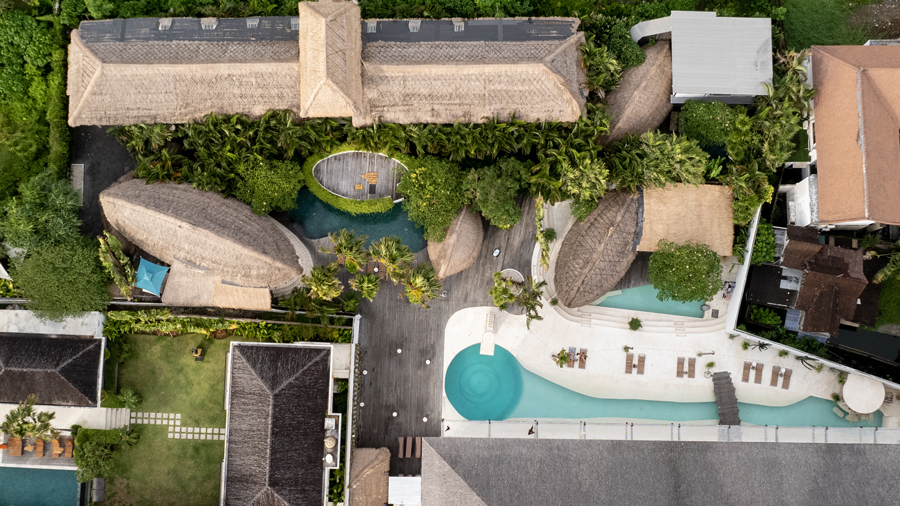 Aerial view from Kima Surf in Canggu
The Kima Surf Camp in Canggu is not a usual surf camp. It is more of a surf resort with mind-blowing features and activities wherever you look. Located right in the heart of Canggu (Bali's up-and-coming area with numerous great cafés, bars and restaurants), within walking distance to the beach and world-class surfing spots, it'll welcome you to an unforgettable surfing holiday.
Newly renovated, it comes with high modern standards and a modern island lifestyle design with traditional grass roofs and bohemian decorations spreading Bali flair all around the camp. A spacious pool deck with 3 pools and a diving tower, comfortable sun beds, bean bags and hammocks as well as a 15-m-high climbing wall and a rooftop gym with an ocean view leave nothing to be desired. Kima Surf in Canggu is the place to be for surfers or for those who want to become a surfer and are looking for some luxury at the same time. 

Surfing for beginners and intermediates
Whether you've never been on a surfboard before or you're already doing some manoeuvres, there's something for every level at Kima Surf. Due to the good strategic location, various surf spots either for beginners but also for intermediates can be reached after a short walk or drive. While the advanced surfers can improve their skills at world-renowned spots in front of the door like Pererenan or Echo Beach, the beginners can participate in Kimas Learn-to-surf-Program. Depending on your surf level and the conditions Kima brings you to the best surf spots daily all around the island. From the West Coast to the East Coast and the South Coast and even to the Outer Reefs with their private boats. Complimentary services like daily video analysis, training and pool sessions, as well as surf theory classes, are helpful for any kind of level.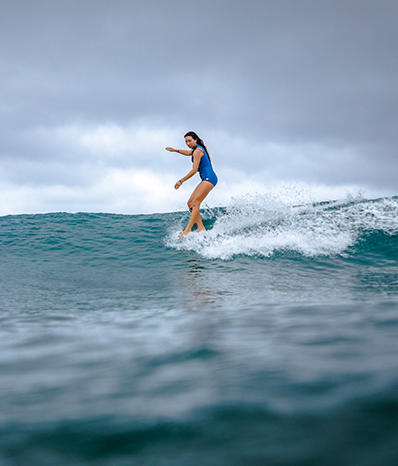 Nearby surf breaks for beginners & intermediates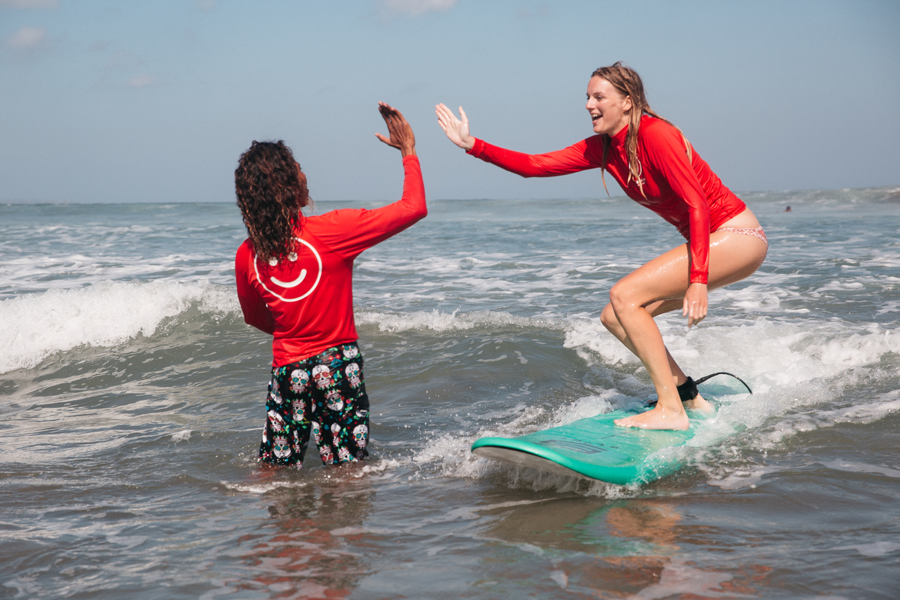 Catch your first waves with Kima Surfs Learn-to-Surf-Program
The Learn-to-Surf-Program:
This 5 days course is specifically designed for those who never surfed before but are keen to learn it and want to strive for the correct surf techniques. In small groups, every day starts with a short theory class and is focused on another kind of skill like paddling technique, pop up and turning. With an included video analysis and a pool session the Learn-to-Surf-Program is the perfect start to introduce you to the sport of surfing.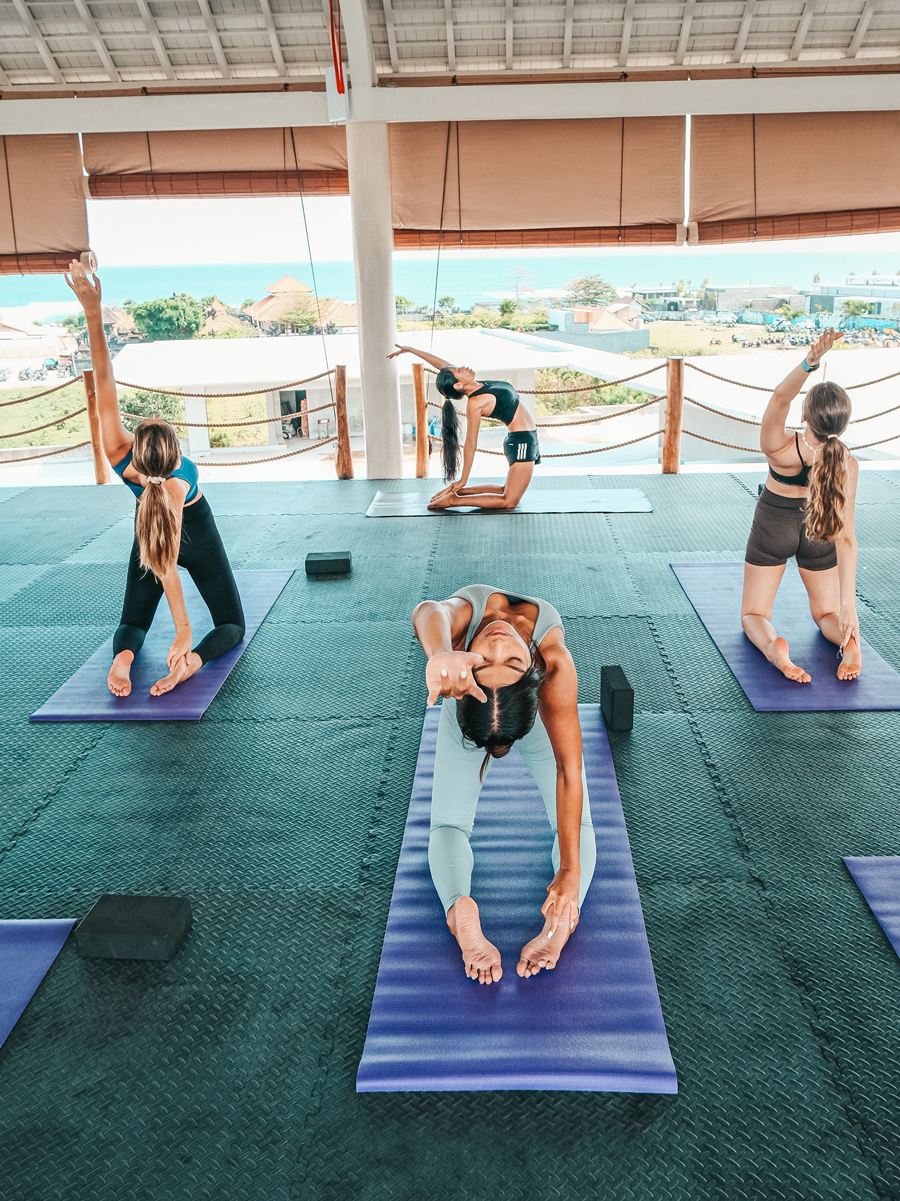 Yoga and more 
The Kima Surf Camp in Canggu is not only about surfing. It offers you a bunch of activities that are included in your stay. Starting with 2 yoga sessions per day to choose from, 6 days per week at their impressive rooftop gym with a breathtaking ocean view. As yoga and surfing go hand in hand, the sessions focus on improving your overall strength and balance as well as toning and conditioning of muscle areas like arms, shoulders and core to support your surfing progress. For those who want to have an extra pinch of yoga private yoga classes are also available to add on.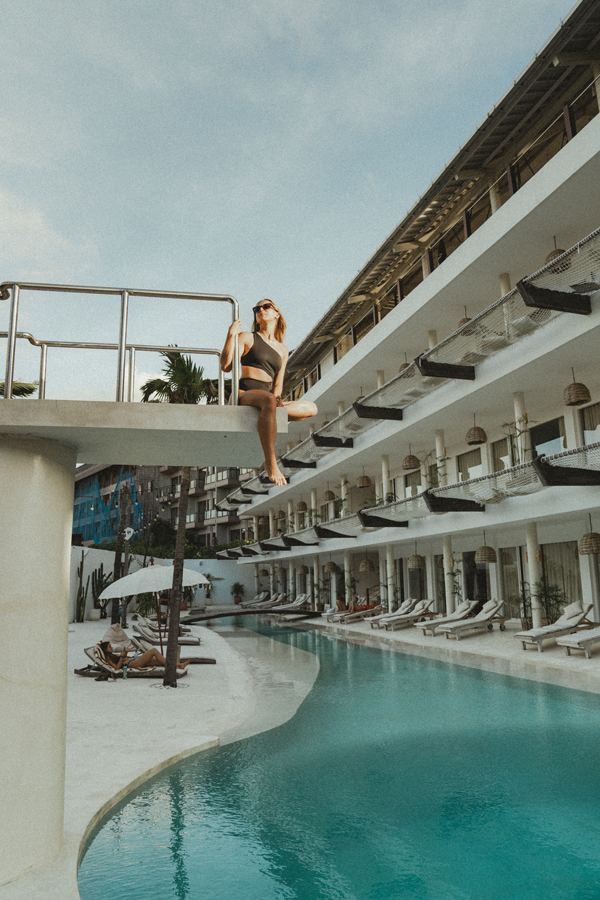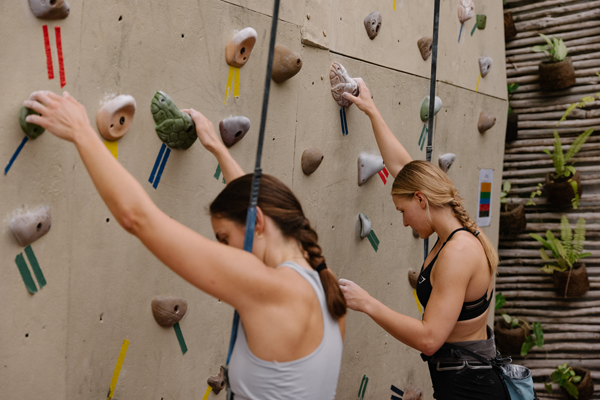 Diving Tower, Climbing Wall and Balance Boards for everyone
The fully equipped 400sqm rooftop gym and the climbing wall are a real playground and another unique and exciting challenge for those looking to push their limits. Daily social activities are free to attend making everyone feel like a big whole family like a family BBQ once a week, pool game competitions, live music concerts or sunset sessions at the beach.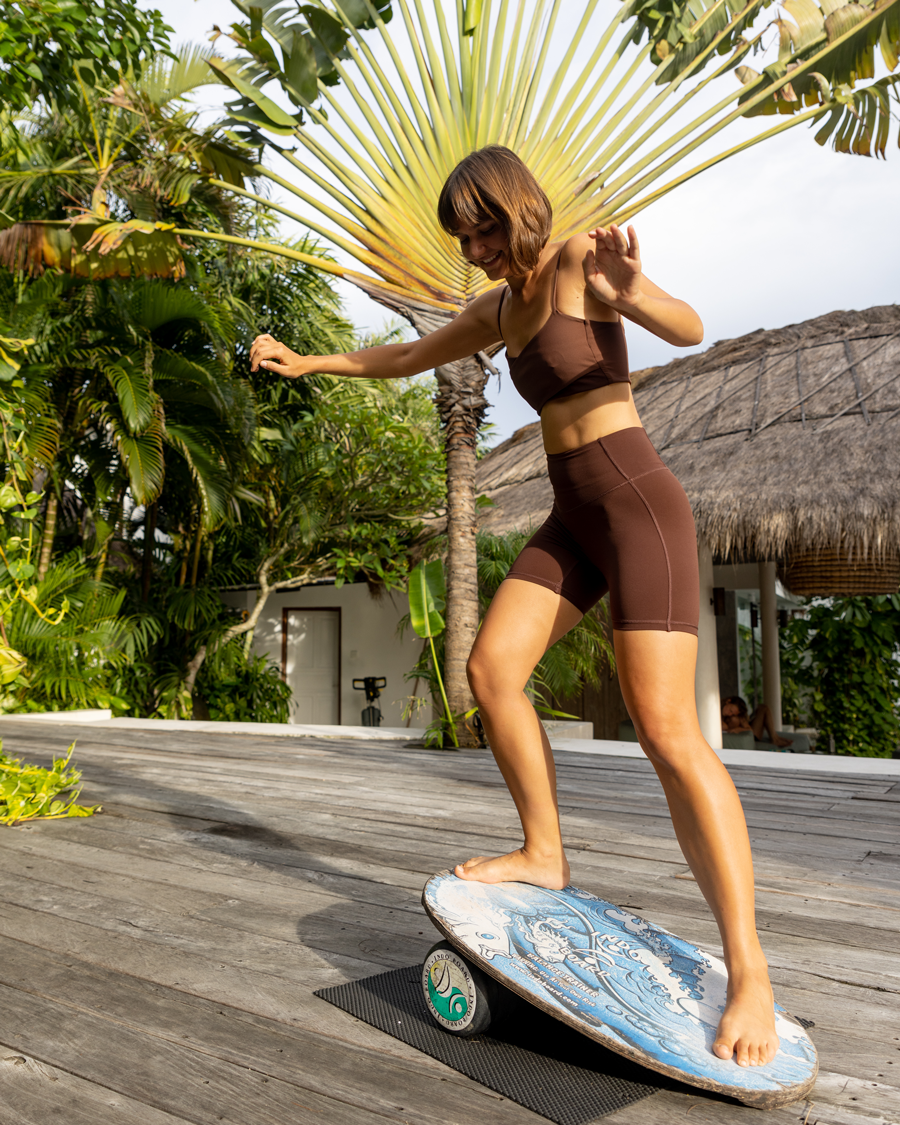 The Rooms
Either if you're travelling solo, with your partner or with a group of friends the Kima Surf Camp in Canggu offers private as well as shared rooms and even villas and suites that can accommodate up to 10 people. All accommodations have the highest Western standard and are modern and comfortably furnished providing ventilation, air-conditioning, hot water, bedding, toiletries and more.
The Deluxe Dorm:
Three comfortable bunk beds can accommodate a maximum of 6 people in one dorm and the modern interior provides you with a relaxed atmosphere. Personal closets and safety boxes for each guest offers enough storage space for everyone's personal belongings and are true to the motto: "Come as strangers, leave as friends" The deluxe dorm is the perfect match for solo travellers who won't be travelling solo afterwards anymore.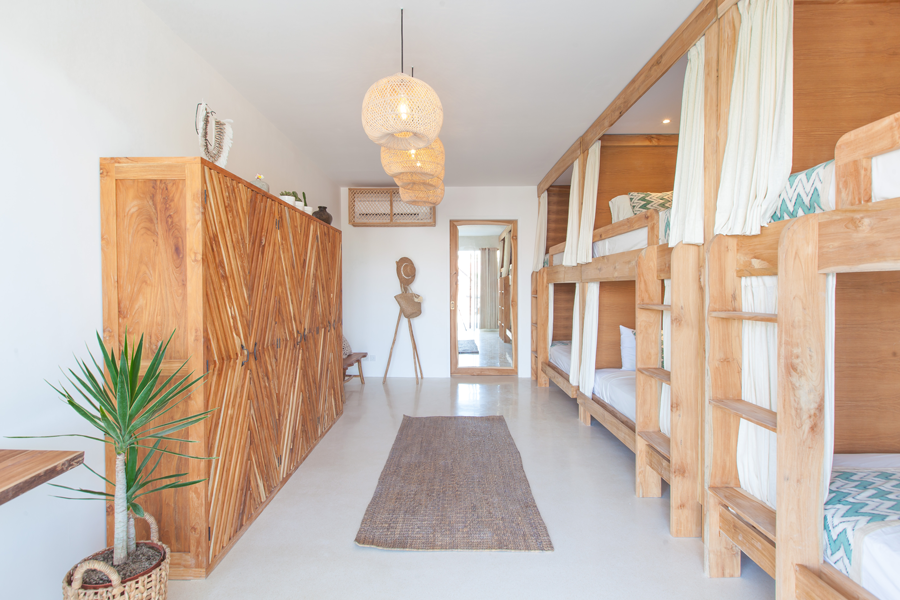 Modern dorm accommodation

The Superior Room:
You're travelling solo but you wish for a bit more privacy? A double room for your own is a bit over your travel budget? Then the superior rooms keep you covered and are a great alternative to the dorm accommodations. These rooms can be made up of two single or one double bed and therefore be booked as a private or shared room. All rooms, furnished with stylish and bright interiors, overlook the pool area and small balconies invite you for a relaxed break between surf sessions.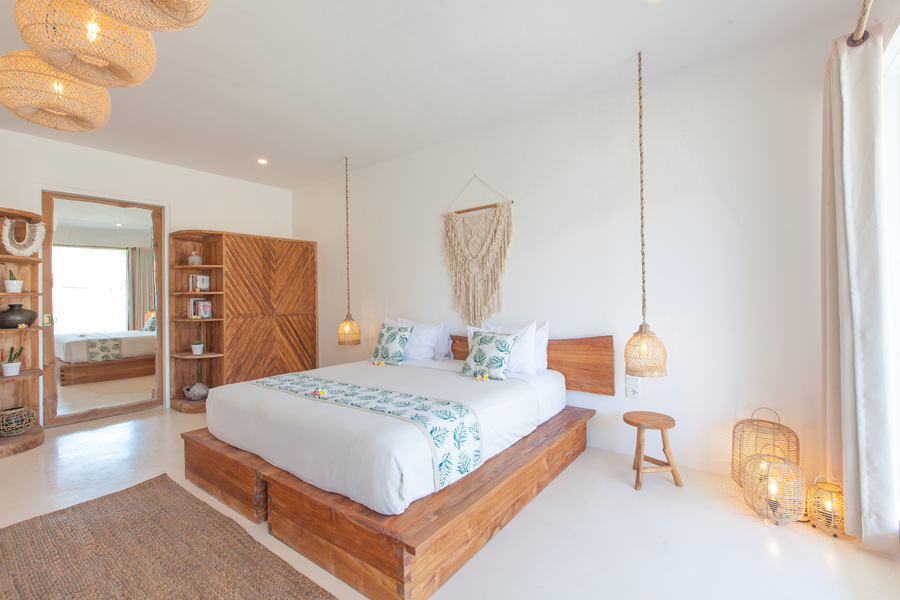 Superior Room Double Bed Option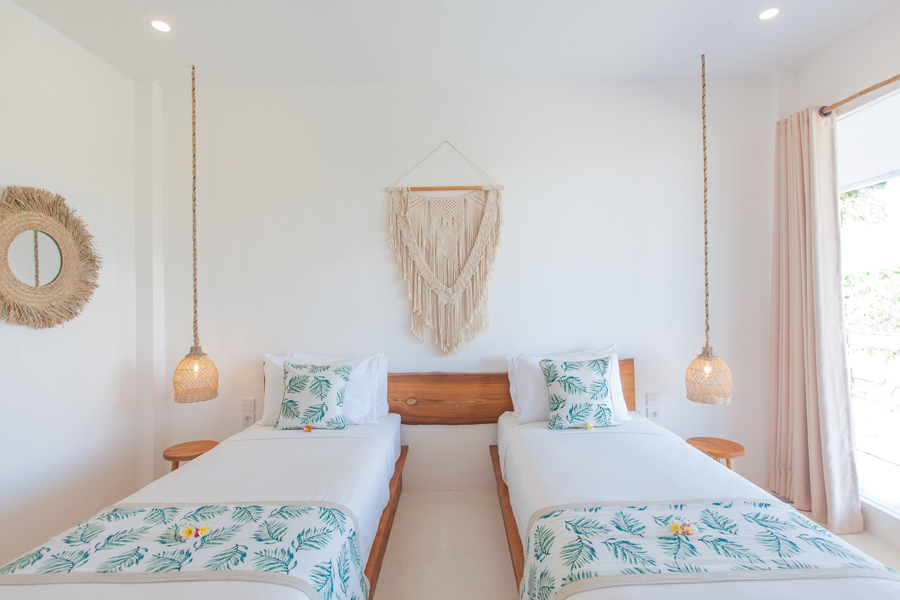 Superior Room Single Bed Option

The Deluxe Two-Bedroom Villa & Deluxe Suite:
A private pool, large bedrooms with king-size beds, living rooms and semi-open bathrooms with rain-showers and more are waiting for you and up to 10 people in the special and unique Canggu Surf Camp Villa. An accommodation the extra class with extra comfort and luxury wherever you look. Enjoy an unforgettable surfing holiday with your family and friends with nothing to be desired.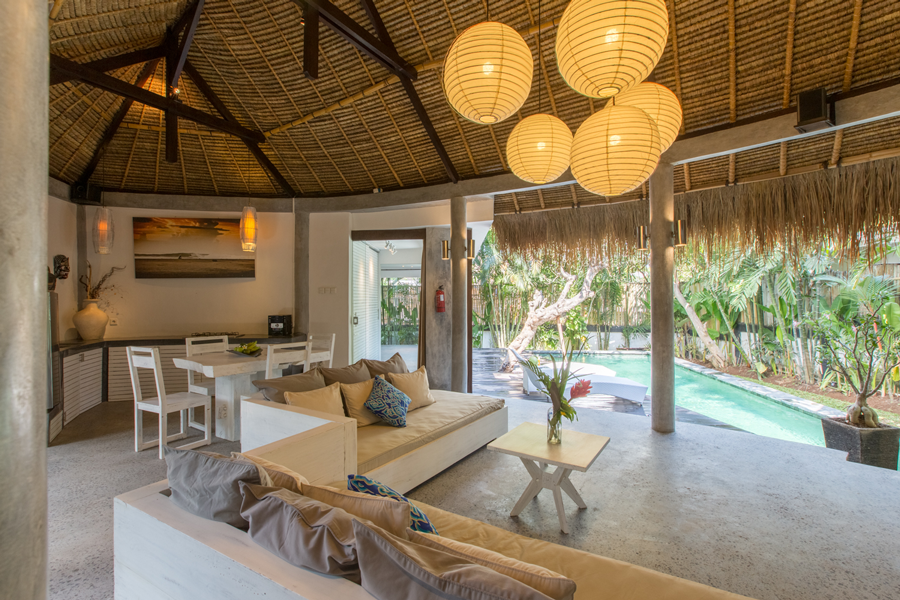 Spacious living room in the Deluxe Villa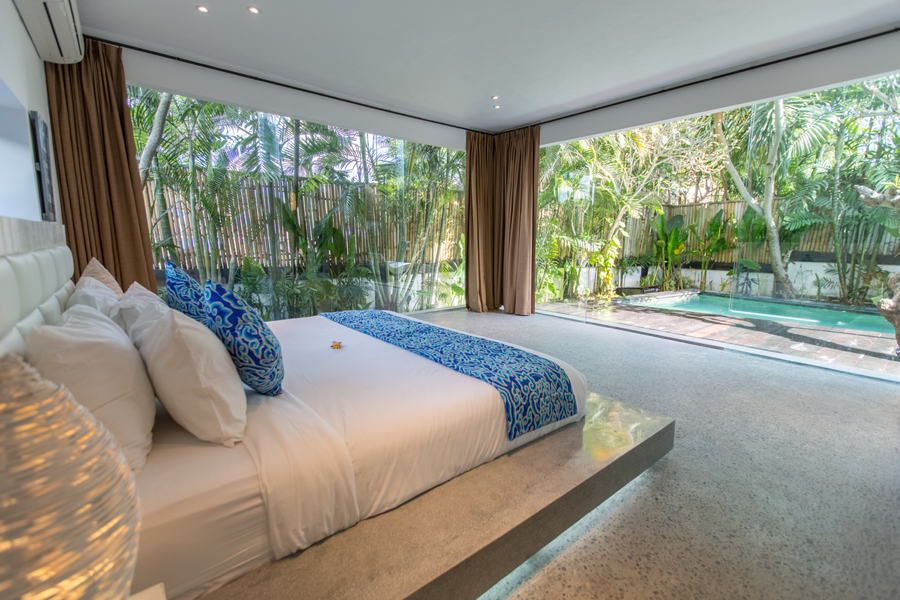 The Food – healthy & nourishing
Refuelling, healthy and nourishing – Kima's food menu is based on using fresh ingredients daily and avoiding refined sugar, starch and flour in most of their dishes. A 3-course breakfast included in your stay kicks off your day every morning. It gives a wide range of options including freshly pressed juices, starters like a fruit platter and mains like a variety of egg dishes. Upgrade your stay to half-board and enjoy one lunch or dinner per day from the camps menu that offers a wider variety of Western and Indonesian dishes as well as many vegetarian and vegan options that go beyond a boring green salad.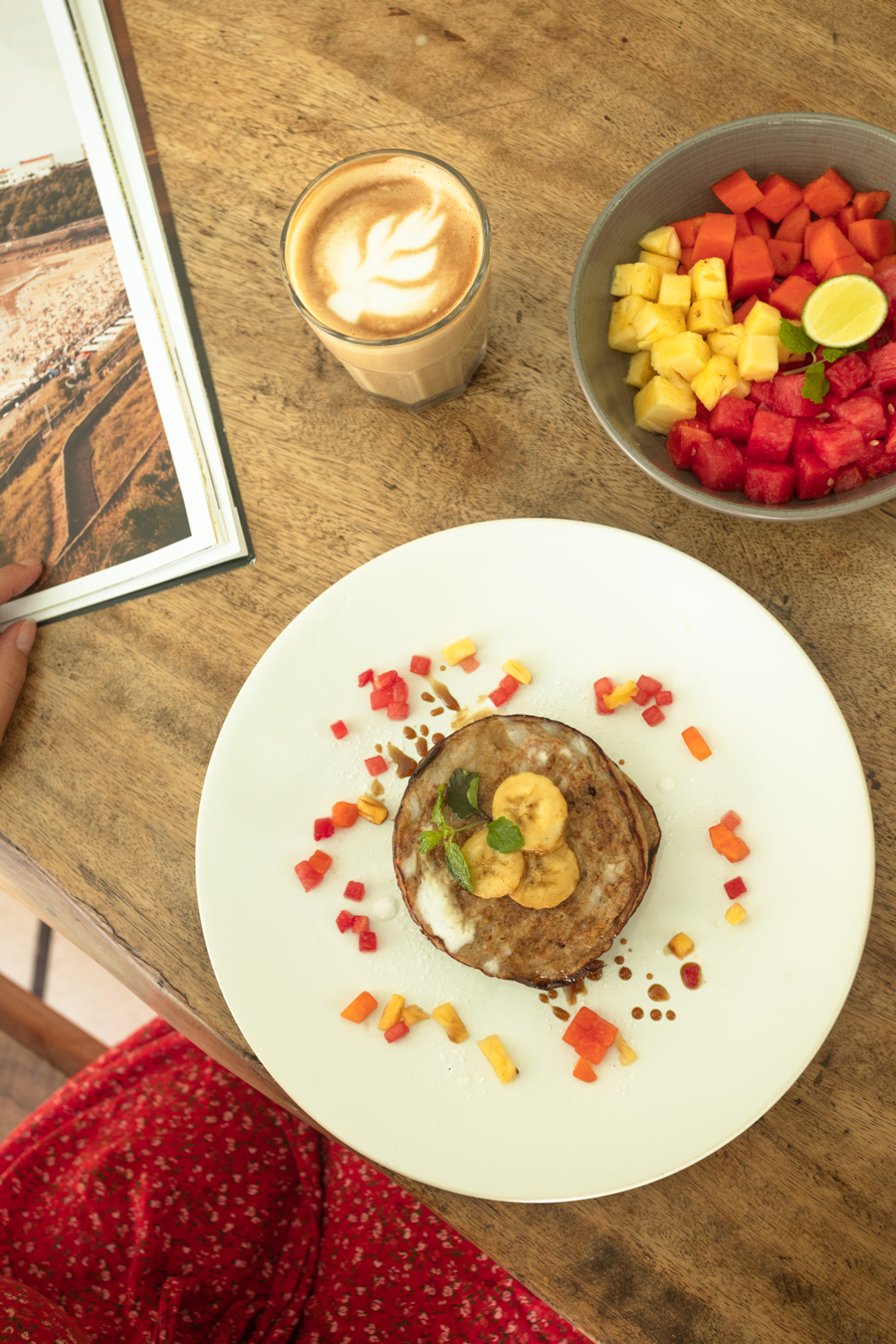 Bananapancakes and a fresh fruit salad for breakfast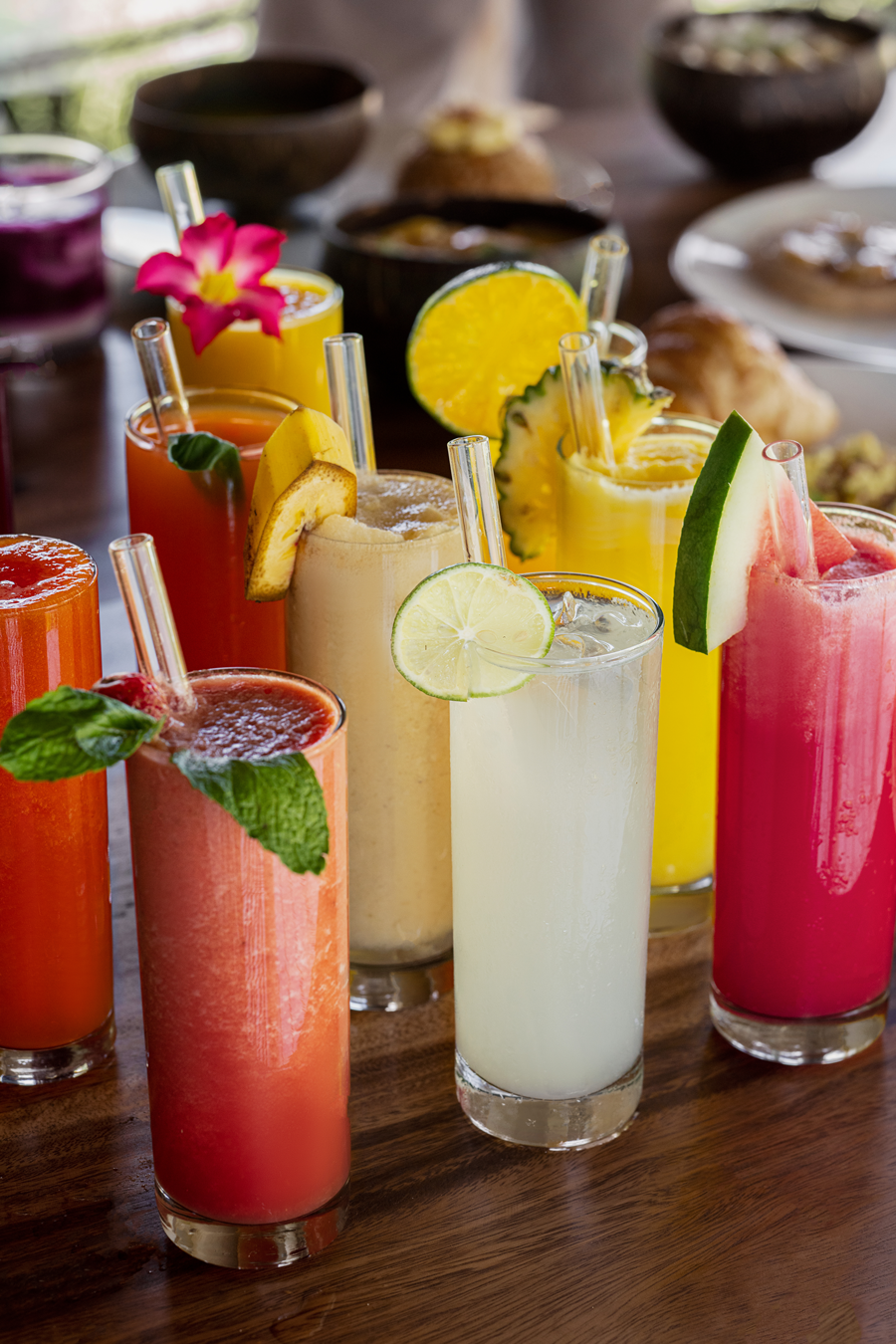 Choice of freshly pressed juices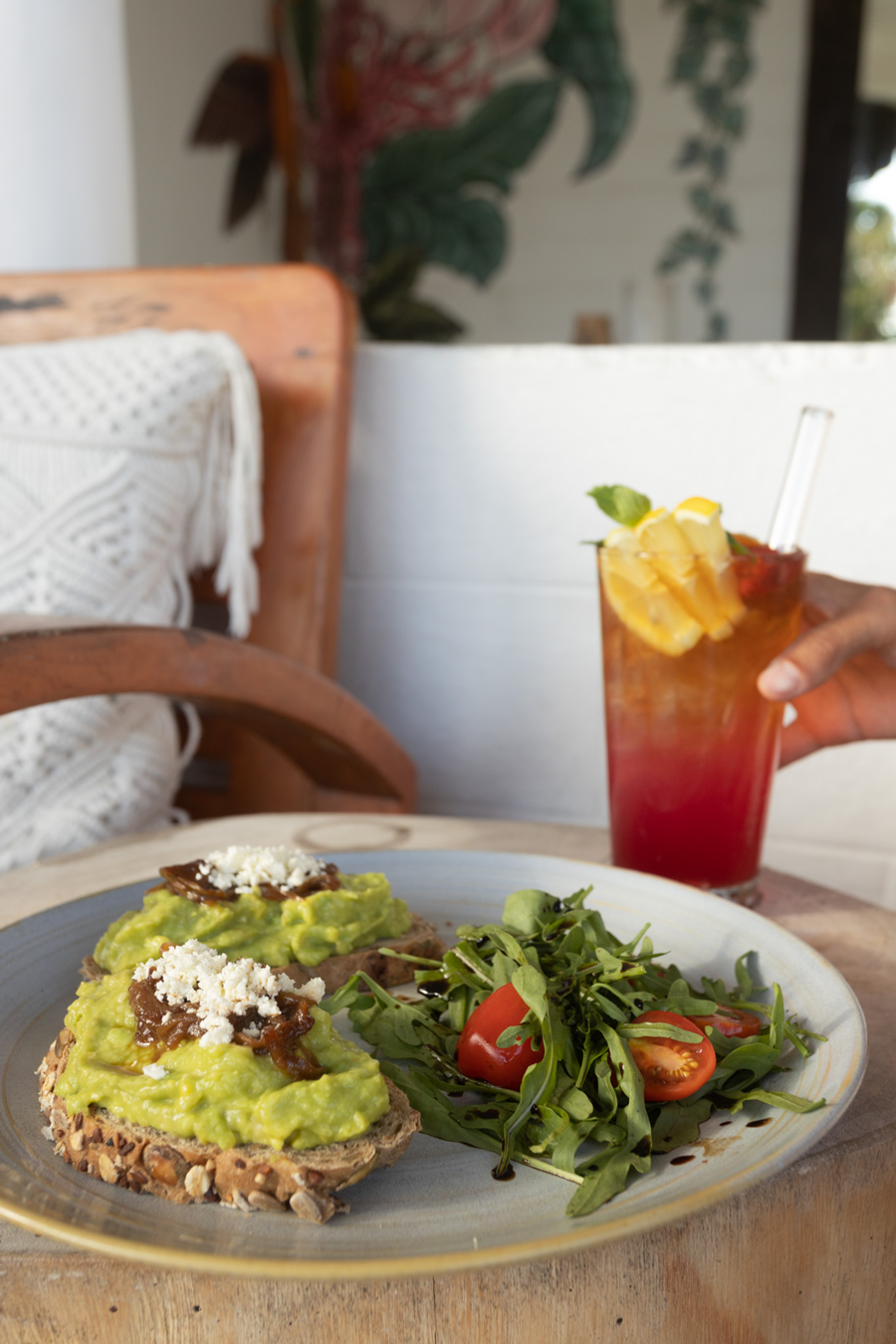 Healthy vegetarian and vegan options

Get ready to experience the ultimate surfing paradise that will exceed all your expectations! What are you waiting for?
Or check out all the other Kima Surf Camps in Bali and Sri Lanka here.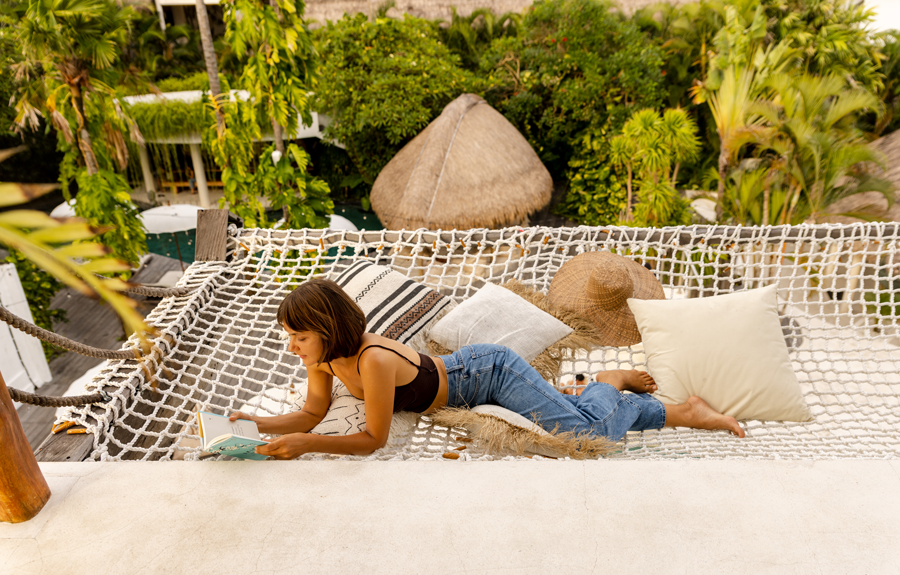 Relax in the hammocks overlooking the spacious pool area