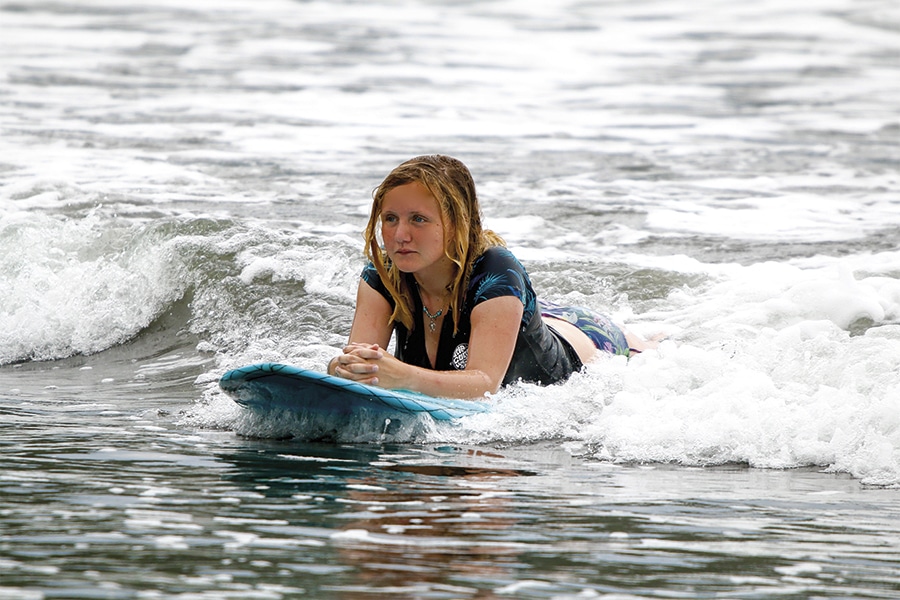 Charlotte Banfield hasn't had an easy life but despite suffering with 

cerebral palsy, autism and a heart condition she has overcome her

 disadvantages through surfing. A few years ago Charlotte's mum enrolled her in the Wave Project and now she's turned her life around. From being withdrawn and rarely going in water at all to winning the English Adaptive National Surf Championships and sponsorship with Alder Wetsuits. Here's Charlotte's inspirational story.
Charlotte, where are you from?
 I was born in Cornwall, I live in Cornwall and I will probably still be living in Cornwall in 50 years time as my heart lives in Kernow. I live in Falmouth, but I spend the majority of my time in Perranporth surfing, so that's like a second home for me.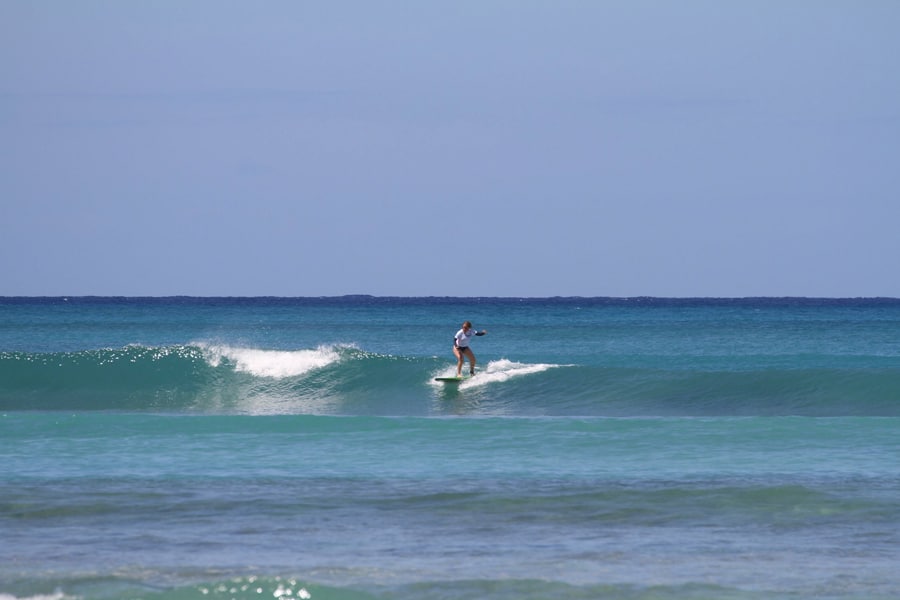 When did you first start surfing?
I first started surfing in 2009, after being referred to a well known charity called the Wave Project. I was referred to the Wave Project because when I was young I faced a lot of challenges and was at a bit of a loose end.
I was born with cerebral palsy, autism and a heart condition which meant that I spent a lot of time as a kid in hospital having operations and so on. Because I was quite a quirky kid, unfortunately school wasn't a place I fitted in and I was on the receiving line to lots of bullying which caused me to feel extremely anxious and depressed. I did not have many friends, and didn't really have that many hobbies which led to me becoming quite isolated. When mum told me about the Wave Project and the fact that she referred me for surf therapy I laughed! We were sat in a little café in Penryn and I was so skeptical. I was thinking how could someone like me surf when I can hardly swim? I hated water, and even the thought of taking a bath made me cringe. I was scared to paddle up to my knees, so the thought of surfing was petrifying.
 On the day of my first surf session, I woke up feeling so nervous. I didn't want to go, mum had to really drag me out of the house. I can remember listening to Bon Jovi all the way to Polzeath and mum telling me that I wouldn't regret it. When we arrived, the first person I met was Becky Parry. She was so friendly, we spent a while talking it all through and after putting a wetsuit on for the first time we headed down to the water's edge. I was petrified of the ocean, the waves seemed HUGE to me back then when in fact they were only about a foot. The first few sessions I refused to enter the sea with a surfboard, I wouldn't go any deeper than my waist. It was the day of my fifth session and I woke up for the first time feeling super excited. That was the day I first went out on a surfboard. I was scared but it was the most exhilarating thing I ever did. I spent the whole week after smiling and really looking forward to the following sessions.
Mum continued taking me to the surf sessions, and every week my confidence grew and grew until I eventually got to my feet and started surfing. I clearly remember how over the moon I felt when I caught my first wave and stood up – it was amazing! From the moment I first stood up on my surfboard, I haven't looked back. Not only has surfing helped my confidence and helped me make friends, but it gave me a second chance at life. 10 years on I'm now an ambassador for the Wave Project and help young people who are in the same situation that I was in – and I love it!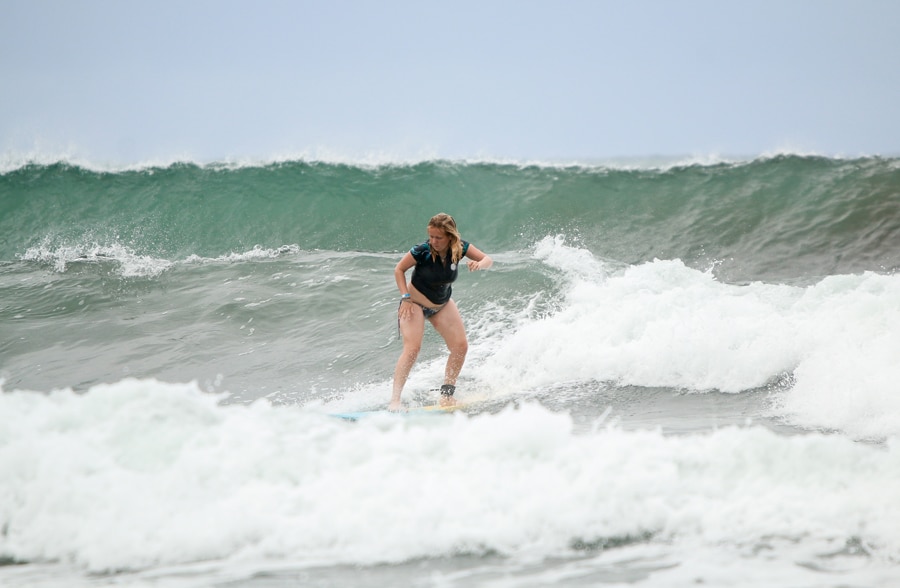 You've just won the 2019 English National Adaptive Surfing Open, how did that feel?
 Winning the 2019 English National Adaptive Surfing Open was so unexpected. There were many amazing athletes from all other the world surfing at this year's event, including Mellisa Reid who won the World Championships, and Darian Hayes from Hawaii so my main goal was just to try my best and have fun. I was happy enough to make the final, and was thrilled to be in second place all the way through the final. But according to my family and friends that watched, it was my final wave with three minuets on the clock that won me the Nationals. As we were surfing high tide at Fistral, it was big and dumpy, literally breaking on the shore. All the other girls started to paddle away to the right but I just had an instinct to stay put and then this wave came and it didn't look very good but with so little time left on the clock I thought, "why not?". Anyway the wave reformed into the most perfect left and I managed to keep it all the way to the inside. I landed on the sand but hey it was super fun. I didn't realsise I had won till after the heat – and I did not believe it. I was completely shocked and so happy!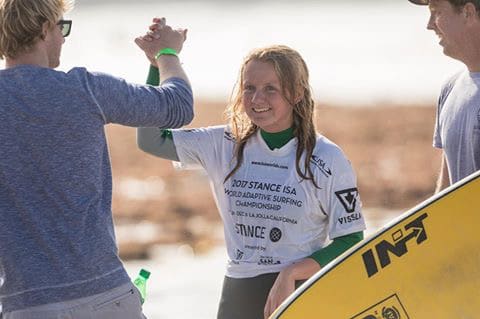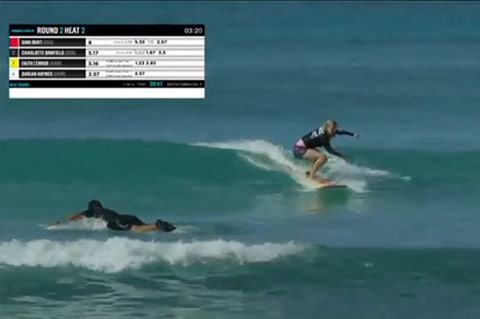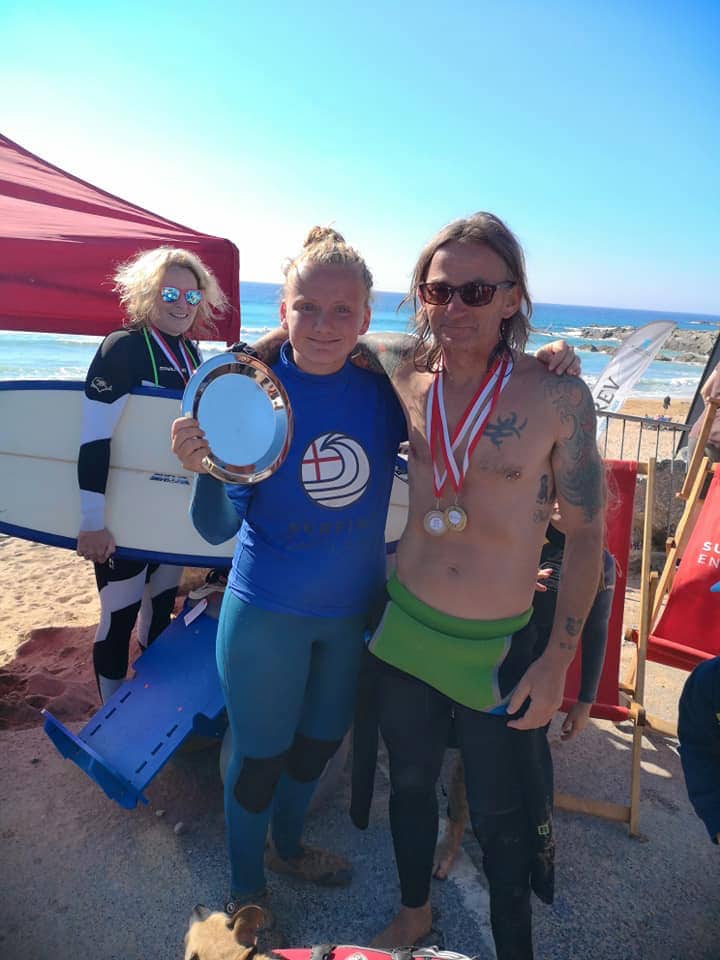 What difficulties do you face in the surf and how do you overcome them?
I have dystonic cerebral palsy, which causes spasticity and weakness in my muscles – but specifically down my left side. This makes it hard for me to paddle, pop up and duck dive. After messing around with a few ideas, I found a way that works for me. I have a handle on my board which I can use to help me get through the waves. Due to my spasticity I have a tight grip so when a wave comes, I roll my board over and hold the handle in my right hand before ducking under the wave. When I'm under the wave my body kind of dangles but it's the safest and most efficient way for me to get out back. To gain speed when paddling, I usually start paddling a lot sooner and when the wave catches my board I push down on the handle to give it more oomph before I pop up. My pop up is a little bit clumsy too, but it works for me! I often get referred to as a Chinese longboarder ha-ha!
What words of advice would you give to other girls who maybe in a similar situation to you?
If I had to give advice to other girls who are in a similar situation to me, I would say: Don't let anyone hold you back, or say you can't do something. With a bit of determination, self belief and time you can achieve anything you want. The world is your oyster!
What are you plans for the year ahead?
At the moment I am training hard for my next competition which is in Japan in October. I'll be competing in a place called Chiba, and I am very excited as I have never been to Asia before. After Japan, I will attend the world championships in California in December again. So it's all very exciting! At the same time, I'll be starting my Master's degree at the University of Plymouth in Marine Ecology.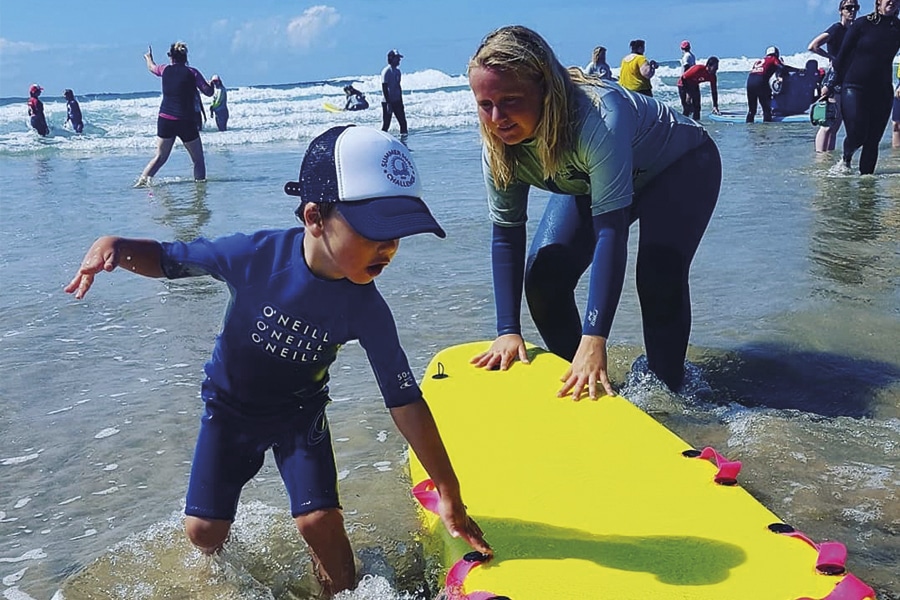 If you had to describe yourself in three words, what would they be?
 If I had to describe myself in three words they would be; enthusiastic, energetic and caring.
Find out more about the Wave Project and how it can help here.