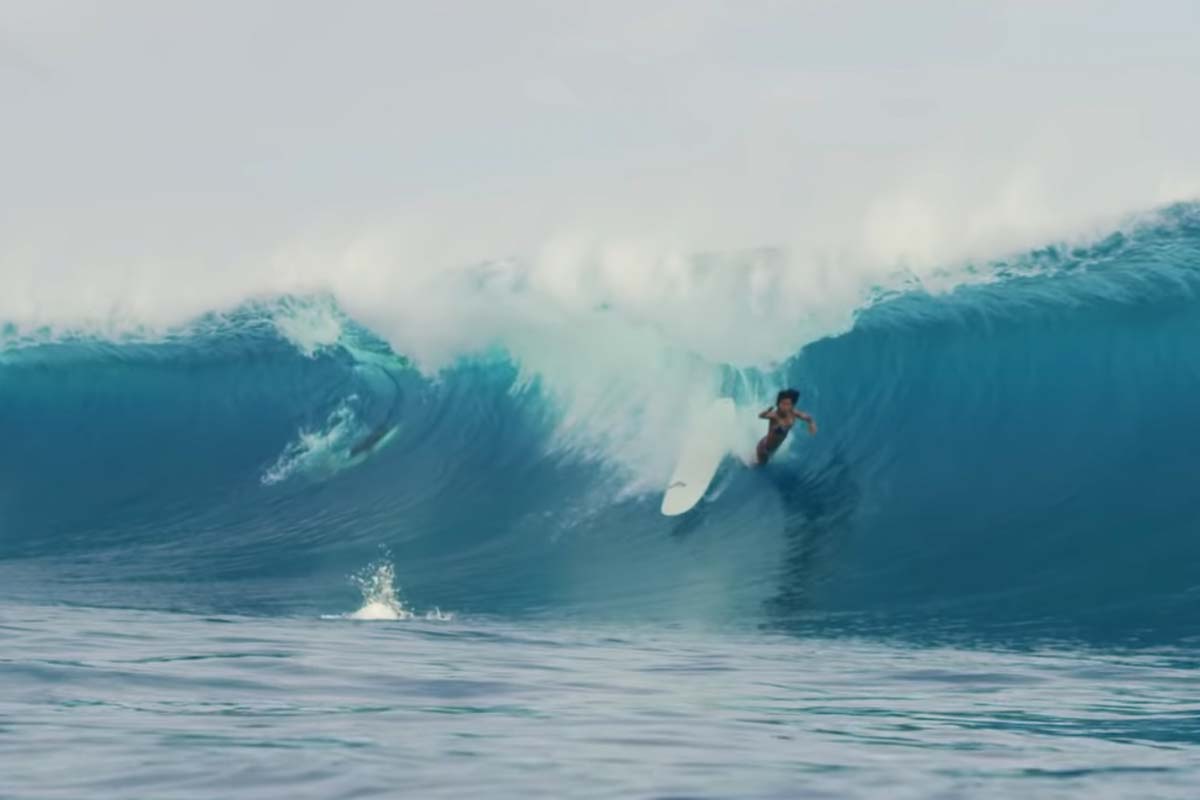 We love seeing female surfers tearing it up, but we can't help but watch a good wipeout as well.
Watching the carnage unfolds reminds us that surfing is a tricky sport to master and even the pros get their butts handed to them sometimes. Granted on waves bigger than a house!
Here's a round-up of some of the biggest and baddest tumbles ….
Keala Kennelly's beat down at Jaws
Red Bull Big Wave Awards WIPEOUT OF THE YEAR winner Keala Kennelly taking a pretty big tumble at Jaws, Hawaii on February 11, 2020.
(Video by Carlo Carbajal.)  Keala's beating left her a little bruised but unscathed.

 

View this post on Instagram

 
Justine Dupont's narrow miss at Teahupoʻo
Justine Dupont dodging Kirahu Thibaud in Teahupo'o.
Captured by Tim McKenna.

Maya Gabiera Nazaré wipe out
On October 28th 2013 Maya Gabiera (Rio de Janeiro, Brazil) wiped out and nearly drowned on a 84ft beast at Nazaré.
The wipe out, which has now been viewed almost half a million times shows Gabeira being thrown from her board and pushed her underwater, breaking her fibula and knocking her unconscious. On 18 January 2018, Gabeira successfully surfed a 68ft wave at Nazaré becoming the first female big-wave surfer recognised with a Guinness World Record.
Video by Jorge Leal

Jaws beat down for Emi Erickson
During the first Peahi Challenge women's heat in 2016, Emi Erickson took a serious beating whilst taking on the15-20 foot waves. Three out of the six women's finalists ended up missing the finals due to injuries sustained during wipeouts.
Video: Surfline (see attached file)

Justine Dupont Nazare rescue
A huge wave, not a massive wipe out but a big rescue job as Justine gets held under by several waves and pushed near the cliffs and rocks. The rescue job was all about timing.

Small Teahupo'o wipeout with big face injury
Keala Kennelly was on her second day of surfing Tahiti's Teahupo'o when the lip of the 'small' barrel clipped her board, wiping her off her feet. After spinning her upside down the wave pushed her face into the reef for one mega reef impact. If you're feeling brave, google the outcome … the facial injury is not pretty!

Flowrider Wipeout
Ok so not a big wave wipeout but this footage from the Royal Caribbean Liberty of the Seas cruise ship in 2007 has us in stitches. Kudos to this lady for her commitment to the flowrider.