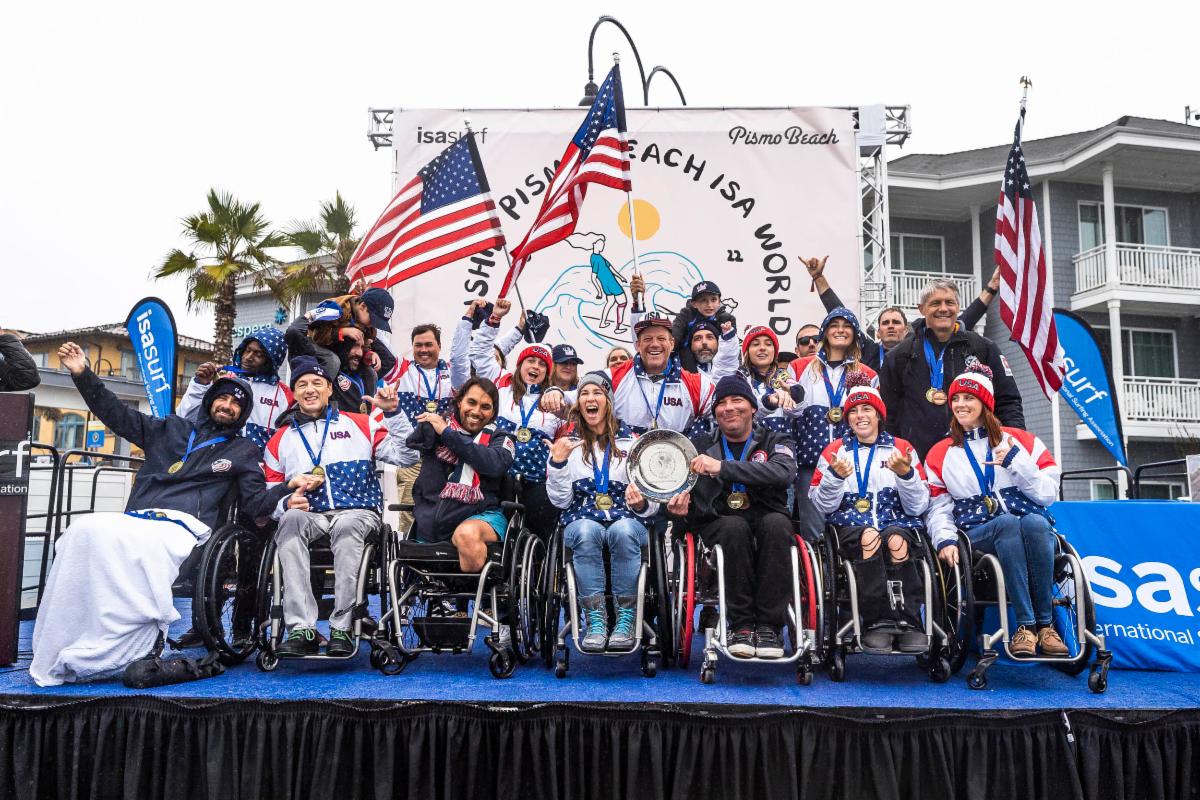 History was made on the final day of competition at the 2022 Pismo Beach ISA World Para Surfing Championship Hosted by AmpSurf, with thirteen World Champions crowned on a groundbreaking day of action in wild and wooly conditions.
Victoria Feige (CAN) won her fourth gold medal in a row to set herself apart and officially become the greatest of all time in women's Para Surfing.
"I can't believe it," Feige said. "But I have gotten this far because of the help of the adaptive surfing community and how hard the other girls in my field are pushing me. I'm so excited to see where we all go towards the Paralympics."

Gold medals from Sarah Bettencourt and Liv Stone once again helped deliver defending champions Team USA their unprecedented third gold medal in the all-important Team World Championship. Bettencourt and Stone both won their third World Title in a row.
"I want to dedicate this win to all the other women that showed up at this event," Stone said. "It's a record number of women. It's incredible and I'm stoked to get more and more up and coming women in the sport of adaptive surfing.
The seventh edition of the event appeared to mark a changing of the guard. A total of seven new world champions were crowned and six of the overall gold medallists are teenagers.
Of the first-time winners, which today included Casey Proud (HAW), Llywelyn 'Sponge' Williams (WAL), Camilo Abdulo (POR), and Rafael Lueders (BRA), Aleli Medina (PUR) was the youngest, at 13-years-old, and also the first to win an ISA Para Surfing medal of any color for her national team.
"I'm super excited," Medina said. "To bring this gold medal to Puerto Rico, it means everything to me."
It was the fourth final for Williams, across six years of competing, and this year's win felt like redemption for the 27-year-old after an interference in the dying minutes of the 2021 Final cost him the gold medal.
"From losing in the last three minutes last year to having it now, it's overwhelming," Williams said. "The whole of para surfing is building and next month we find out if we go to the Paralympics. So it's all changing, and we have new people coming on board. It's going to be a fun few years I think."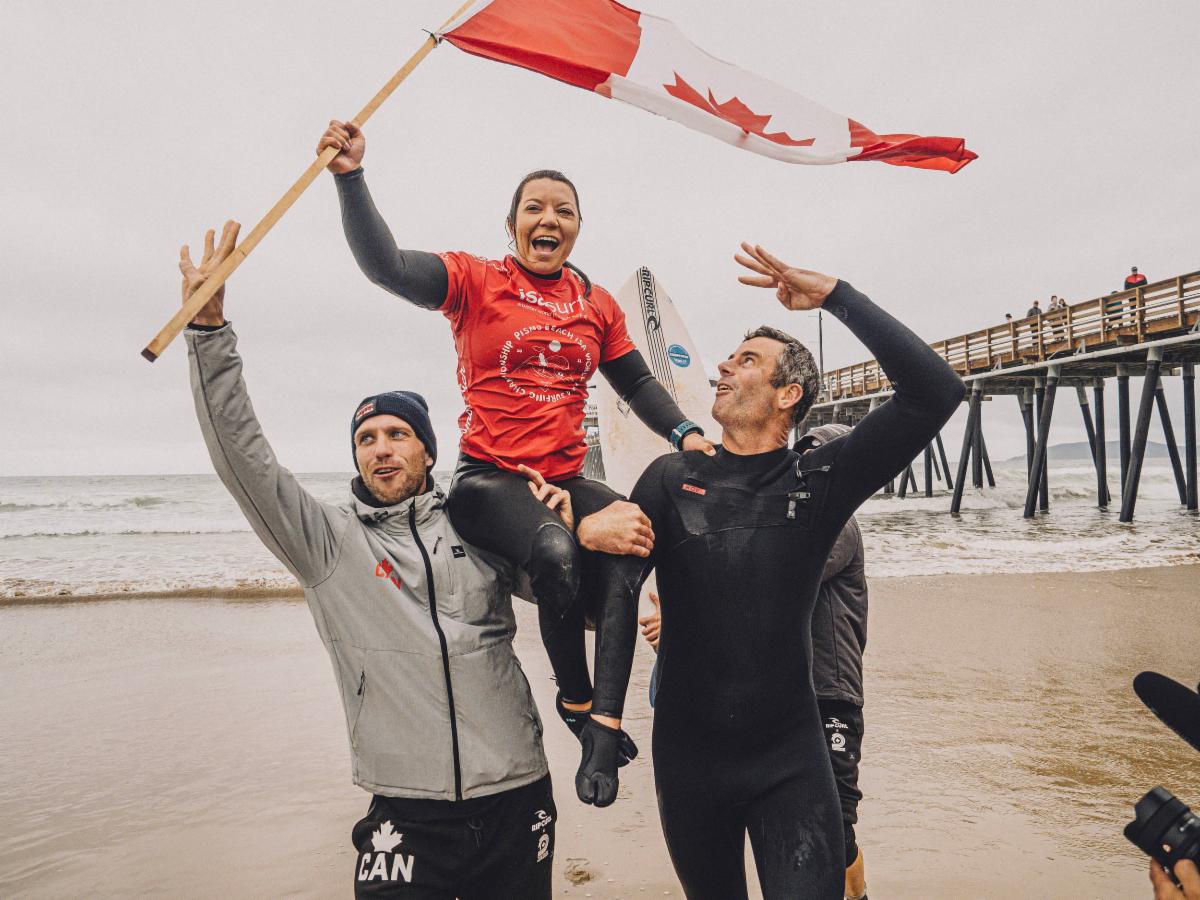 Five additional surfers added to their growing individual medal counts with Fellipe Kizu Lima (BRA) collecting his fifth, Alcino 'Pirata' Neto (BRA) his fourth, and Davi Teixeira (BRA) his second, while 2021 gold medalists Elias Figue Diel (BRA) and Roy Calderon (CRC) both repeated their performances to win back-to-back World Titles.
It's been a long journey for Teixeira, surfing's youngest World Champion, to back up his 2016 win, but the 17-year-old had been setting the pace throughout the event and he carried that momentum with him into the Final to finally secure his second gold medal.
"I feel so happy, so grateful," Teixeira said. "But the win is the most important thing? No, the most important thing for me is the people here and this energy."
ISA President Fernando Aguerre said:
"What an amazing week, what an amazing event! Congratulations to all the medalists in all the divisions and all of the people back home who make this incredible event possible for the athletes.
"Seeing new generations of athletes fills my heart with happiness. Now let's wait for the news. More than ever I believe Para Surfing belongs in the Paralympics."

Team Rankings
Gold – USA (10,890)
Silver – France (10,695)
Bronze – Spain (10,448)
Copper – Brazil (10,440)
Women's Prone 1
Gold – Sarah Bettencourt (USA)
Silver – Katherine Beattie (USA)
Bronze – Tracy McKay (RSA)
Copper – Sam Bloom (AUS)
Men's Vision Impairment 1
Gold – Elias Figue Diel (BRA)
Silver – Thomas Da Silva (FRA)
Bronze – Kirk Watson (AUS)
Copper – Ben Neumann (GER)
Men's Prone 2
Gold – Davi Teixeira (BRA)
Silver – Matthew Vanderhoogth (CRC)
Bronze – Tomoki Fujihara (JPN)
Copper – Claudio Morales (CHI)
Women's Vision Impairment 2
Gold – Aleli Medina (PUR)
Silver – Melissa Reid (ENG)
Bronze – Ling Pai (CAN)
Copper – Alison Eakin (USA)
Men's Vision Impairment 2
Gold – Roy Calderon (CRC)
Silver – Jack Jackson (AUS)
Bronze – Miguel Flavio (BRA)
Copper – Aaron Paulk (HAW)
Women's Kneel
Gold – Victoria Feige (CAN)
Silver – Noemi Alvarez (CHI)
Bronze – Emmanuelle Blanchet (FRA)
Copper – Audrey Pascual (ESP)
Women's Stand 1
Gold – Liv Stone (USA)
Silver – Cristiana Fernandes (BRA)
Bronze – Catalina Castro (CHI)
Copper – Faith Lennox (USA)
Open Sit
Gold – Fellipe Kizu Lima (BRA)
Silver – Guillame Colin (FRA)
Bronze – Juan Camancho (CRC)
Copper – Doug Hendrikz (RSA)
Men's Prone 1
Gold – Casey Proud (HAW)
Silver – Antonion Mueller (GER)
Bronze – Marcal da Costa (BRA)
Copper – Christiaan 'Otter' Bailey (USA)
Men's Kneel
Gold – Llywelyn 'Sponge' Williams (WAL)
Silver – Mark 'Mono' Stewart (AUS)
Bronze – Altair Olivares (CHI)
Copper – Ibon Oregui (ESP)
Men's Stand 1
Gold – Camilo Abdula (POR)
Silver – Roberto Pino (BRA)
Bronze – John Wheele (AUS)
Copper – Kentaro Kondo (JPN)
Men's Stand 2
Gold – Rafael Lueders (BRA)
Silver – Jean-Paul Veaudry (RSA)
Bronze – Phillipe Naud (FRA)
Copper – Kenjiro Ito (JPN)
Men's Stand 3
Gold – Alcino 'Pirata' Neto (BRA)
Silver – Dariel Melendez (CRC)
Bronze – Eric Dargent (FRA)
Copper – Naomichi Katsukura (JPN)