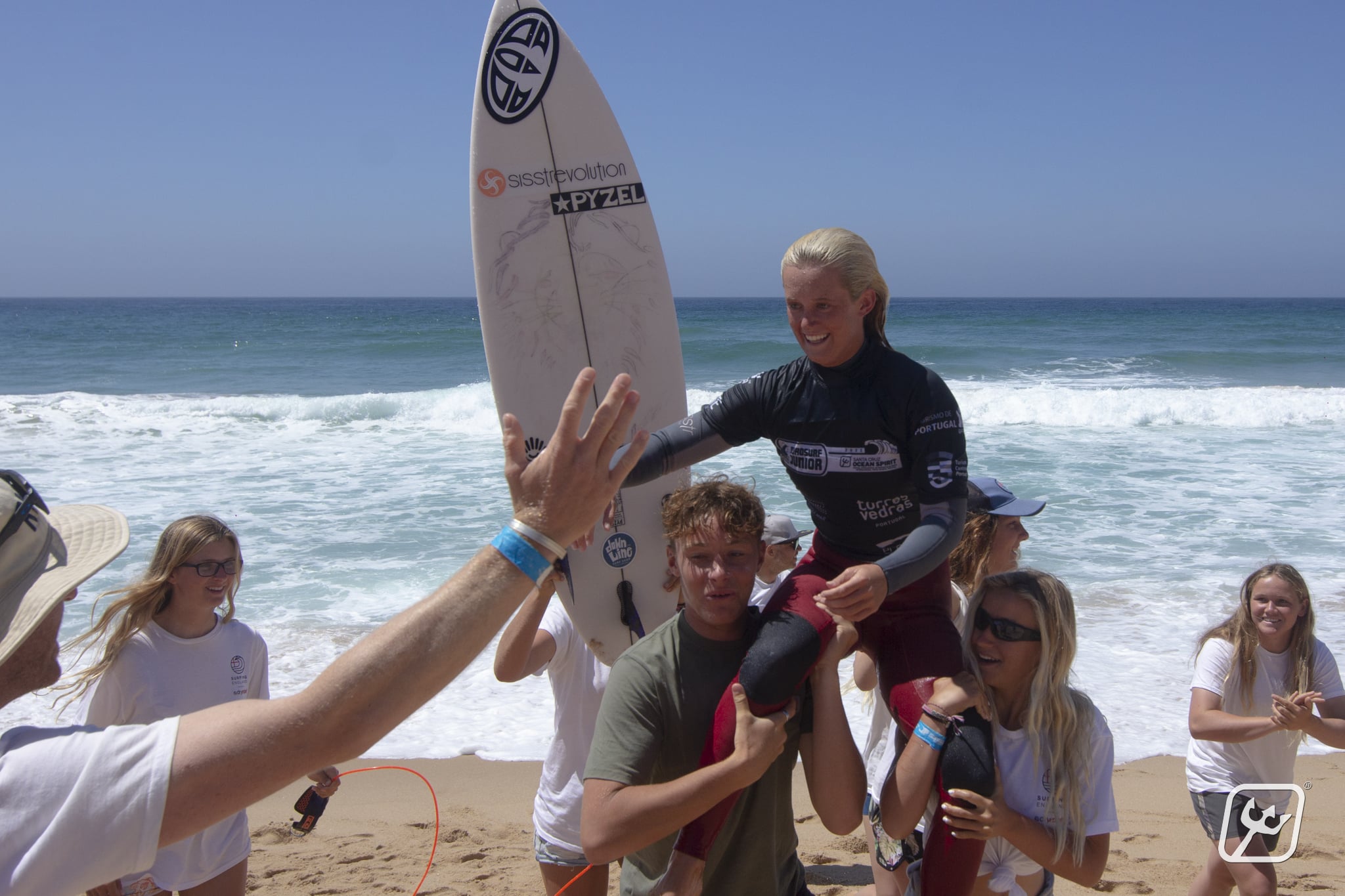 Historic Triple European Crowns for Team England: Team England juniors have absolutely stormed the 2022 EuroSurf Championships claiming 3 European Titles and taking 4th spot in the team standings
Let's cut straight to those new champions: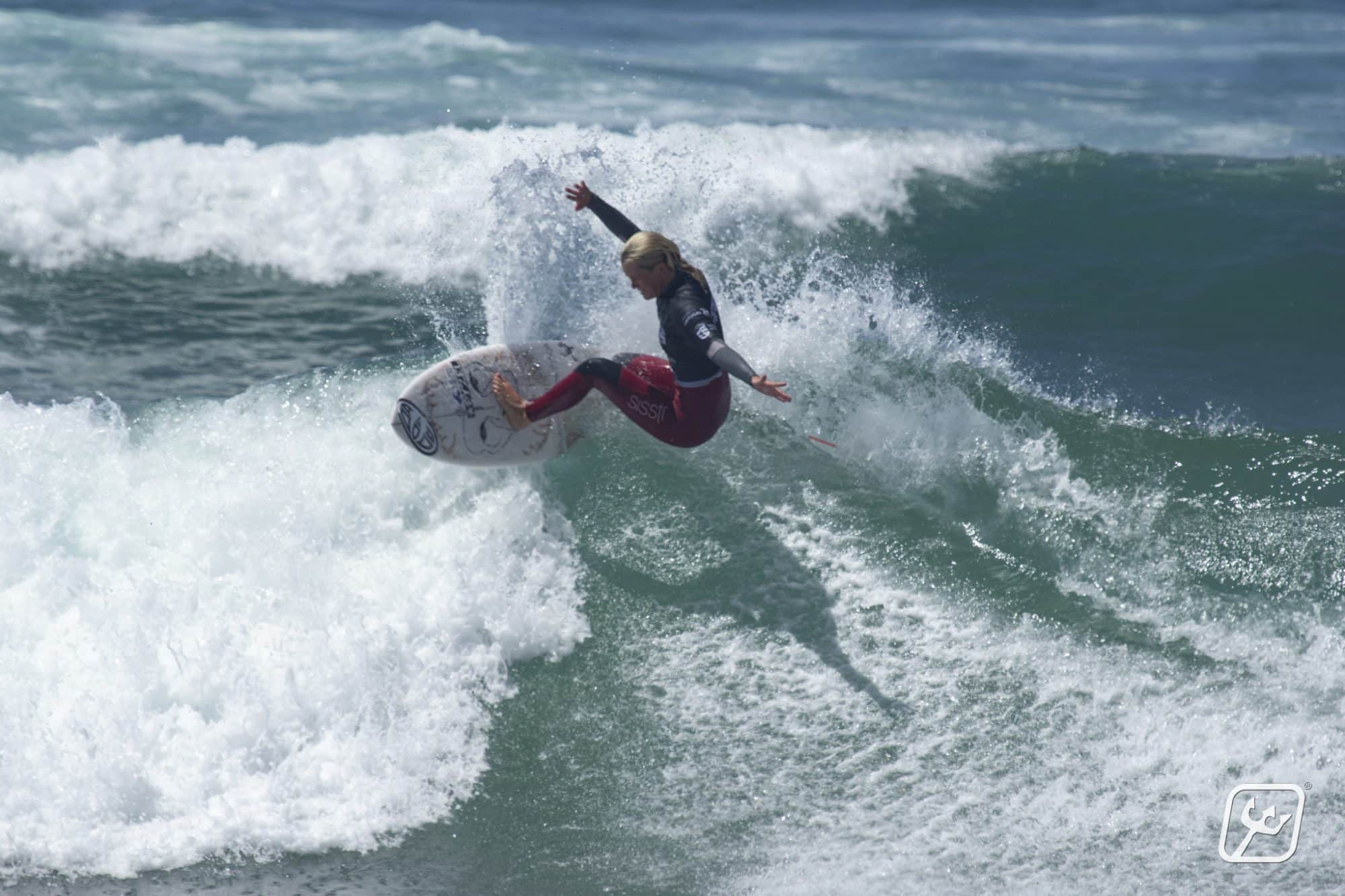 U18 F European Champion: Alys Barton (above)
"I am super happy to have just come first in the U18 Girls – I am now a European Champion! I am so stoked, it's such an amazing feeling. The whole team has been so supportive, and everyone has been ripping. It's been such an awesome event – the waves have been pumping and everyone has been having such a good time. I'm just super stoked to come out with a win!"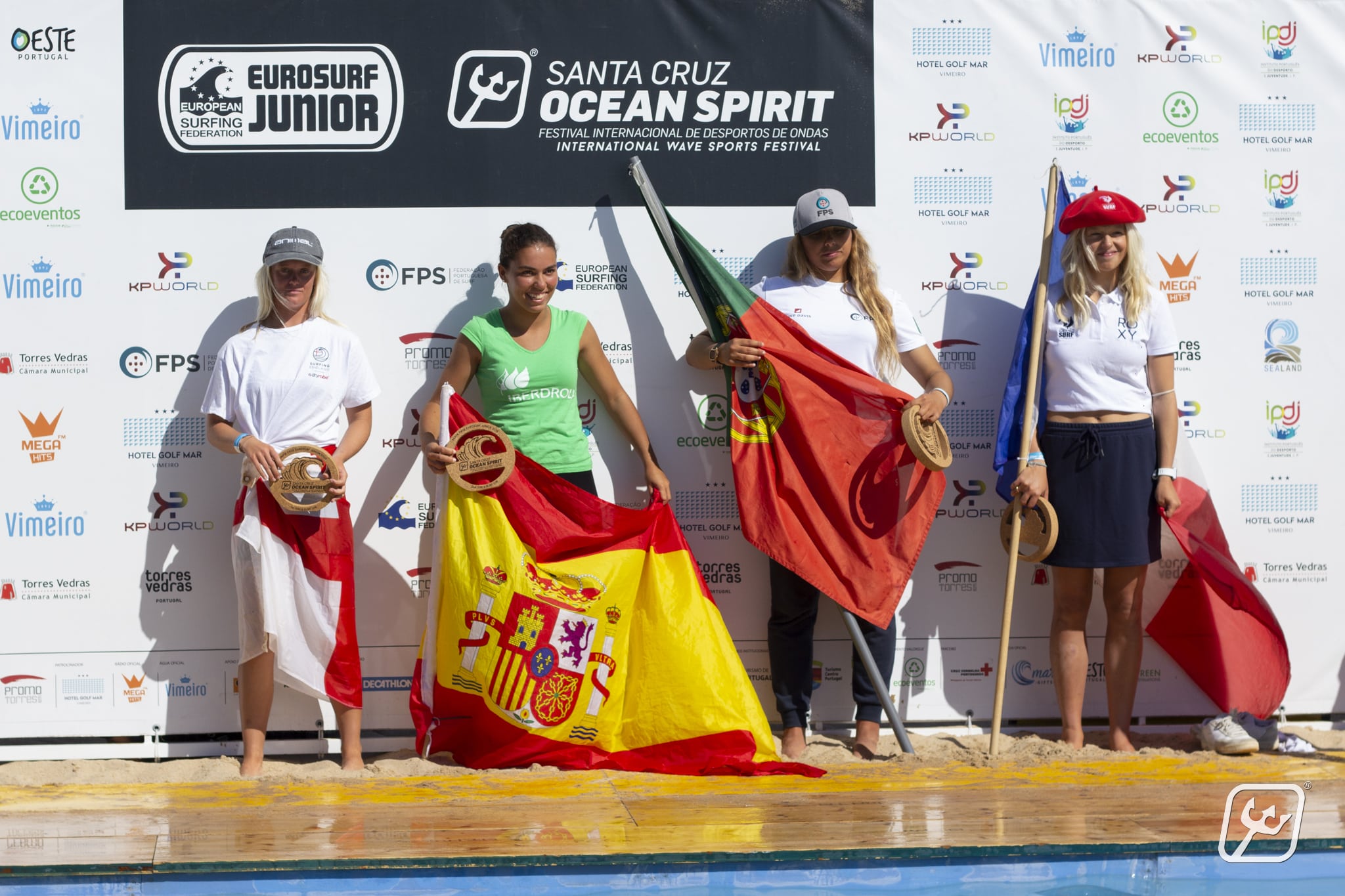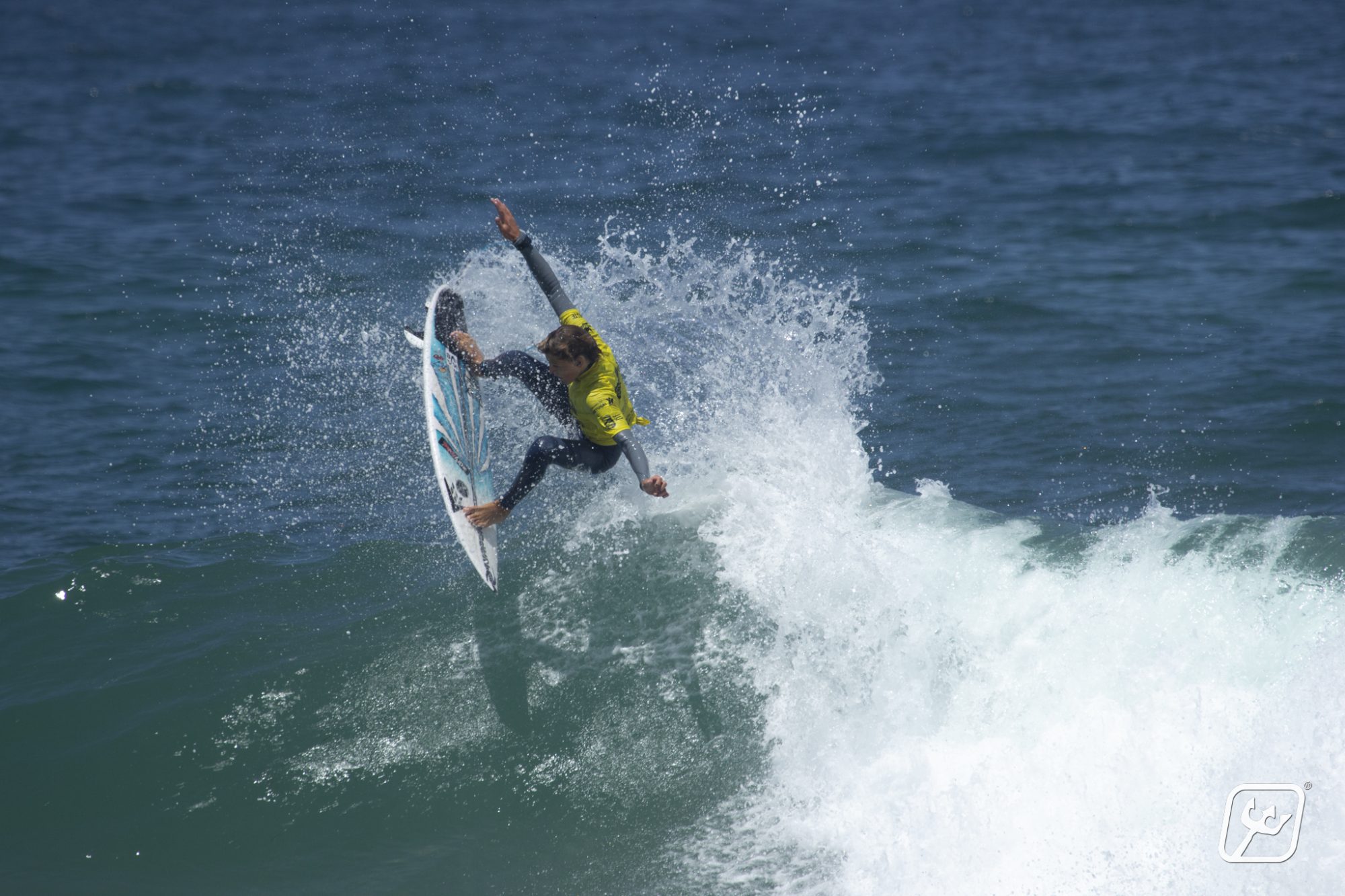 U16 M European Champion: Lukas Skinner (above)
"I'm so happy for the win especially coming from the repechage. Surfing more heats in the repechage got me into a roll which made me confident in my surfing. It was great to share the final with some of my best friends from Europe. Thanks to everyone in the team, my family and all the support from home."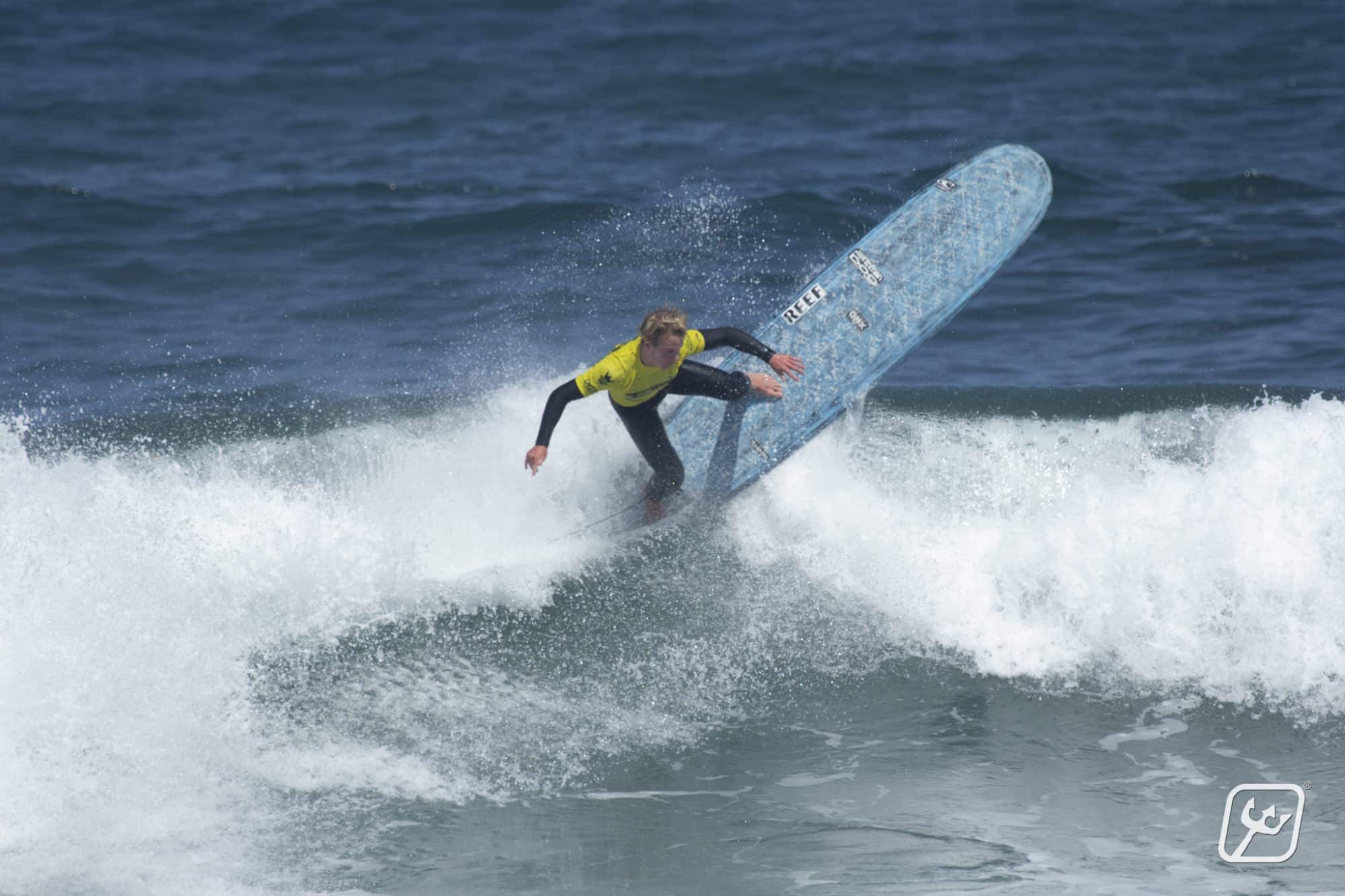 U18 M European Longboard Champion: Arthur Randle (Above)
"I feel overwhelmed, happy, and relieved. I wouldn't have got there without the help of the coaches and the team. Conditions were tricky and my competitors surfed really well. Getting knocked out in the first round put my confidence down but I worked my way all the way to the top through repechage – the repechage final put my head in the game and I started to truly believe in myself! Big thanks to everyone involved!"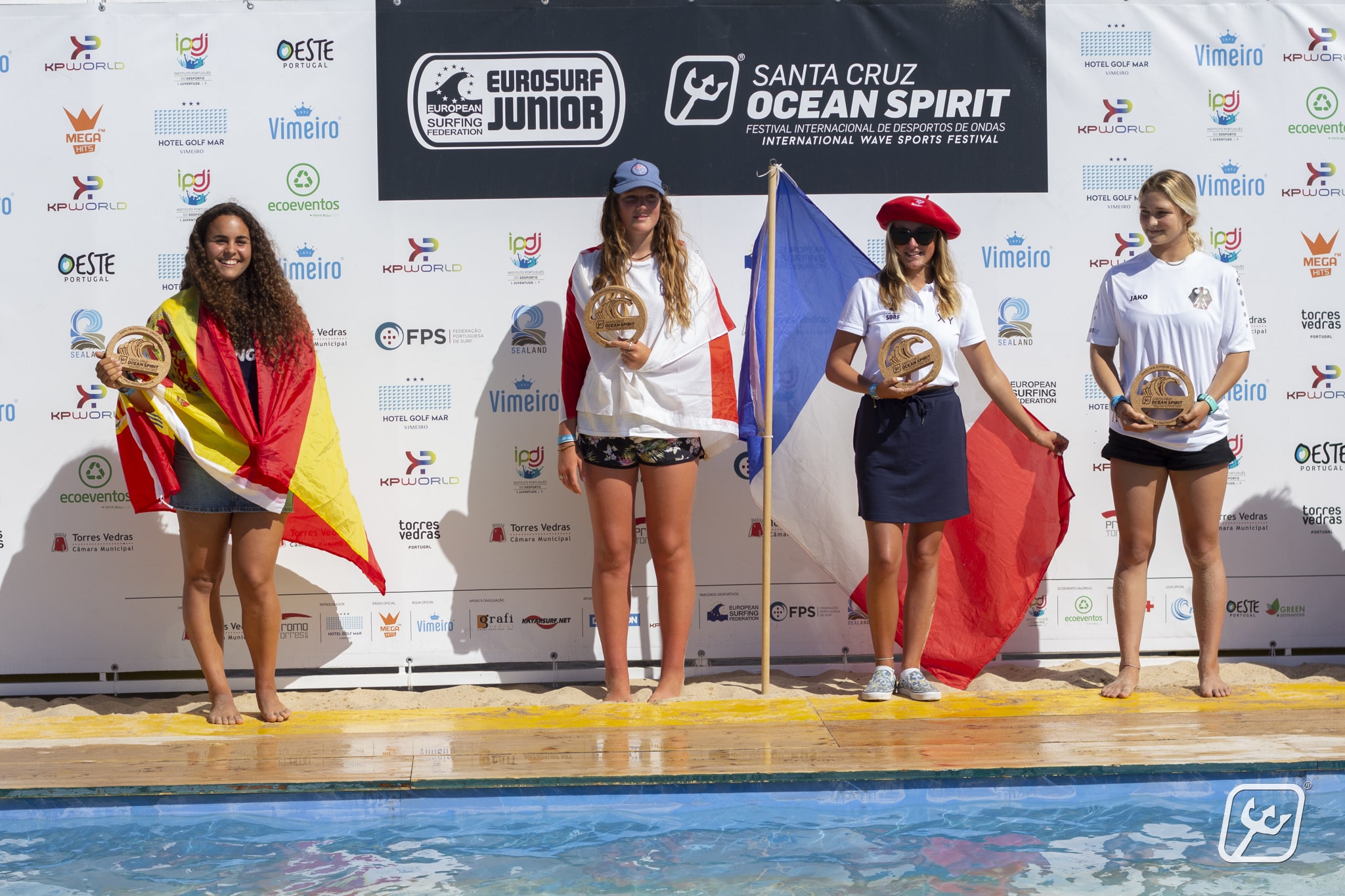 Lola Bleakley surfed brilliantly throughout the event losing out in the last seconds of the Girls U18 Longboard Final to an unbelievable wave from a Spanish surfer. Having led for the most of the final an amazing effort from Lola at the age of 14 – she'll surely be back in two years' time to claim her gold.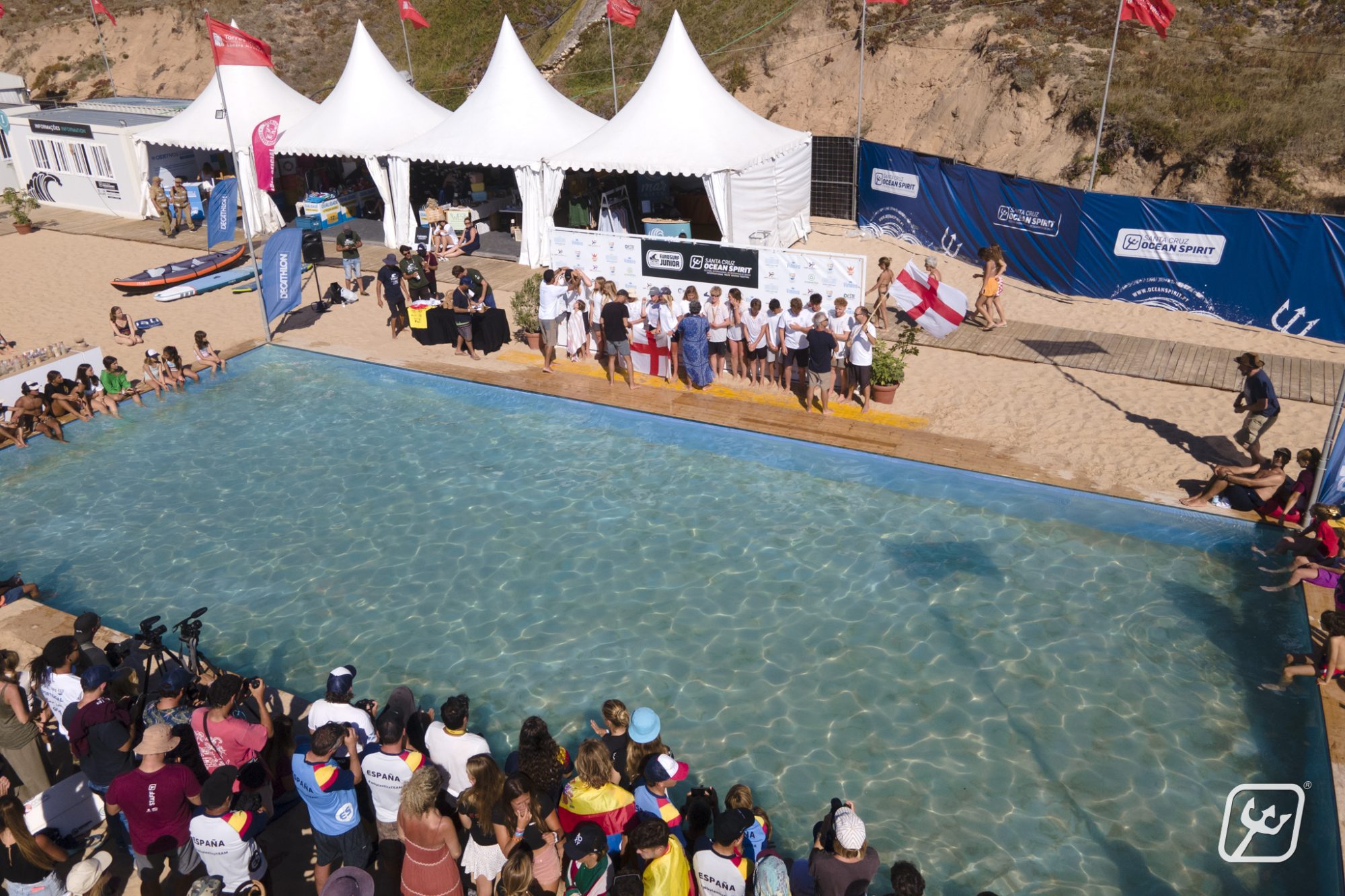 Jamie Wride, our team manger explains the level of commitment shown by the crew: 'There is no easy way to the top of the European standings. The standard is so high with many world finalists competing in the European Games and you've got to be across all aspects of your game; technical skills, competition strategy and mental and physical resilience to push through a long week of heats and then dominate finals. I'm so proud of all of our team, these young athletes have grafted hard and delivered some historic performances for their country.'
Of course, it's huge credit to our volunteer coaches and support crew – out at the Euros' Jamie Wride, Beau Bromham, Lenka Koubek and Ben Skinner.

Dryrobe are very much part of the Surfing England family and sponsors for the junior crew, so huge thanks to them for their belief and putting back into the sport.
Thanks to Euroropean Surfing Federation and Ocean Spirit for organising such a fantastic event and our wider coaching team at home: Miles Lee-Hargraves, Karma Worthington, Jenny Briant, Damon Beveridge, Dr. Lindsay Woodford and Emily Williams for all their efforts helping the squad to prepare for the event.
It's all the more impressive that the team has come so far without public funding. We've been knocking on Sport England's door to try and change that, to bring in the support so many other sports benefit so much from.
This crew, our new European Champions, have just made those knocks much harder to ignore.
Surfing England remains a membership based organisation – not for profit, but all for surfing.
Your support means everything and we would love you to join us.

RESULTS
Longboard u18 – Arthur Randall (Eng)

Longboard u18 girls – Daniela Sevillano (Spa)

Surf u16 girls – Annette Etxabarri (Spa)
Surf u16 – Lukas Skinner (Eng)
Surf u18 girls – Alys Barton (Eng)
Surf u18 boys – Kai Odriozola (Spa)
Well done below.
Irelands Alex Fanning 5th under 18 Girls Longboard
Wales Blake Jones 5th under 18s boys longboard
Team results
1st Spain 2nd France 3rd Portugal 4th England

Click here to read our interview with Alys Barton and Tegan Blackford.