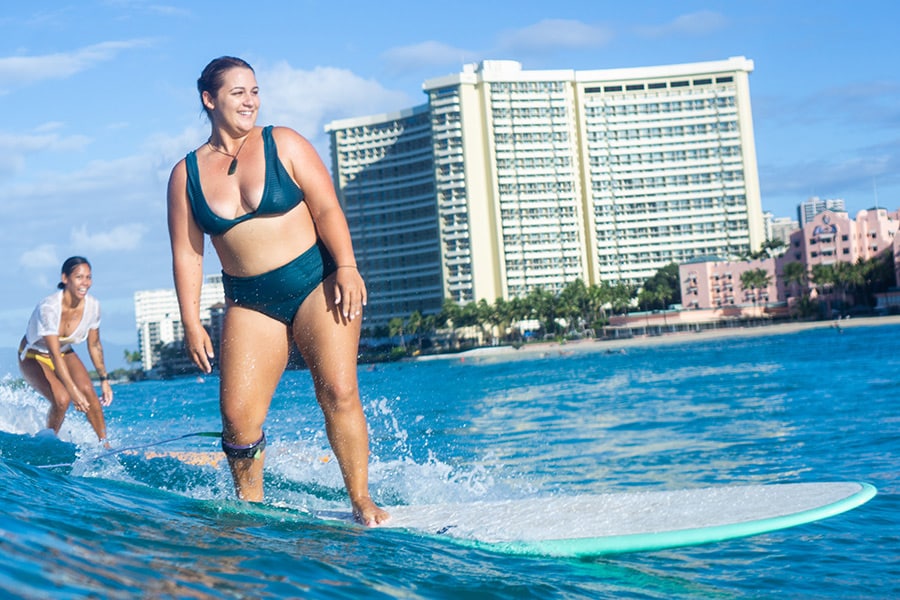 Words by Stephanie Conway
In front of the Sheraton Waikiki Hotel, just West of Canoes and a hundred yards further back into the ocean – you'll find arguably one of the best longboarding waves in Hawaii. It's a long, peeling reef break that's been given the name Populars – or Pop's for short. If you're lucky in the crowded lineup you might spot a surfing influencer unlike any other. Elizabeth Sneed, also known as @Curvysurfergirl has amassed a following of over 65 thousand followers on Instagram, for helping to make surfing and surf wear more accessible for all.
Top photo: Shelby Husted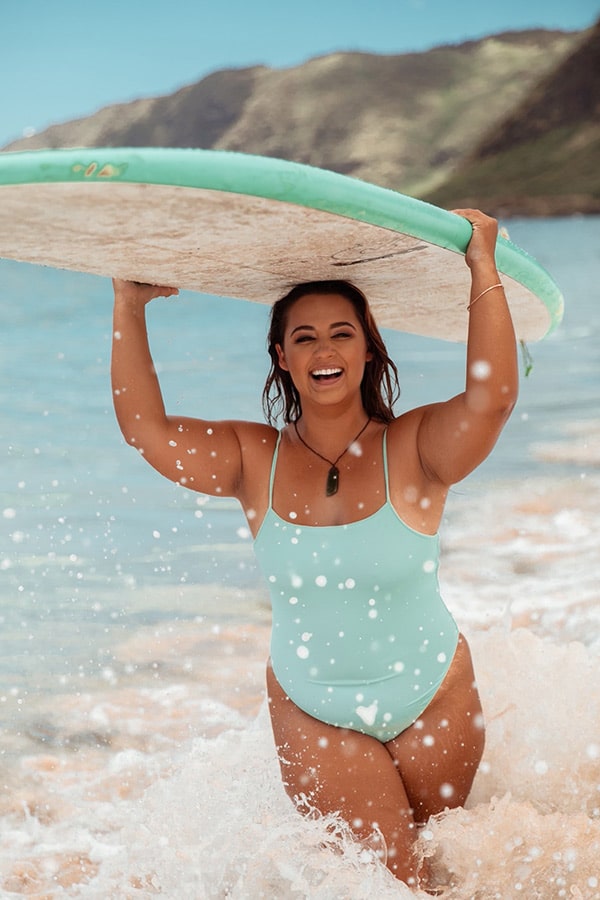 "I love going to Pops on a 2-4 foot day," says Sneed. "It's a 20 minute paddle out but it's so worth it. It's this nice, soft ride down and you can get long rides on good days – so it gives you the opportunity to practice more complex manoeuvres. It's out in the middle of the ocean and the waves are pure magic."
Elizabeth Sneed didn't become an influencer because she's at a pro-level. In fact, she didn't initially set out to be an influencer at all. She just wanted to learn how to surf. But spotting a gap in the market led her to build an inclusive community of women that feel welcomed into surfing – regardless of their ability or body type.
"If we go to surf breaks around the world, there are women and men of all ages, skills and abilities in surfing. Most are in the beginner to intermediate category," explains Sneed, best known on Instagram as @CurvySurferGirl. "I think we need to democratize surfing in the sense that we should be able to see all levels of surfers represented. If we can communicate that surfing is something that everyone can do at every stage in their lives, then we'll have more people involved and engaged. I think that would do so much good for the sport, and for the mental health of everyone participating."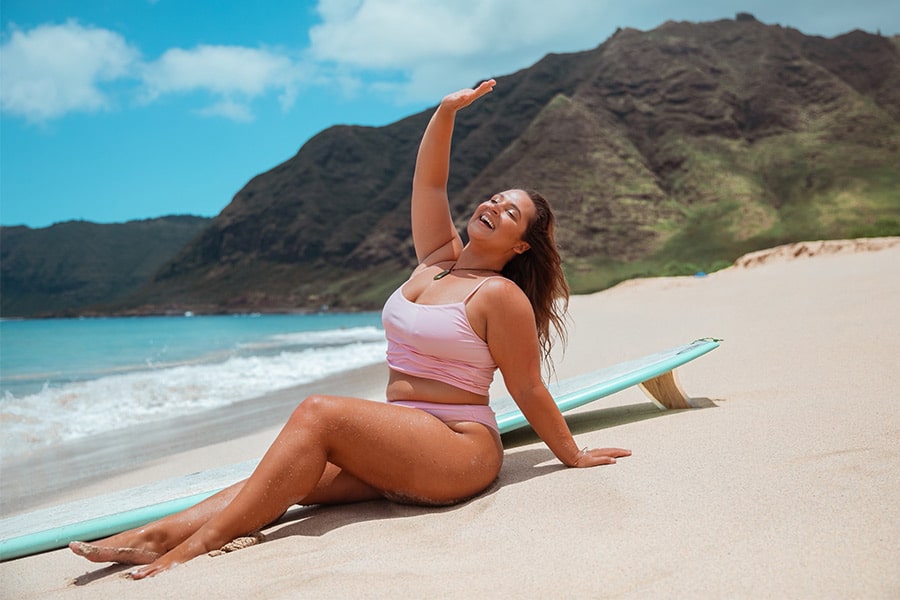 In 2017, the Arizona-native moved to Hawaii with a dream of becoming a surfer. The Hawaiian archipelago is the most isolated landmass on earth, with a 360-degree swell window, making it the perfect place for year-round surfing. Plus, its perennial warm weather makes it a prime location to surf sans wetsuit. But as soon as her surfing journey began, at age 26, weighing over 210 pounds at five feet tall, Sneed initially felt that her body type made it impossible for her to learn to surf. But body size and type doesn't determine your surfing ability. In fact, larger bodied surfers like Jimbo Pellegrine, Shawn Briley and James Mitchell have been some of the best to ever do it. That's why representation is so important. Seeing those who look, act, and experience life like them in the media makes a person feel included in society and reinforces positive views of the potential that they can achieve within it.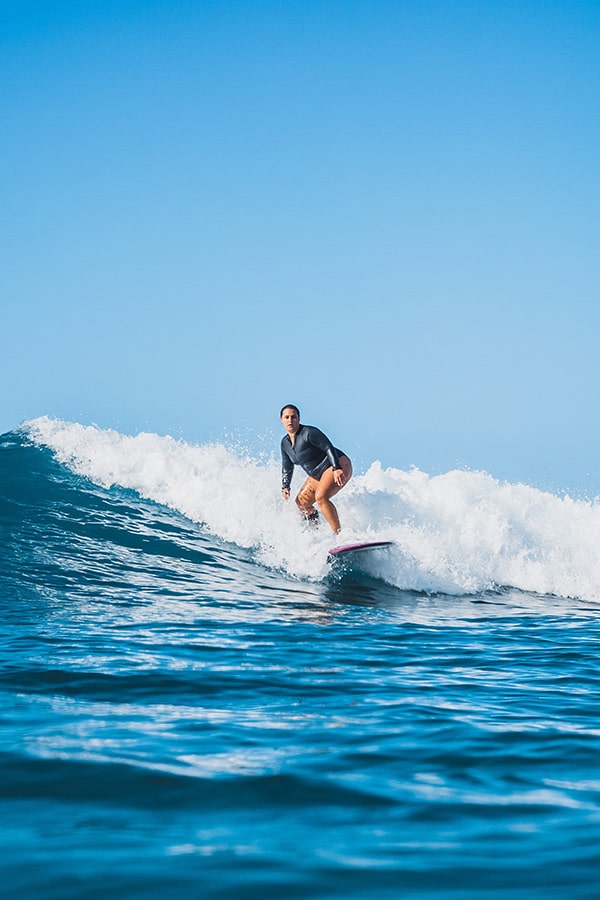 Sneed also discovered that there were limited wetsuit options for plus-sized women in surf shops. She says most major surf brands offer very few clothes or swimsuits available above a size large, meaning many plus-sized women must order custom or purchase a men's suit.
"Women's wetsuits typically go upto a size 14, and they're traditionally in junior sizing categories, so they're even smaller. And that is a huge barrier of entry to anybody beyond that body type that wants to participate. That affects anybody that needs a wetsuit that's beyond that size, women are forced to go into the men's wetsuit section across the world and buy a wetsuit that is ill fitting because of this, perpetuating patriarchal misogyny that women above this size shouldn't have options."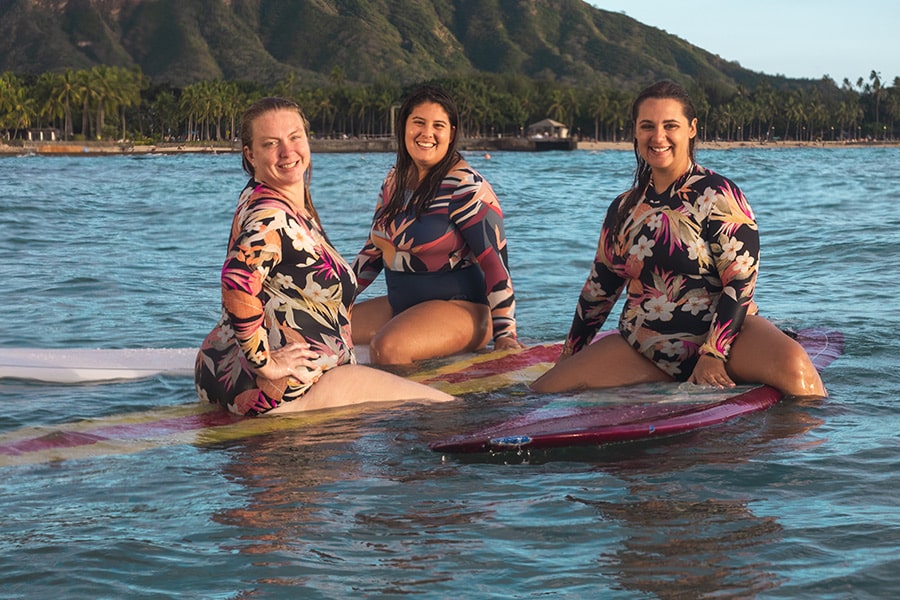 Photo: Caleb Heikes, Rip Curl, CSG ft Noel, Kiane
In June 2020, she resolved to advocate for women of different body types. Sneed created Curvy Surfer Girl, a community dedicated to cultivating body positivity and diversity within women's surfing. As more women have joined the Curvy Surfer Girl movement, Sneed has started hosting surf events to strengthen the community, and arranged photo shoots for women of all shapes, sizes and ethnicities to participate.
Sneed has gone on to connect with surf brands, encouraging them to offer a wider range of sizes for women. In February 2021, Sneed worked on a campaign with Rip Curl,which was one of the first to show a plus-sized surfer in the corporate surf world – and she has gone on to partner with women's swimwear and surf wear brands to create and promote their plus-size options. Most recently, Elizabeth Sneed has partnered with swimwear brand Jolyn for their debut surf wear collection. "Inclusive designs to allow any body type to surf, then we're dropping the barriers of entry, so that people can start developing this passion and hobby, and more people can join the sport," explains Sneed. "Honestly, these are only good things for the industry, because it's going to result in more profitability."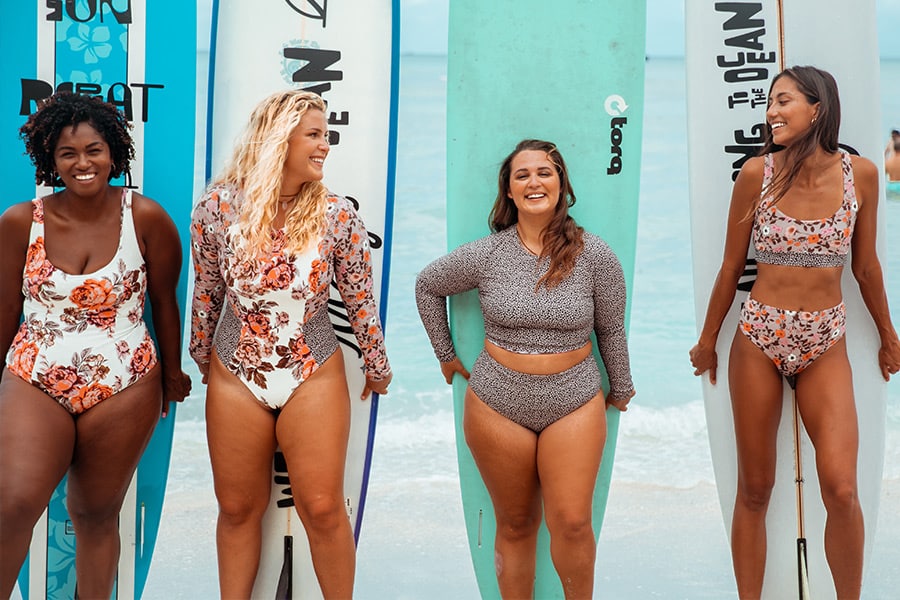 Photo: Bri Atisanoe, Gabi Turnbull, Elizabeth Sneed, Malia Murph, Maaji, Roalyver Lopez

"It's very important that we have the right equipment, because if you have one negative experience, it could completely deter you from the rest of your life from trying to surf again. That's something I know from personal experience, and I don't want women to have to deal with that, in addition to all of the other pressure and internal dialogue we all struggle with when we're surfing and we're brand new, you know?"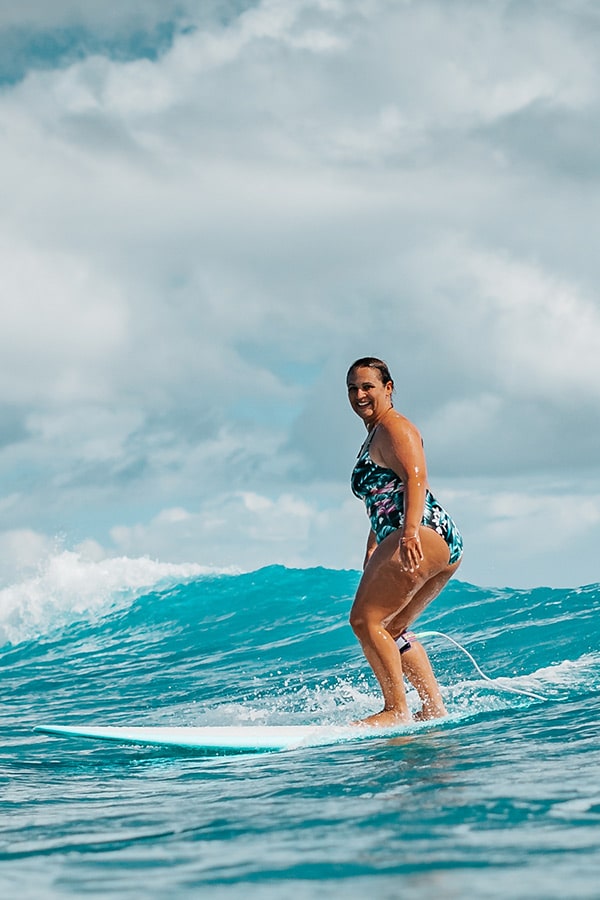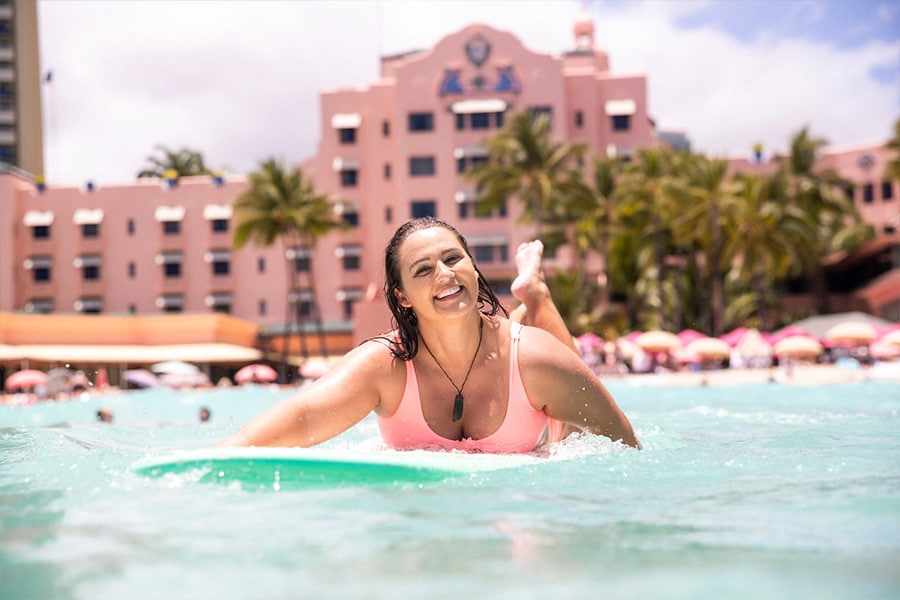 Photo: Body Glove, Brent Bielman