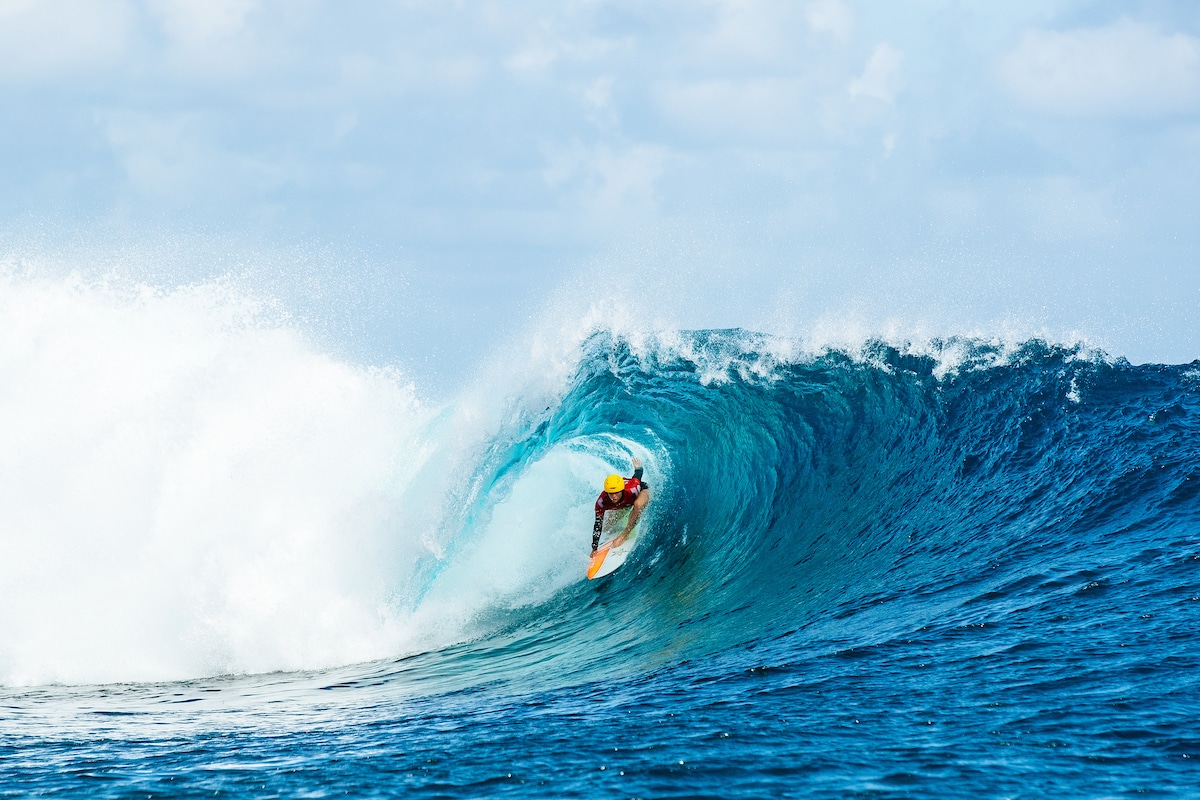 2022 Outerknown Tahiti Pro winner Courtney Conlogue (USA) at Teahupo'o. Credit: © WSL / Ryder
Today, Courtney Conlogue (USA) won the Outerknown Tahiti Pro, Stop No. 10 on the World Surf League (WSL) 2022 Championship Tour (CT) and the final competition ahead of the Rip Curl WSL Finals. Following four days of action at the famed Teahupo'o surf break, Finals Day culminated in clean four-to-six-foot waves, alternating between women's and men's rounds. This competition marked the return of the women's CT to Teahupo'o for the first time in 16 years and witnessed inspiring performances from all competitors.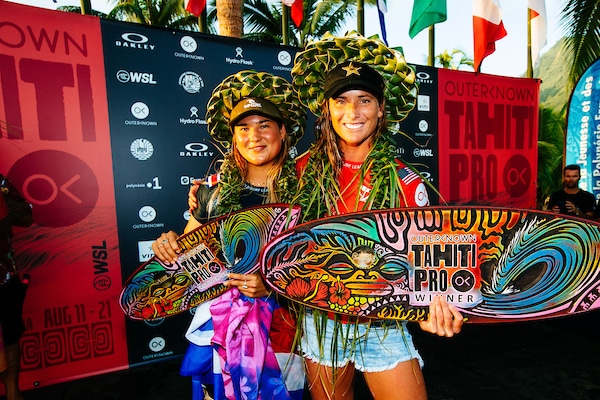 Following the Outerknown Tahiti Pro, the WSL Tours and Competition team has confirmed the Top 5 men and Top 5 women who will compete in the Rip Curl WSL Finals, the one-day event that will determine the 2022 World Champions.

Conlogue Becomes First Woman To Win CT in Teahupo'o for First Time in 16 Years
Californian Courtney Conlogue (USA) has claimed a historic win at the Outerknown Tahiti Pro Teahupo'o, being the first woman to do so since 2006. Conlogue was on fire all the event, showing serious commitment to book herself a spot in the Final with Brisa Hennessy (CRI). The Final was a matchup between two of the event standouts, but Conlogue took control, by being in-tune with the waves and displaying incredible finesse in the tube. She posted a 7.50 (out of a possible 10) and backed it up with a mid-range score to put Hennessy out of contention. Conlogue claimed her 13th CT victory and her first since the 2019 Rip Curl Pro Bells Beach.
"Honestly I'm just so grateful for this–it's been a long time since I've had a win," Conlogue said. "This year has had so many challenges and highs and lows. I love this wave. This wave is so magical and I feel really lucky to win here. It was great to share the Final with Brisa. She was charging all event and sending it. This is the perfect way to end the year. This one is for all my friends and family and sponsors, I wouldn't be here without them. And also, to WSL for bringing the women back here, I'm grateful."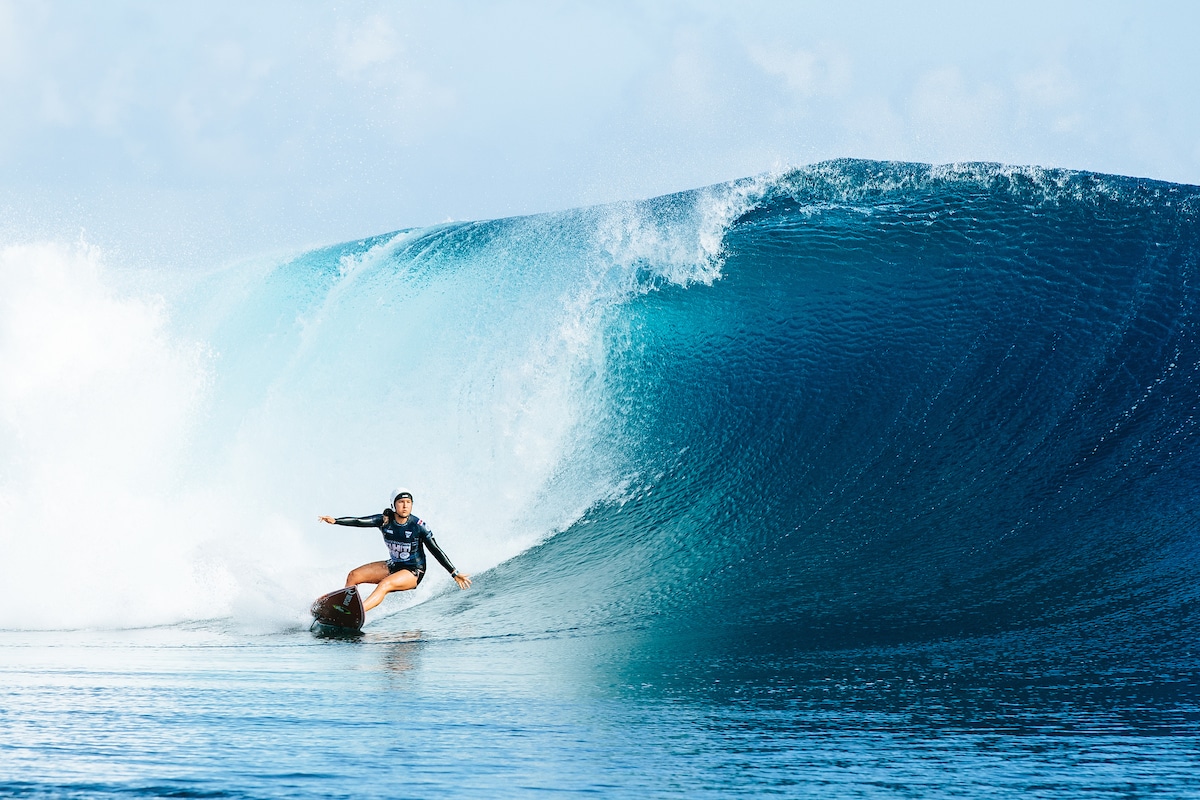 Runner-up Brisa Hennessy Clinches Last Spot in Rip Curl WSL Finals
Earlier in the day, eventual runner-up Henessy came up against Californian Lakey Peterson (USA) in a Quarterfinal 4 Heat which would see the winner clinch a spot in the WSL Final 5, ahead of next month's Rip Curl WSL Finals. With Peterson coming into the event in sixth on the rankings and Hennessy in fifth, Hennessy claimed the Heat win by pulling into a long draining barrel to claim the heat win. Hennessy's second place finish here today has put her in the fourth seed spot for the WSL Finals.
Hennessy will be joined by Stephanie Gilmore (AUS), Tatiana Weston-Webb (BRA), Johanne Defay (FRA), and Carissa Moore (HAW) this September for the Rip Curl WSL Finals at Lower Trestles.
"I'm trying to soak this all in, at the moment," Hennessy said. "Having my mom and dad here and all of the women on tour sharing this beautiful lineup is so special. It was incredible to share the final with Courtney (Conlogue) – she is such an inspiration in consequential waves and is just a fun person to be around, so it's been a great day. I'm feeling positive at the moment and want to carry this positive energy into Trestles."

Women's WSL Final 5:
1 – Carissa Moore (HAW)
2 – Johanne Defay (FRA)
3 – Tatiana Weston-Webb (BRA)
4 – Brisa Hennessy (CRI)
5 – Stephanie Gilmore (AUS)
Outerknown Tahiti Pro Women's Final Results:
1 – Courtney Conlogue (USA) 11.67
2 – Brisa Hennessy (CRI) 5.20
Outerknown Tahiti Pro Women's Semifinal Results:
HEAT 1: Courtney Conlogue (USA) 7.66 DEF. Tatiana Weston-Webb (BRA) 7.30
HEAT 2: Brisa Hennessy (CRI) 7.90 DEF. Vahine Fierro (FRA) 2.97
Outerknown Tahiti Pro Women's Quarterfinal Results:
HEAT 1: Tatiana Weston-Webb (BRA) 12.66 DEF. Caroline Marks (USA) 4.23
HEAT 2: Courtney Conlogue (USA) 15.33 DEF. Stephanie Gilmore (AUS) 4.16
HEAT 3: Vahine Fierro (FRA) 10.00 DEF. Carissa Moore (HAW) 3.26
HEAT 4: Brisa Hennessy (CRI) 10.10 DEF. Lakey Peterson (USA) 8.14