Caroline Marks (USA) and Filipe Toledo (BRA) won the 2023 World Surf League (WSL) World Titles at the third-annual Rip Curl WSL Finals in solid four-to-six foot (1.2 – 1.8 meter) conditions. Five-time WSL Champion Carissa Moore (HAW) and back-to-back World Title contender Ethan Ewing (AUS) claimed runner-up finishes after battling their way past several elite competitors. 
Photos: WSL/Cait Miers/Pat Nolan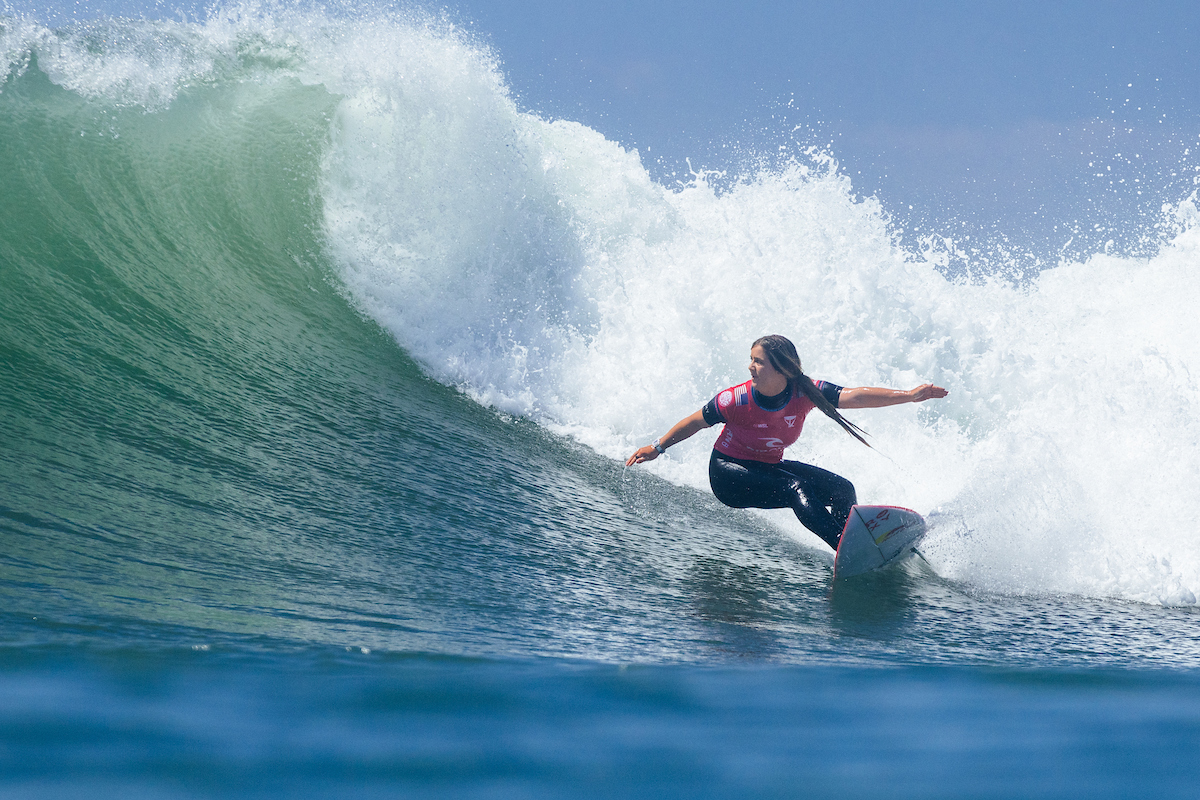 Marks Overtakes Moore in World-Class Title Match for Maiden World Title 
Marks, 21, entered her first Rip Curl WSL Finals as the No. 3 seed and left as the 2023 Surfing World Champion. She is the first person to win a World Tile for mainland USA since Lisa Andersen (USA) in 1997. This also marks the first women's goofy-footed surfer to claim a World Title since Chelsea Georgenson (AUS) in 2005. The Floridian (now California resident) felt at home at Lower Trestles. She left a resounding impression with multiple excellent scores and near-perfection throughout the day en route to her maiden World Title. Marks had a terrific 2023 CT season, winning events in El Salvador and Tahiti. Today's brilliant performance also confirmed her provisional qualification for the Olympic Games Paris 2024. 
"It's just so inspiring to have my name up on that list," said Marks. "This has just been a goal of mine. World Champion, it's crazy. I went through a weird one last year, and I was doubting myself. This just feels so good. I really don't know what to say, I've been really emotional this year. This feels like a lot of emotion."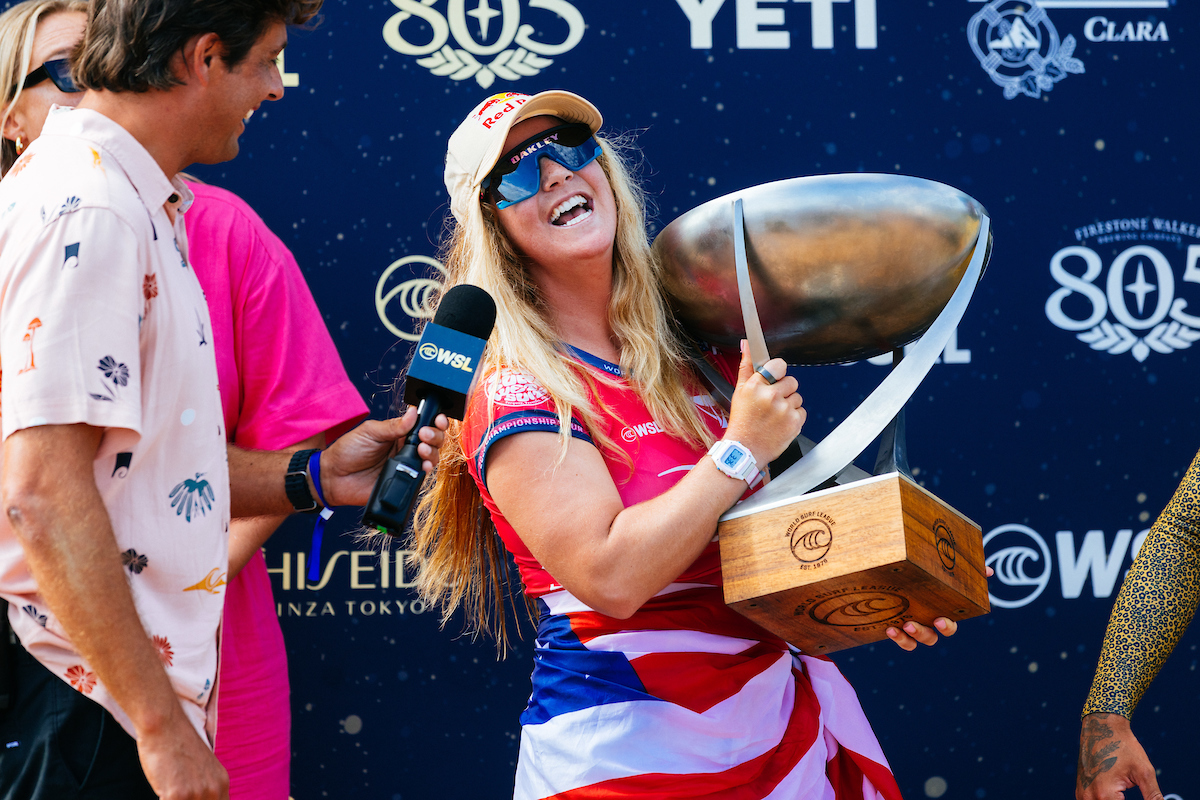 Marks' backhand attack was undeniable from her Match 2 debut all the way to the Title Match against Carissa Moore (HAW). Marks dominated Title Match 1, earning an excellent 8.67 (out of a possible 10) and pushing Moore into a combination situation. Moore was able to break the combination, but Marks answered right back with another excellent 8.43 to extend her lead until the end of the heat.
After a slow start to Title Match 2, Marks unleashed multiple critical maneuvers again to earn a 7.00. She then backed it up with an impressive 7.60 that all but sealed her maiden World Title. Moore was left chasing a score as time expired.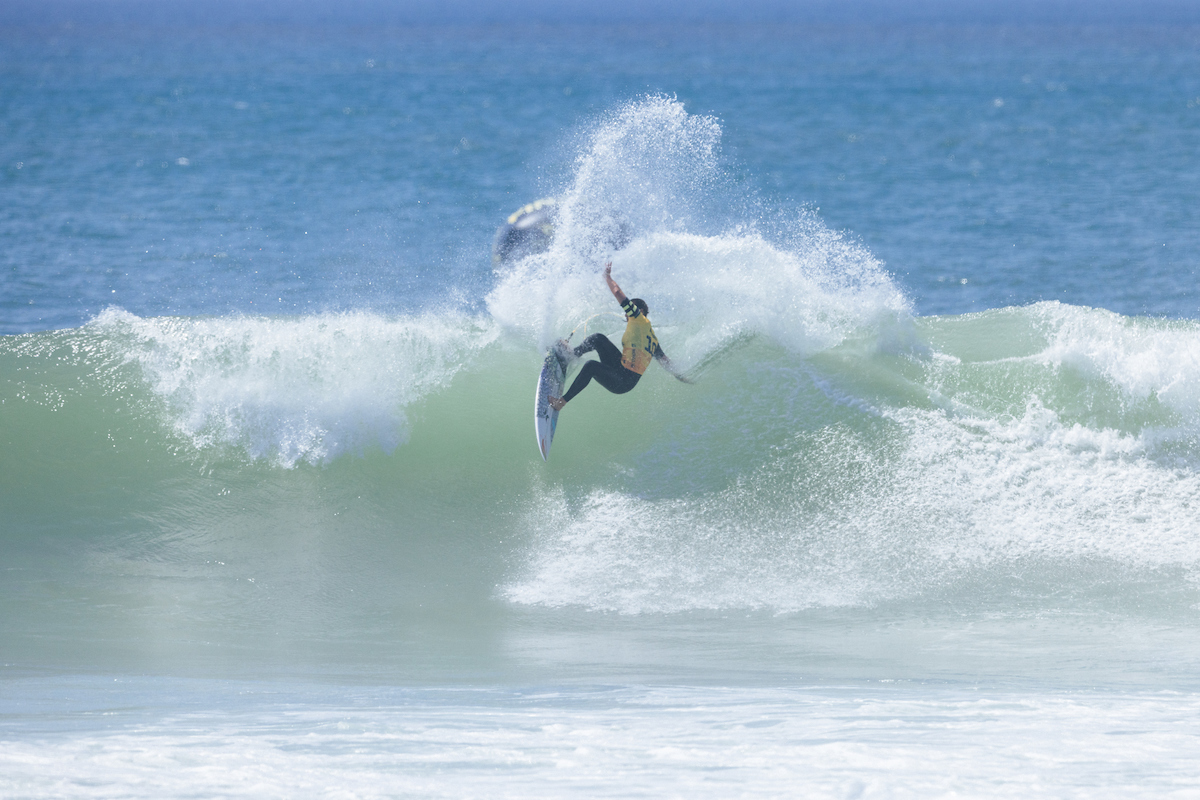 "Big ups to Carissa (Moore)," said Marks. "She's been a massive inspiration to me growing up my whole life. She's had a stellar year, and it was kinda a dream of mine to be in the Final with her. I just had a great board, and I have a lot of good family and friends here. I really feel the support, and that goes a long way, so I was just in my flow today. Just had a special day with the ocean, so wow, it feels so good."
Moore's dominant run through the 2023 season culminated in clinching the No. 1 seed going into the Rip Curl WSL Finals for the third-straight year. But, Moore's redemption run toward a World Title was cut short by an in-form Marks. The five-time World Champion started her season with a massive win at the Billabong Pro Pipeline. She then earned back-to-back wins at Margaret River and the WSL Surf Ranch.
Molly Picklum (AUS) and Caitlin Simmers (USA) opened the Rip Curl WSL Finals with the first Match of the day. Simmers took the win and looked like she could make the run, but then fell to Marks in Match 2. Two-time World Champion Tyler Wright (AUS) finished the year as No. 3 after being eliminated by Marks in Match 3.
For highlights from the 2023 Rip Curl WSL Finals, please visit WorldSurfLeague.com.

2023 Rip Curl WSL Finals Women's Results: 
Women's Title Match, Heat 2: Caroline Marks (USA) 14.60 DEF. Carissa Moore (HAW) 13.53
Women's Title Match, Heat 1: Caroline Marks (USA) 17.10 DEF. Carissa Moore (HAW) 14.97
Women's Match 3: Caroline Marks (USA) 17.40 DEF. Tyler Wright (AUS) 13.70
Women's Match 2: Caroline Marks (USA) 11.67 DEF. Caitlin Simmers (USA) 10.36
Women's Match 1: Caitlin Simmers (USA) 15.17 DEF. Molly Picklum (AUS) 12.17
CELEBRATING FIRSTS
Caroline Marks' name has become synonymous with the history of female surfing.
After becoming the youngest woman ever to qualify for the World Tour at just 15, Caroline became the first woman in history to receive equal prize money in 2019. In 2021, she joined the US team, becoming one of the first female surfers to take the stage at the Olympics. Today, she qualified once more and will this time represent the United States on the famed wave of Teahupo'o next summer.
ABOUT CAROLINE MARKS
Caroline grew up in Melbourne Beach, Florida where she learned to surf with her brothers when she was 8 years old. In 2014, she made the move to split her time between Florida and California, making the most of San Clemente's World class waves and year-round surf. At 15, she became the youngest surfer ever to qualify for the women's Championship Tour and was named "rookie of the year".
At 21, Caroline may be young, but she has already proven her abilities. In 2019, she became the first woman in the sports' history to win equal prize money and has since made a name for herself among the greatest. After being dubbed the "Next World Champion" since she joined the Tour, the time has finally come.
A member of the Roxy team, Caroline joins the ranks of legendary champions such as Lisa Andersen and Stephanie Gilmore, leaving her mark in the history of surfing.