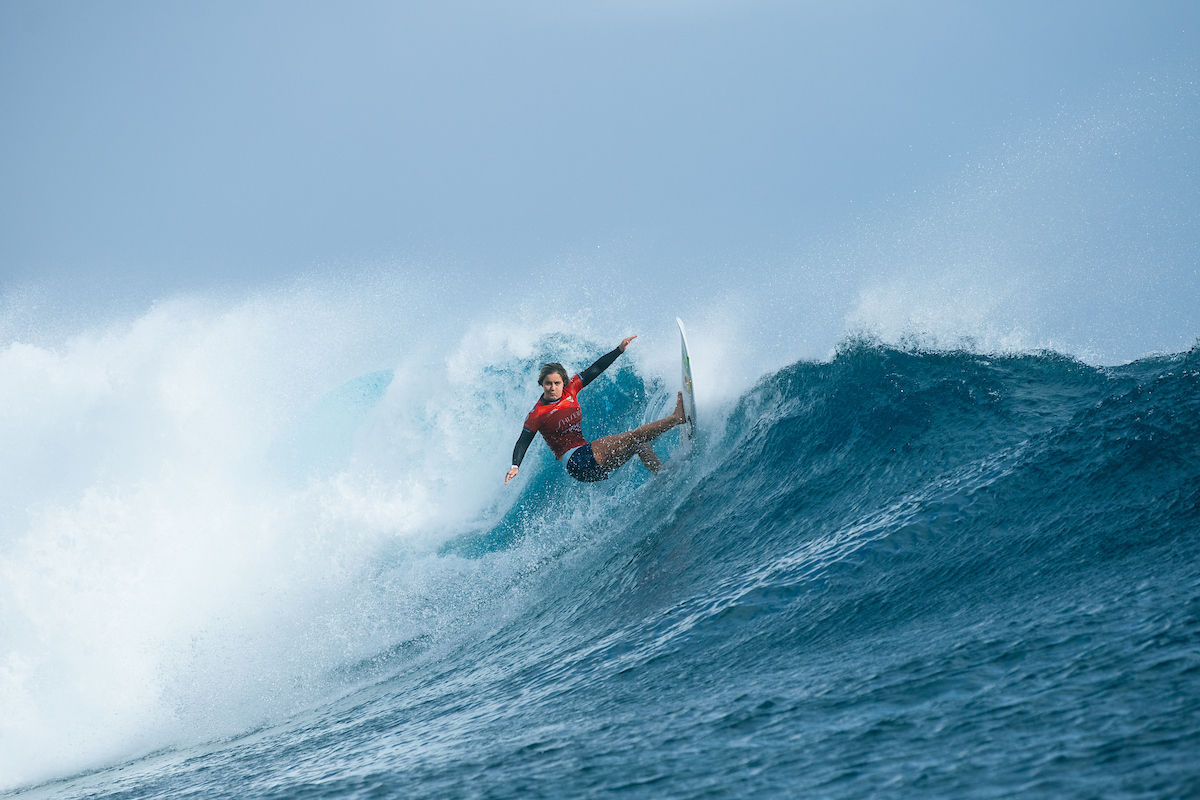 Caroline Marks / WSL
TEAHUPO'O, Tahiti, French Polynesia – Caroline Marks won the SHISEIDO Tahiti Pro Presented by Outerknown, the penultimate event of the World Surf League 2023 Championship Tour. Caitlin Simmers finished runner-up, as Teahupo'o delivered windy four-to-six foot surf on Finals Day.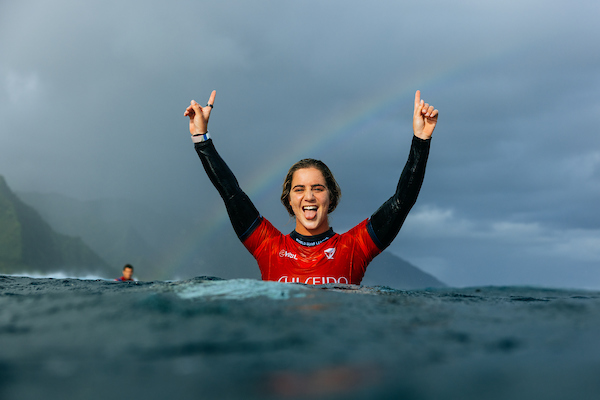 With the completion of the SHISEIDO Tahiti Pro Presented by Outerknown, all the spots in the WSL Final 5 have been clinched. The final Olympic qualification spot for the women representing the United States will be against winner Marks and runner-up Simmers, and will decided at the Rip Curl WSL Finals.

Caroline Marks Wins All-American Final For Second CT Victroy of The Year
Caroline Marks (USA) claimed her second event win of the season today at Teahupo'o. Marks finished 5th here last year and today she demonstrated an increased level of confidence and dominance in waves of consequence. Marks' road to the Final was not easy as she had to take down two Tour veterans, Stephanie Gilmore (AUS) and Tyler Wright (AUS), along the way. After taking time away from the Tour at times in 2021 and 2022, this is Marks' first full season back and her most successful to date with two CT victories from three Finals in 2023.
"I'm stoked – this is like a dream event to win so I'm super pumped," Marks said. "The waves got a little weird with that wind and after I fell on that barrel I had to go to turns on my second to last wave. It was good to be able to change the plan and see it work out. To win this event as a goofy footer is a real feather in your cap."
In the Final, Marks came up against 2023 CT rookie Caitlin Simmers (USA) in an all-American match-up. With both surfers having already locked in spots at the Rip Curl WSL Finals all that was on the line was a prestigious Teahupo'o title. As a rain squall came through the lineup it, was Marks who successfully changed tact and posted her winning score with turns on the face rather than in the tubes Teahupo'o is known for.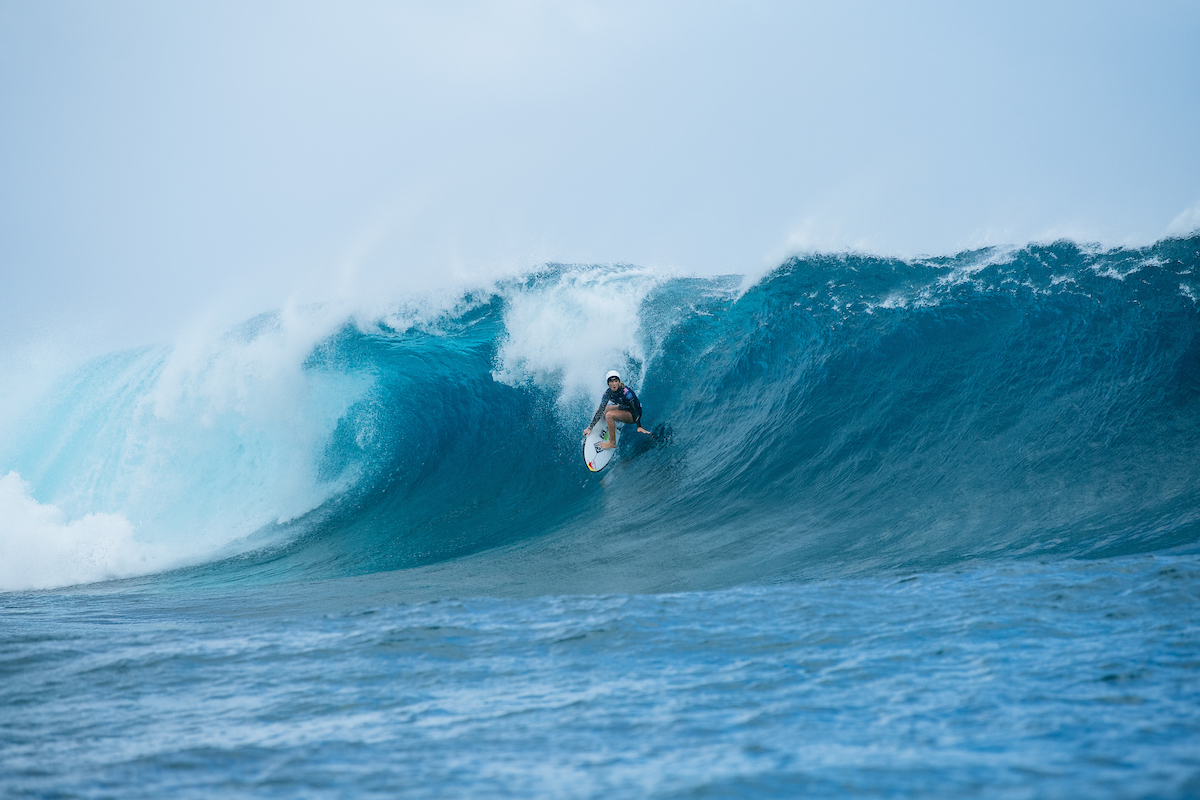 Caitlin Simmers / WSL
"Surfing against Caity in the Final was super cool, she had a really good Semifinal heat so I knew it was going to be a tough match-up with her. She's had such a stellar year and has that real rookie energy with no pressure and nothing to lose which is really cool. To have an all-American final was really fun. I'm super grateful to have Luke (Egan) in my corner. I think he made a Final out here with Andy (Irons) so it's amazing to have all of his knowledge. It's been such a rad year and I've got more to look forward to at the Rip Curl WSL Finals at Lowers."

Rookie Caitlin Simmers Clinches Last Spot in Women's WSL Final 5 With Runner-Up Finish
Rookie Caitlin Simmers (USA) clinched the last spot in the women's WSL Final 5 today with her runner-up result. The 17-year-old put the Tour on notice this year, winning the CT events in Portugal and Brazil. This week was Simmer's first event at Teahupo'o and she was a clear standout, taking down chargers Molly Picklum (AUS) and Vahine Fierro (FRA) on her way to the Final as well as posting a 9.23 (out of a possible 10) for a late, deep, critical tube ride, the highest single-wave score of the women's event. Simmer's home of Oceanside, California is just up the road from Lower Trestles and she is sure to be a threat at the Rip Curl WSL Finals.
"There were a bunch of implications in that heat," said Simmers. "I was watching Steph (Gilmore), she's my favourite surfer so I wanted her to win but If she didn't win I would make it to Lowers so it was weird. My heart was racing watching that heat. Lowers is pretty close to where I live so I'm excited. This has been a rad event. Getting barreled and tested by such an intimidating wave has been enjoyable and I'm looking forward to coming back here next year."

WSL Final 5 Set for World-Title Deciding Rip Curl WSL Finals
Following the completion of the SHISEIDO Tahiti Pro Presented by Outerknown, the WSL Final 5 have been determined and are ready to compete at Lower Trestles in San Clemente, California for the Rip Curl WSL Finals. The one-day winner-take-all event will crown the 2023 World Champions. The competition will run on the best day of waves determined by the WSL Tours and Competition team between September 8 – 16, 2023.
WSL Final 5 Women
1 – Carissa Moore (HAW)
2 – Tyler Wright (AUS)
3 – Caroline Marks (USA)
4 – Molly Picklum (AUS)
5 – Caitlin Simmers (USA)

Molly Picklum Qualifies for Paris 2024 Olympic Games, Last Qualifications to be Determined at Rip Curl WSL Finals
With her Quarterfinal result today, Molly Picklum (AUS) has provisionally qualified through the WSL CT to represent Australia at the Olympic Games Paris 2024. This will be Picklum's first Olympic Games.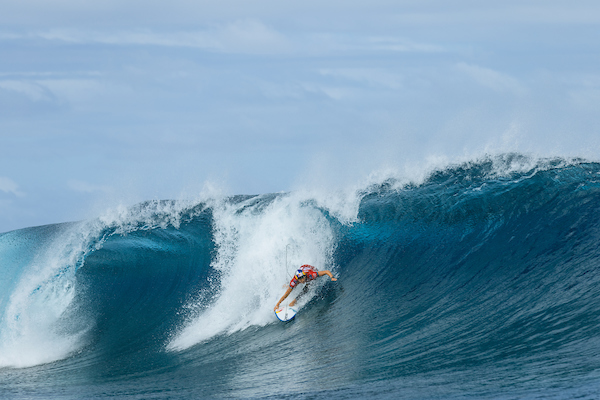 Olympic Qualifiers Through the WSL Championship Tour:
Women
Carissa Moore (USA) 
Tyler Wright (AUS)
Molly Picklum (AUS)
To be decided at Rip Curl WSL Finals (USA) 
Tatiana Weston-Webb (BRA)
Johanne Defay (FRA) 
Brisa Hennessy (CRC)
Teresa Bonvalot (POR)