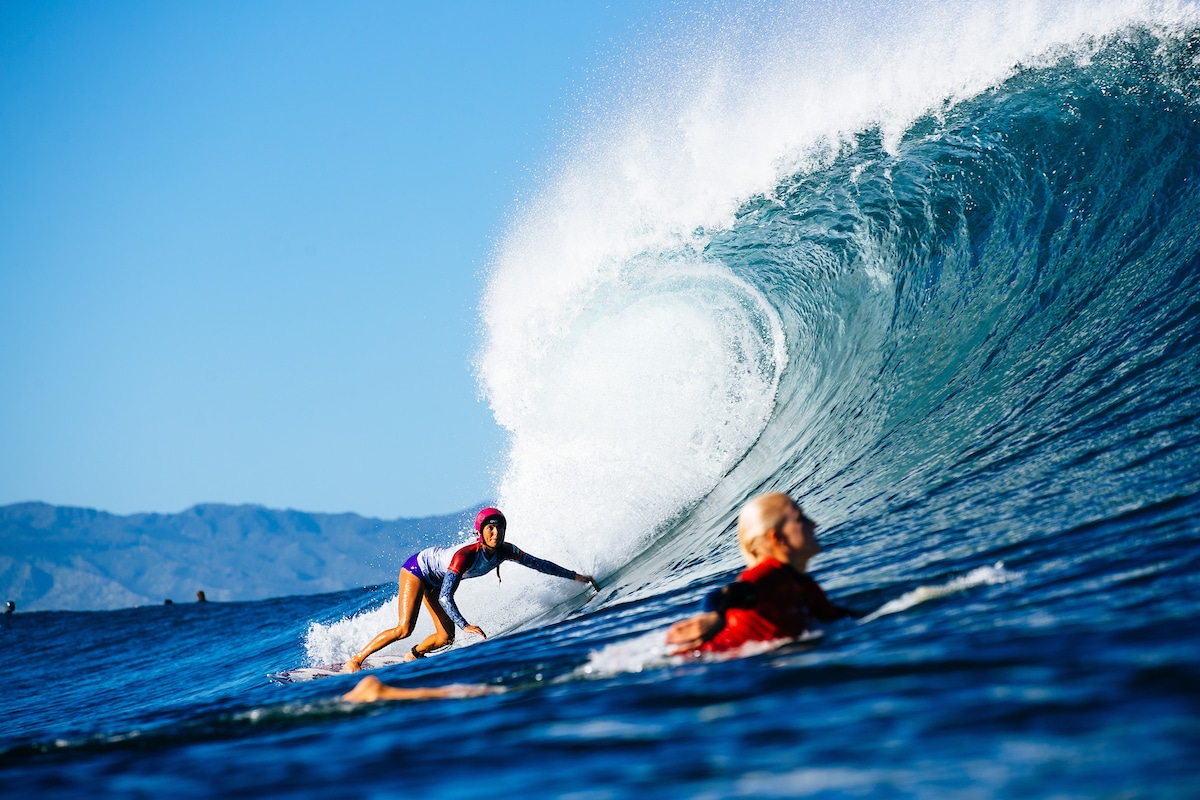 Event wildcard Moana Jones Wong (HAW) will face two-time WSL Champion Tyler Wright (AUS) at the Billabong Pro Pipeline Semifinals when competition resumes. Photo: © WSL / Bielmann
• Wright, Wong, Moore, and Peterson Through to Semifinals
• Five-time WSL Champion Moore Finds Near-Perfection at Backdoor
• Big Shake-Up on Women's Rankings
• Next Call: Friday, February 4, at 7:50 a.m. HST
• More Available at WorldSurfLeague.com
The Billabong Pro Pipeline, the first stop on the World Surf League (WSL) 2022 Championship Tour (CT), completed the women's Round of 16 and women's Quarterfinals in six-to-twelve foot conditions at Pipeline on the North Shore of Oahu. Today's competition saw big eliminations and is now down to the final four competitors: Tyler Wright (AUS), Moana Jones Wong (HAW), Carissa Moore (HAW), and Lakey Peterson (AUS).
The next call of the Billabong Pro Pipeline will be on Friday, February 4, at 7:50 a.m. HST. There will be no competition tomorrow, Thursday, February 3.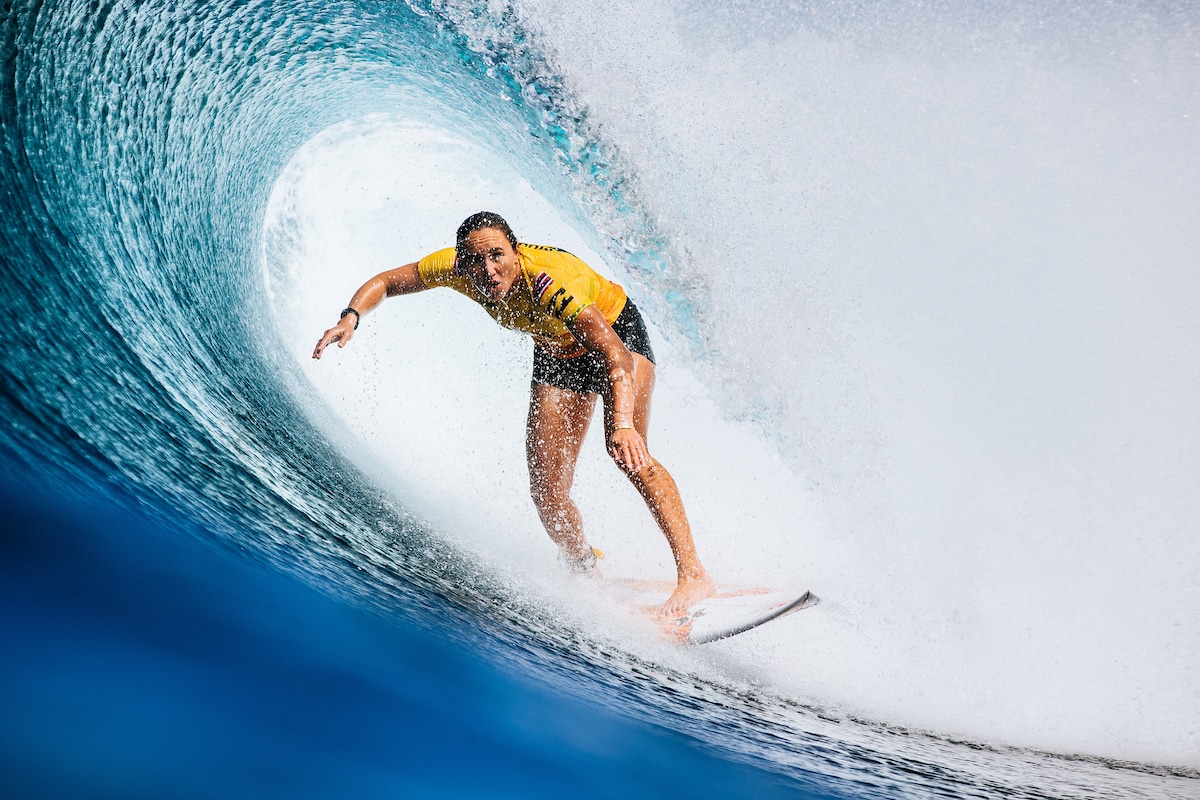 Five-time WSL Champion Carissa Moore Finds Near-Perfection at Billabong Pro Pipeline
As the only surfer to score excellent waves during today's competition, five-time WSL Champion Carissa Moore (HAW, above) found success at Backdoor and locked her spot into the Semifinals. Moore started the day facing international surfing icon Bethany Hamilton (HAW), who got the last-minute call to replace Stephanie Gilmore (AUS) at the Billabong Pro Pipeline. Moore kicked off the heat with a mid-range score going on her backside at Pipeline. Then, she moved over to Backdoor where she scored a near-perfect 9.50 (out of a possible 10) with a deep barrel and locked her slot in the Quarterfinals.

"I have to admit I was really nervous this morning," said Moore. "I had a good cry where I got all my nerves and anxiety out. It was nice, the water settled and the sun came out, so I was happy because it felt like a really nice day for us. There's so much energy you feel out on the reef, and on top of that, there's so much history out there. So being a surfer, this is where you want to surf, and where you want to improve yourself."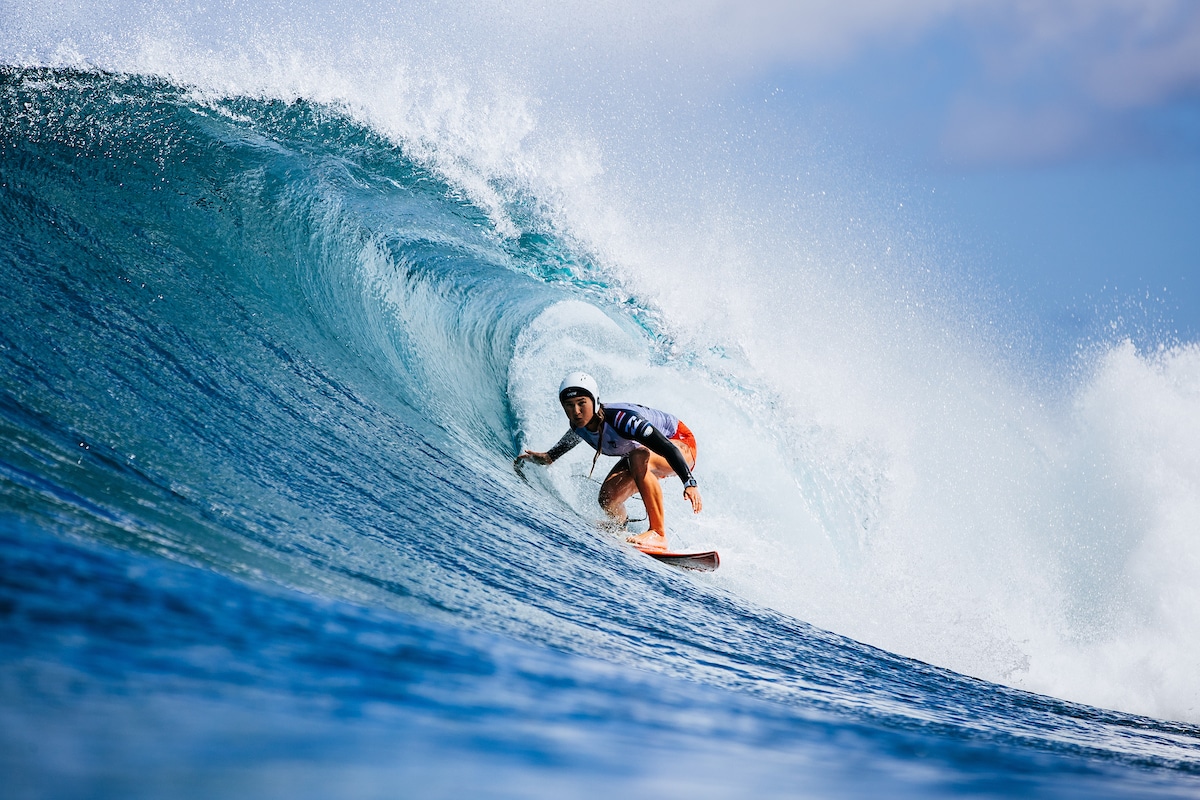 Later in the day, Moore battled for a place in the Semifinals with Brisa Hennessy (CRI, above), who secured her place in the Quarterfinals after winning her Round of 16 heat against rookie threat Gabriela Bryan (HAW). Moore managed to ride another excellent Backdoor wave in the slowing conditions, earning an 8.33 with just six minutes remaining to seal her victory over Hennessy.

"We have quite a bit of a waiting period left and I'm excited to see what the rest of the waiting period brings. Hopefully, it's not too big," added Moore.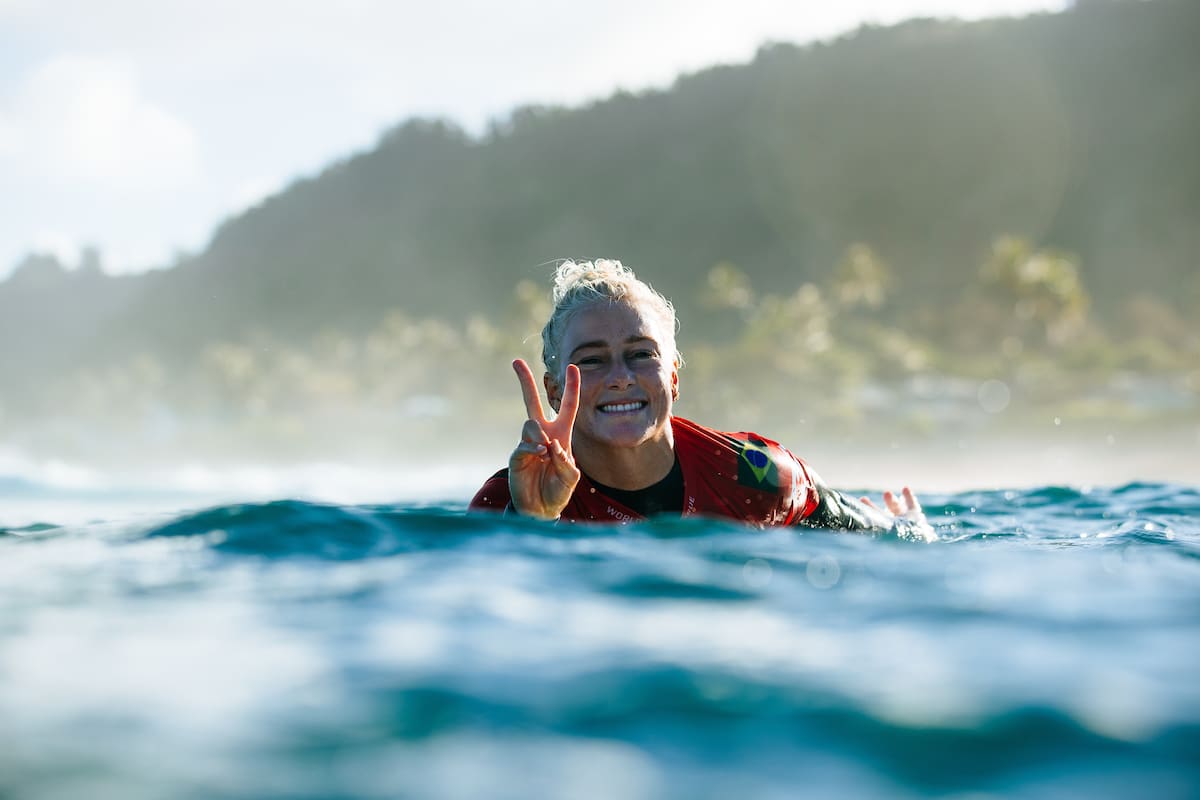 Big Shake Up in the Women's Rankings at Billabong Pro Pipeline
World No. 2 Tatiana Weston-Webb (BRA, above) and World No. 3 Sally Fitzgibbons (AUS) were eliminated in their Round of 16 heats by local favorites. Fitzgibbons could not overcome Malia Manuel (HAW) and Weston-Webb was stopped by Moana Jones Wong (HAW). Manuel and Wong focused on hunting Backdoor barrels, and both advanced with ease into the Quarterfinals.

"Sally is a fantastic barrel rider so I was really looking forward to this heat," said Manuel. "To compete here is so different from when you're surfing out there with one hundred people, you really get to focus on yourself and set yourself in the right spot. I'm already thinking of what I can improve on for the next heat just learning from those couple of waves I caught in the first heat."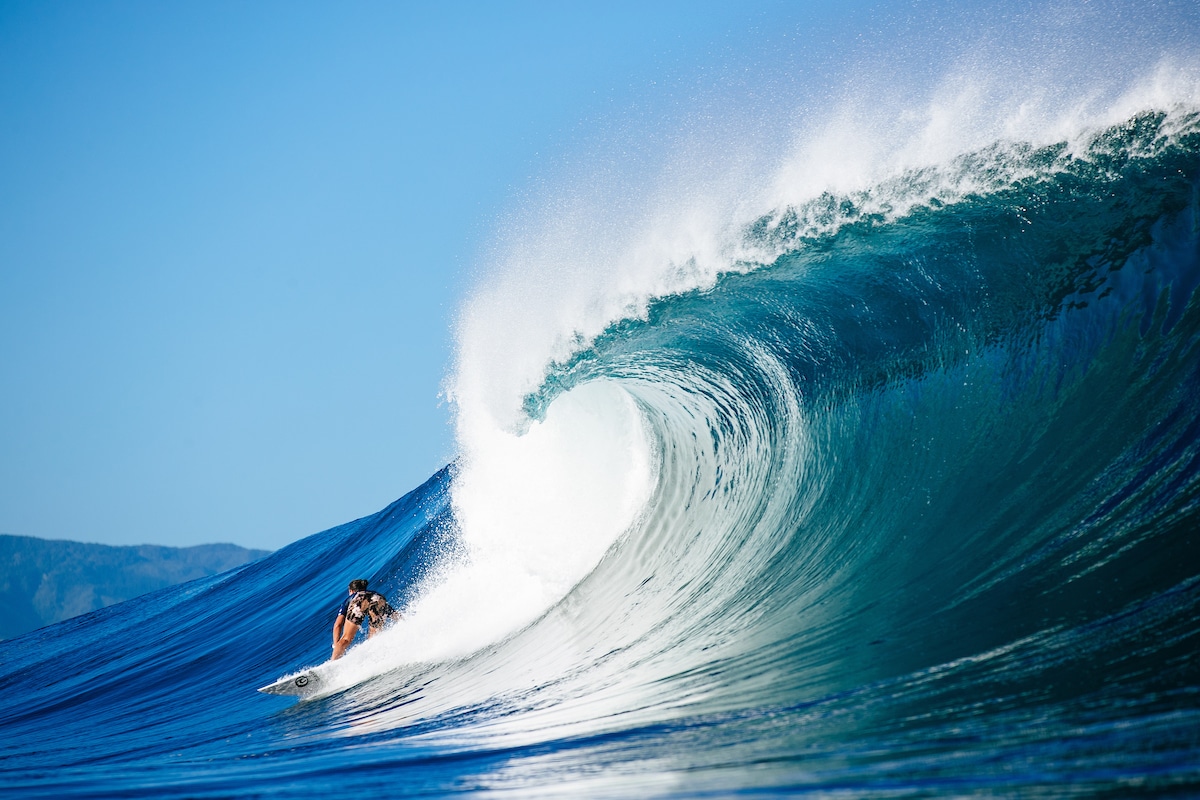 But, the Quarterfinals marked the end of Manuel's surge through the event after facing elimination from two-time WSL Champion Tyler Wright (AUS, above). Wright walked through the Round of 16 to the Quarterfinals as rookie India Robinson (AUS) pulled out of competition due to a pre-existing injury. With WSL's commitment to give the women access to Pipeline for the first time, Wright still had the opportunity of surfing the 40-minute heat by herself, using the time in the water to figure out the conditions, and scored a great Backdoor barrel for a 5.50.
"I'm just stoked to have the opportunity of being out there and catch waves," said Wright. "The more I'm out there, the more I'm taking in, putting myself in a good and safe position, noticing wave directions and swell lines. Every time I'm out there it's just so much information for my brain, it's amazing!"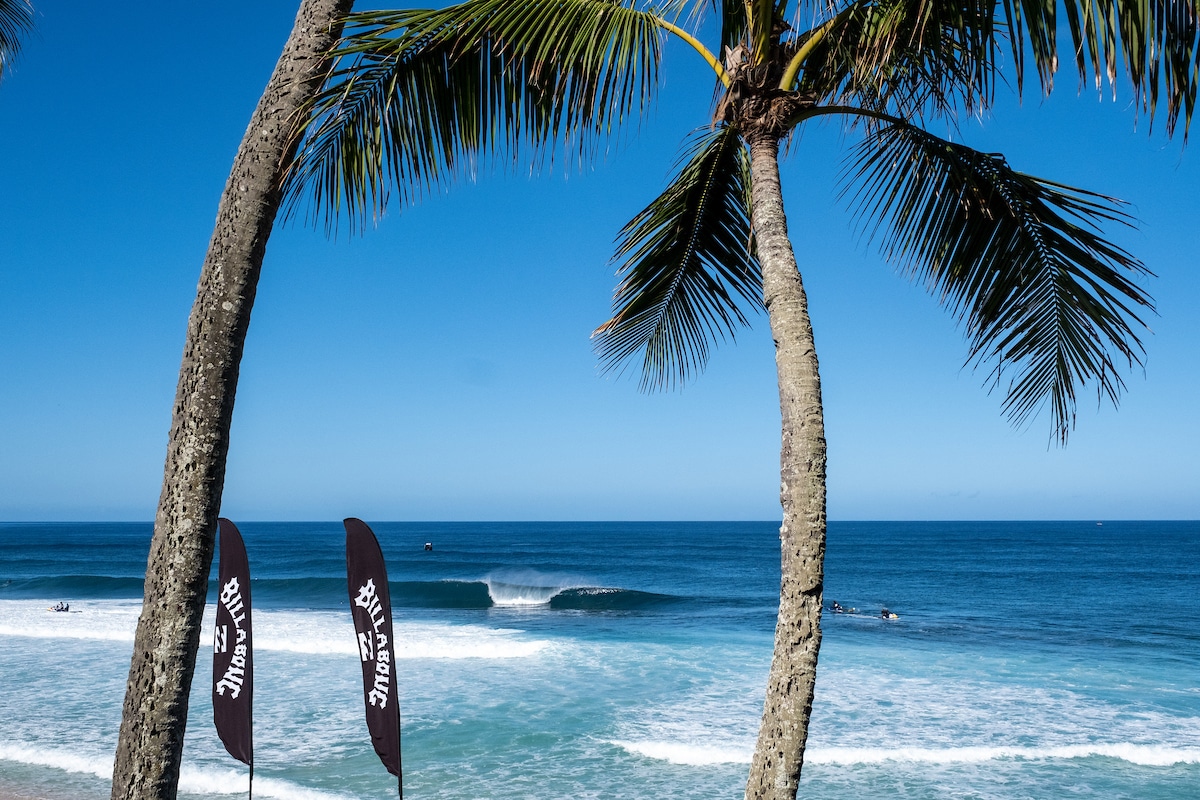 Wildcard Wong went on to battle CT sophomore Isabella Nichols (AUS) and began the Quarterfinal duel with a 5.67 (out of a possible 10). Wong then added a backup 5.67 to her scoreline after finding another hollow exit and left Nichols needing a near-perfect score. But, the Australian's last effort on a heavy Backdoor wave earned her a 7.67 and couldn't find one more opportunity as time expired, sending Wong into the Semifinals.

"I wasn't planning on doing that at all," said Wong. "I thought I was only going to go right. Then I got out there and Pipeline just gave me waves and thought 'Oh, this is nice.' I haven't done a contest in years and I know Isabella can definitely pack barrels and get sick ones so I was nervous going up against her."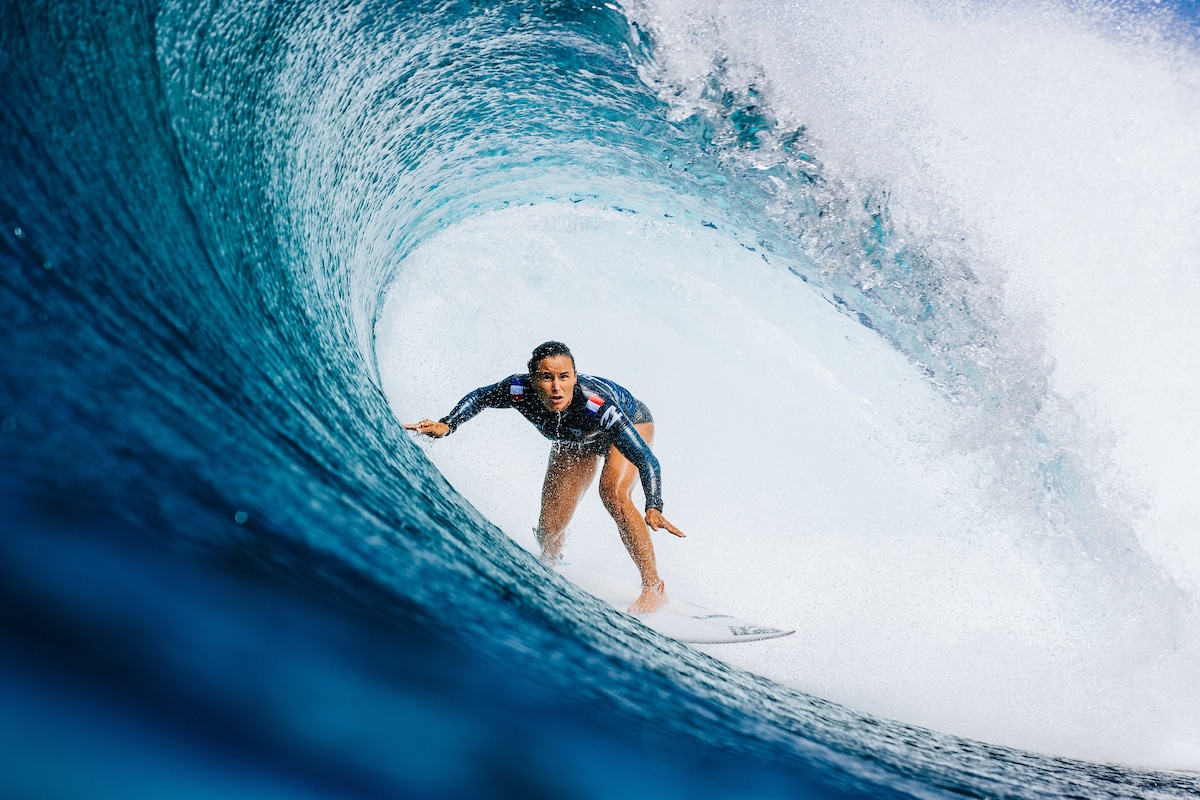 World No. 4 Johanne Defay (FRA, above) looked comfortable and confident in the conditions during Heat 6 of Round of 16, taking the win against rookie Molly Picklum (AUS). Moving into the Quarterfinals, Defay faced World No. 7 Lakey Peterson (USA). Defay was able to keep the lead on the scoreboard until the final seconds when Peterson got a buzzer-beater, Backdoor gift to take the win and advance to the Semifinals, where she will face Moore.
"God was looking out for me there today," said Peterson. "I was looking at my watch and I had twenty seconds so I knew I had to make her go on the first one so I had a clear area so I could take off for the next one. It worked out and I was in the perfect spot, and it came. It felt meant to be."
For more information, please visit WorldSurfLeague.com.

Billabong Pro Pipeline Women's Round of 16 Results:
HEAT 1: Malia Manuel (HAW) 8.73 DEF. Sally Fitzgibbons (AUS) 7.06
HEAT 2: Tyler Wright (AUS) 8.27 DEF. India Robinson (AUS)
HEAT 3: Moana Jones Wong (HAW) 10.77 DEF. Tatiana Weston-Webb (BRA) 9.44
HEAT 4: Isabella Nichols (AUS) 11.06 DEF. Bettylou Sakura Johnson (HAW) 7.03
HEAT 5: Carissa Moore (HAW) 14.67 DEF. Bethany Hamilton (HAW) 2.23
HEAT 6: Brisa Hennessy (CRI) 9.16 DEF. Gabriela Bryan (HAW) 5.03
HEAT 7: Johanne Defay (FRA) 12.94 DEF. Molly Picklum (AUS) 11.17
HEAT 8: Lakey Peterson (USA) 13.83 DEF. Luana Silva (HAW) 2.20
Billabong Pro Pipeline Women's Quarterfinals Results:
HEAT 1: Tyler Wright (AUS) 5.77 DEF. Malia Manuel (HAW) 4.97
HEAT 2: Moana Jones Wong (HAW) 11.34 DEF. Isabella Nichols (AUS) 10.44
HEAT 3: Carissa Moore (HAW) 13.33 DEF. Brisa Hennessy (CRI) 4.37
HEAT 4: Lakey Peterson (USA) 8.70 DEF. Johanne Defay (FRA) 6.90
Billabong Pro Pipeline Women's Semifinals Matchups:
HEAT 1: Tyler Wright (AUS) vs. Moana Jones Wong (HAW)
HEAT 2: Carissa Moore (HAW) vs. Lakey Peterson (USA)
Billabong Pro Pipeline Men's Quarterfinals Matchups:
HEAT 1: Kelly Slater (USA) vs. Kanoa Igarashi (JPN)
HEAT 2: Miguel Pupo (BRA) vs. Lucca Mesinas (PER)
HEAT 3: Seth Moniz (HAW) vs. John John Florence (HAW)
HEAT 4: Caio Ibelli (BRA) vs. Samuel Pupo (BRA)