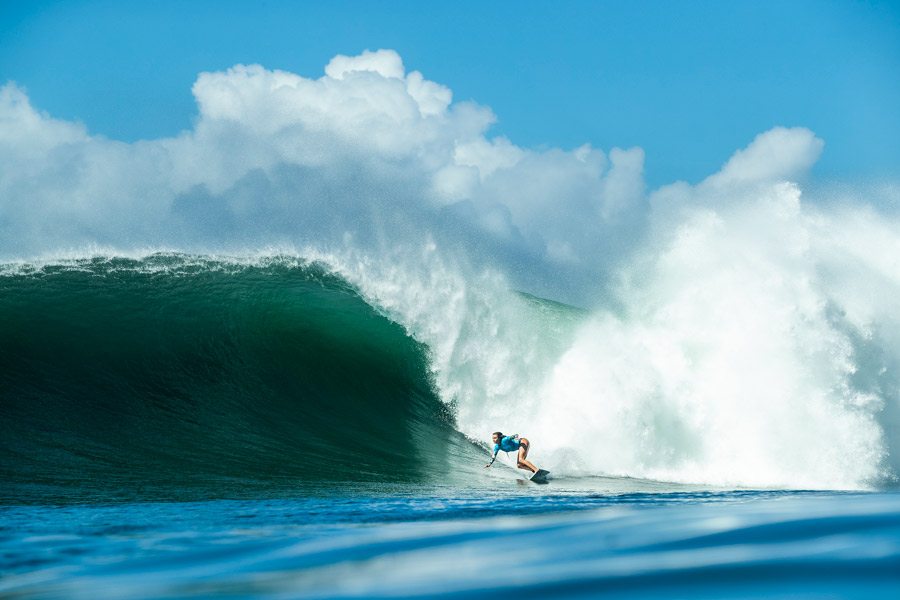 Pro surfer and bikini model Alana Blanchard seems to lead the most glamorous lifestyle. So how has her life changed now she travels with her family, 
pro surfer and fiance Jack Freestone and baby Banks? 
SurfGirl caught up with Alana on the eve of her wild card entry in the Rip Curl Pro, Portugal to find out more.
Alana your lifestyle video series with Jack on YouTube seems to be going really well, is this a change of direction for you?
Yes, I really like doing the video side of things. When my life is going smoothly it's fun to film the videos, when my life is a little more chaotic like it has been this year then it's a little hard to do the video stuff. I try to be as real as I can on the videos and just kinda show what we're getting up to and I kinda figured it was a cool way to show our life to our fans just a side of our life that no one gets to see I guess. On instagram I don't like sharing my personality so much so on YouTube it's a cool way to show how we really are, what we get up to and the ups and downs.
How is it combining your surfing career with being a parent?
It's really hard! We thought it would be so much easier like we would take turns at the beach, "you go surf, then I go surf," But being a professional surfer it's so much more difficult than that. Since we surf so much in the day, then we also train and all the other stuff as well, it's definitely a bit more challenging but along the way we have got a lot of great help which I totally recommend as it definitely takes like a little village especially if you want to keep pursuing your dreams.
Who has priority when the surf's pumping, you or Jack?
Ha, ha! I don't know, it depends. Jack's really good at it because he knows I have to stay home a lot more than him because he's on the world tour. He's really good, if we're just chilling he'll let me go surf and stuff. We always try to reach out to our family and friends and we bought someone with us on this trip to France as we're going to be away for a month and I'm going to be competing in the Rip Curl Pro in Portugal. So we decided to get some help so it's no stress. Its definitely challenging but we are lucky enough we have support from family and friends.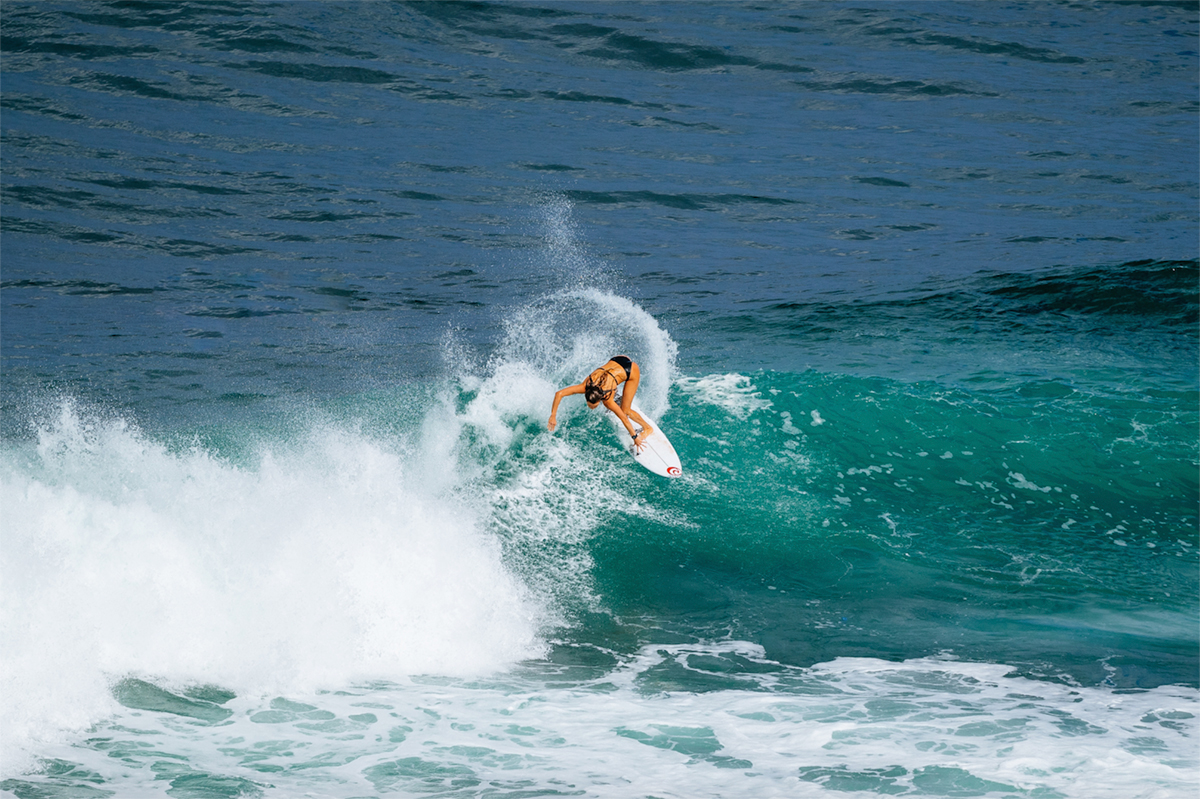 You're from Kauai and Jack's from Australia, so where's home now?
We go backwards and forwards from Kauai to Australia. We spent five months in Australia this year because that's where the world tour starts and they've got the contests and it's a great place to be training and working on things because there's so much going on there for surfing and they're really supportive. And then the back half of the year we're in Hawaii as that's where the tour ends and that's where I'm from.
Where's your favourite place to surf?
I love to surf at home on Kauai but it changes all the time. I've just had a stint where I couldn't surf for six weeks as I hurt my back but when everything is good and there's waves, I try to surf every day, like once or twice a day.
In a bikini?
Hopefully! But not right now it's so cold in Europe!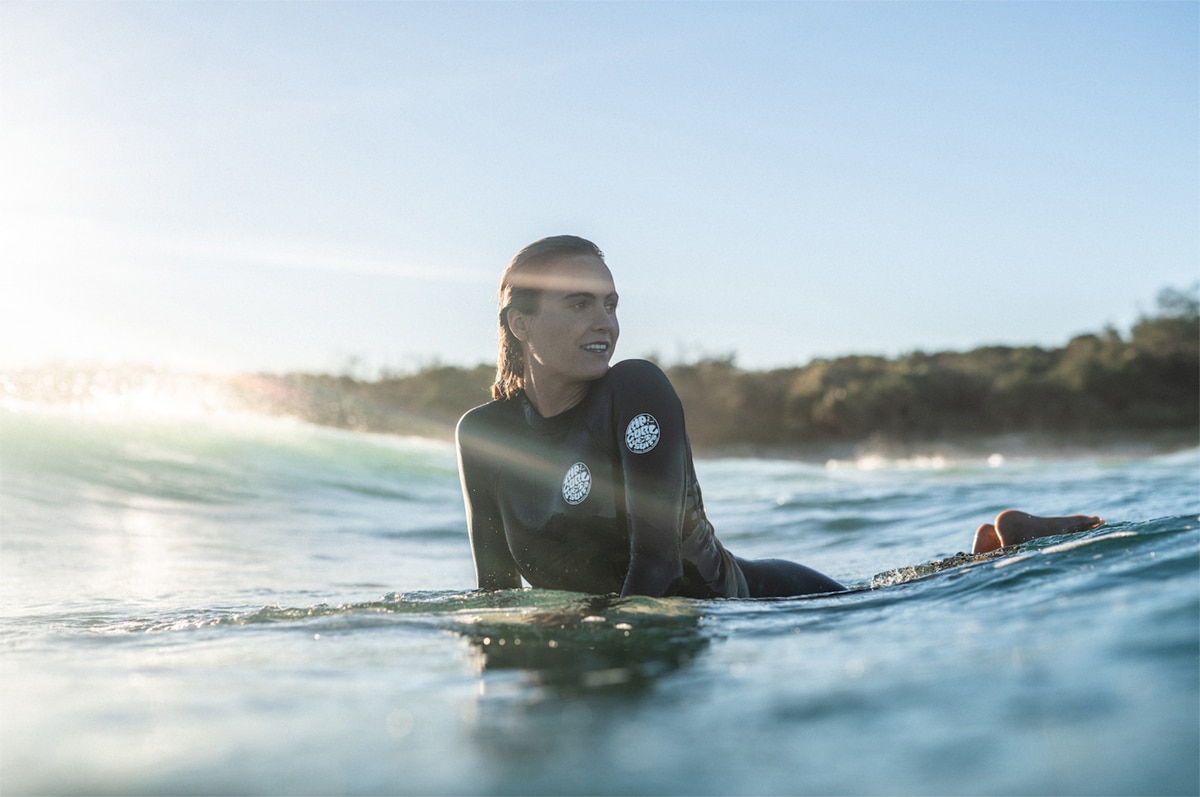 What words of advice do you have to someone who would like to get sponsored?
I would just say try to enter your local contests, try to get out there and do your best and don't put that much pressure on yourself like "I have to get sponsored," or anything. Really stay who you are don't try to be like anyone else just to get sponsored or anything. Being sponsored isn't everything in surfing, I just like enjoying myself really. The way I got sponsored was by entering some of my local contests and they saw me surfing. 
How about your modelling career, how did you get into it and would you recommend it?
It compliments the surfing lifestyle so well, so Rip Curl kept asking me to do their shoots and it naturally went like that. I think it's really great but have to have a strong head. I started when I was 16 and you're seeing pictures of yourself all the time, it's kinda weird and it made me too much in my head thinking about my body and I had a few weird years. I think being a model is a hard job because you're always analysing yourself and people are taking pictures of you all the time. So I think for a young girl it can be hard but if you're confident, and you feel you just want to have fun with it then it's great, just staying healthy and not taking it too seriously is a really good thing. I still do some modelling it comes and goes, but I always thought surfing was the first thing and everything else happened naturally.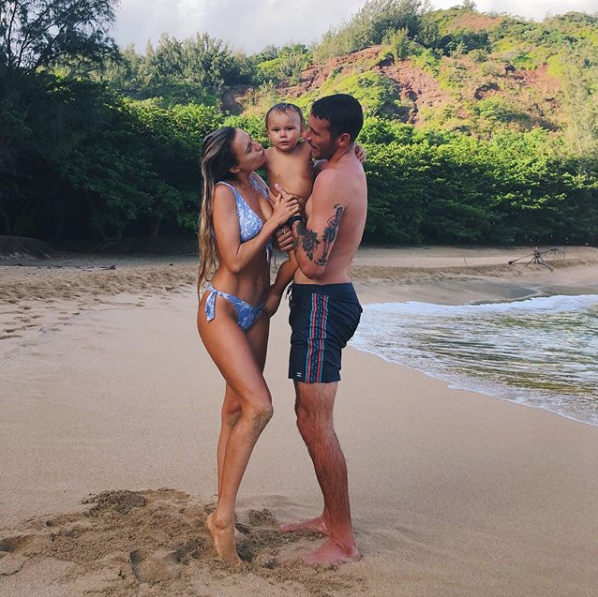 How's the women's world tour going these days compared when you were on the tour?
It's really great, the girls are surfing amazing and it's so cool they have the same pay now. I remember back in the day they would call the guys on when the waves were getting good. I remember being in a heat and they called us in and put the guys out because it was starting to get good. So to see that change even from the time I started to now is really cool.
Which of the younger generation have impressed you?
There's a lot of great girls out there Josh Kerr's daughter Sierra. Caroline Marks is amazing she's only 16 and she's on tour. The kids grow up faster and faster. It's great how a lot of them are taking their coaches and their family on tour because it can be a hard year.
Who's going to win the world title?
I don't know! I hope Lakey, she's never won before and she came so close last year that it would be cool for her to win this year.
STOP PRESS!
To coincide with the Rip Curl Pro in Portugal this week, we've an amazing G Bomb Zipperless 3/2 wetsuit courtesy of Rip Curl Europe up for grabs! Just go here for your chance to win!