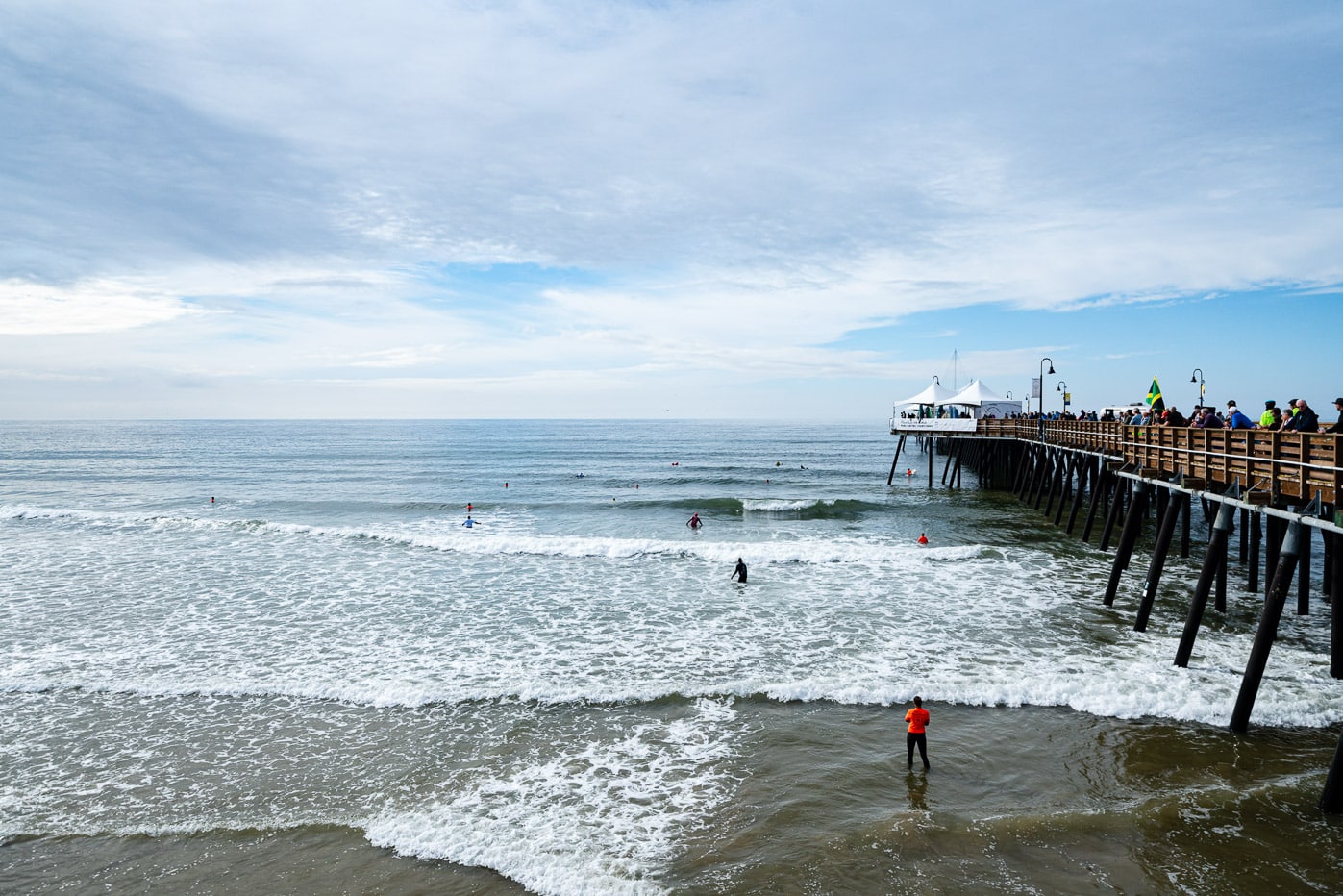 Pismo Beach, California Photo: Ben Reed
I returned home from the ISA Para world surfing games a few days ago exhausted, but absolutely stoked at the performance of both the team as well as the incredible band of volunteer support staff. The event involved 140 athletes from around 24 countries in which we had nine in our small but very focused and talented team.

The journey for me began around eight weeks ago when I was approached by surfing England CEO Ben Powis who asked me would I be willing to take on the role of team manager as I have had experience running and managing surfing events and teams for about 30 years, including a number of world surfing games in both short and longboard.
However managing the para team is so much more complicated and I knew I had a huge amount to learn in a very short space of time, but with the help of the team, Surfing England staff, The Wave who came in as headline sponsor, as well as experienced coaches such as Andy Joyce, we began to put the plans into place, and on a cold but chilly Heathrow morning flew out to Pismo in central California to begin the event.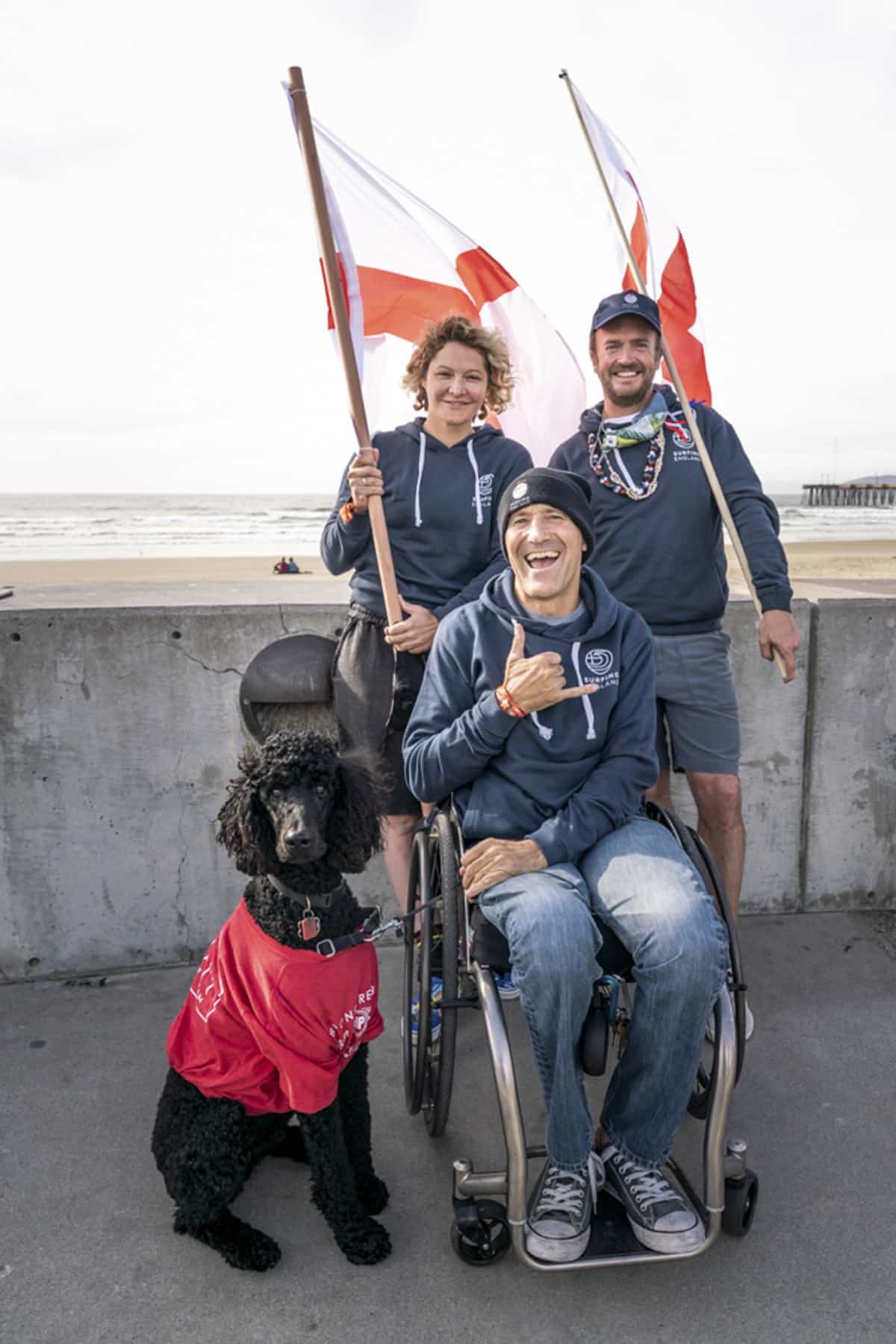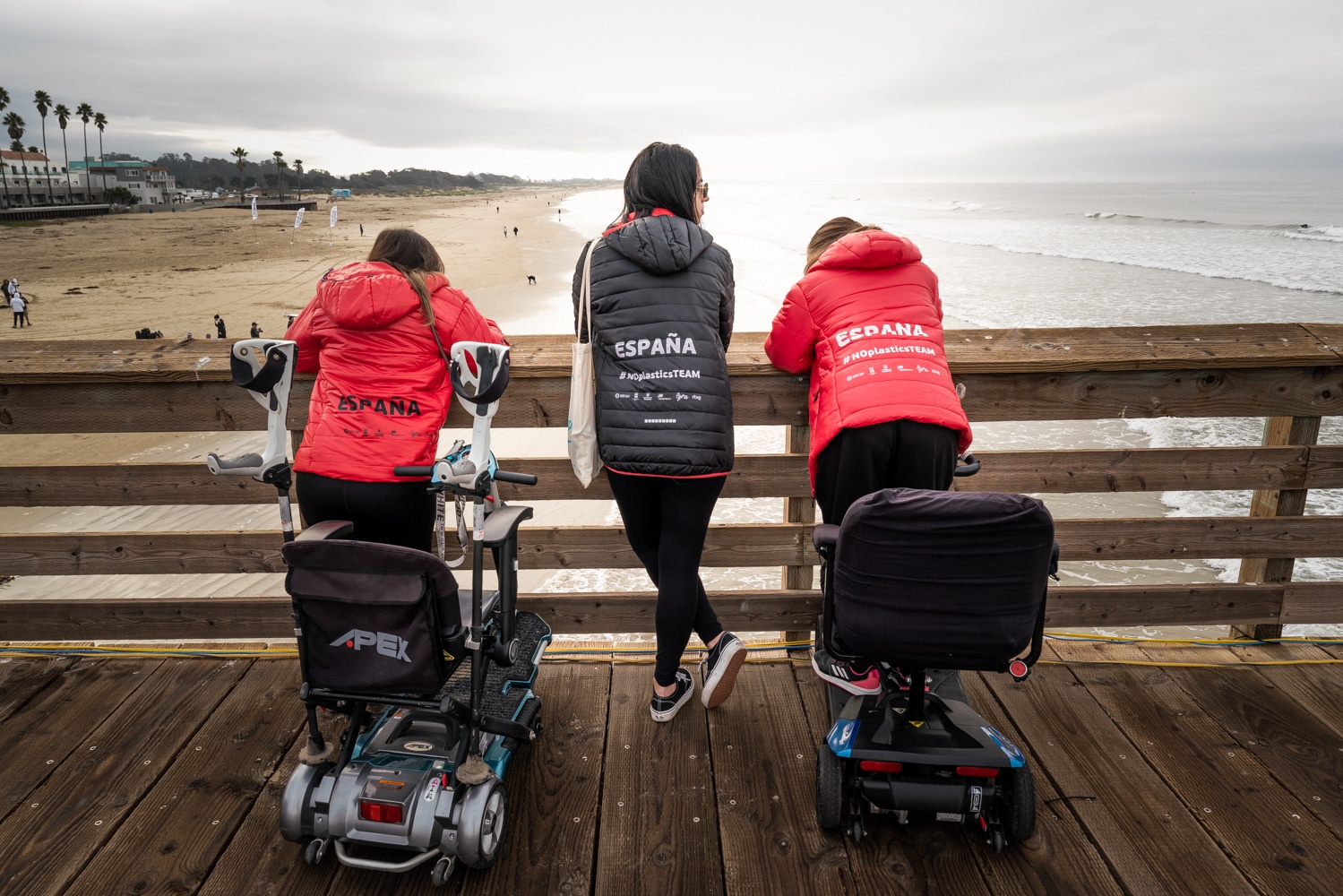 The view from the pier Photo: Sean Evans
Many of you are familiar with the adaptive surfing games which have been held for around six years in Cornwall, and over the last two years at 'The wave', however that name is being changed to the Para surfing games due to the fact that it links in with the Paralympics which ISA (International surfing association) have set for their goal for surfing to be included.
Locally the event was put together by Amp Surf (Dana Cummings) who have been doing amazing adaptive work over numerous years, and that's where they are based. With anything like this the infrastructure and knowledge required to put something of this magnitude on safely and ensuring the athletes have a fantastic experience is huge.
The surf team consisted of experienced athletes who have been involved in five or six previous world surfing games along with three newcomers, two of which had only just started surfing in the last six months or so, a great blend which I believe stood us in good stead.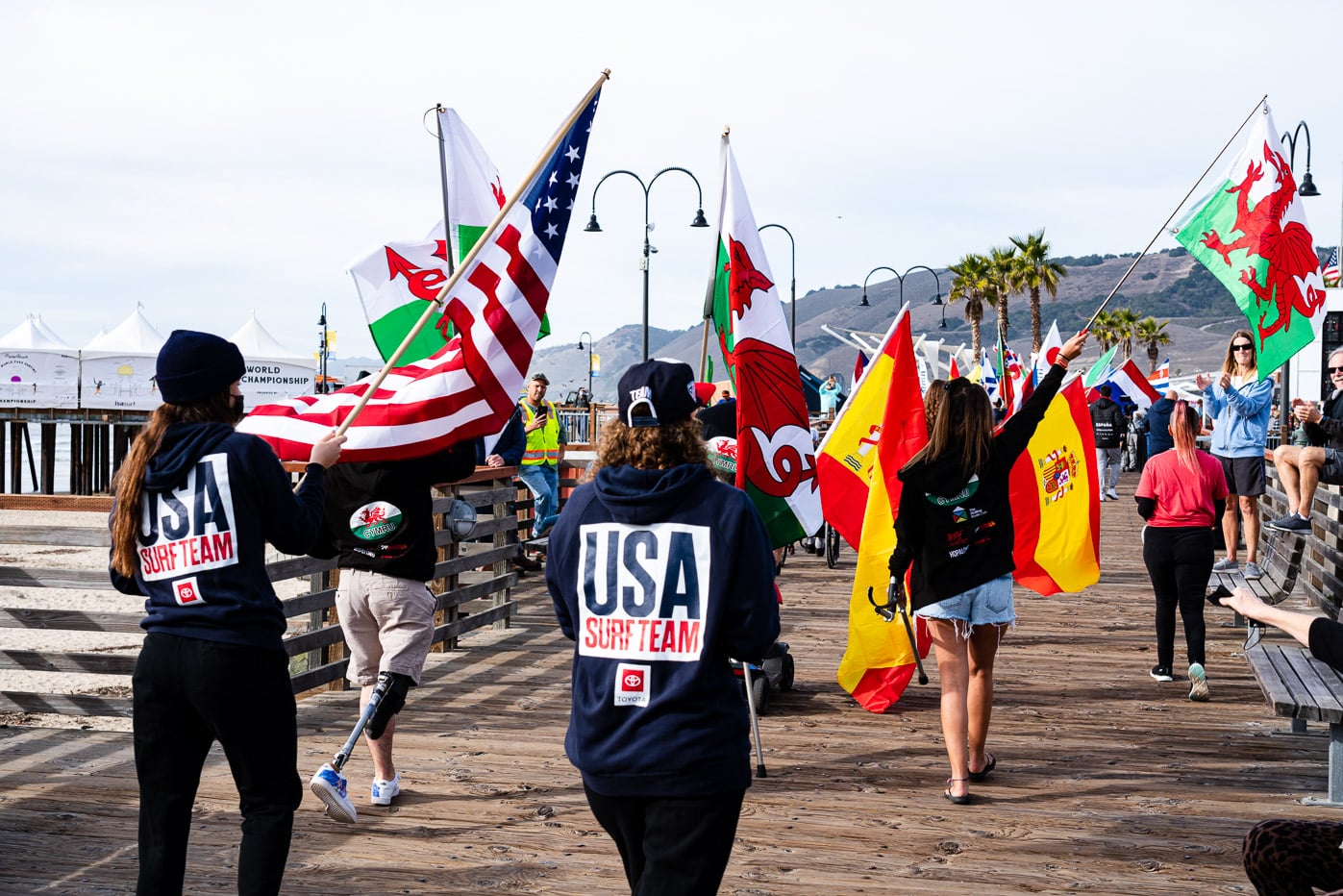 Parade Of Nations Photo: Ben Reed
Due to Covid clearly there were a number of protocols that had to be put in place as when the para community get together it's like an incredible team from around the world all mixing and celebrating, sharing inspiring stories and all with a great sense of humour. We had to try and ensure everyone on the team remained healthy.
The Surfing England team were based around two houses very close to Pismo Pier which meant team bonding, meetings and social events could be organised relatively easily. It was also great to connect with the crew from the Welsh Surf Federation and their two athletes as well as Ben, Toby, and Seren from Surfability who have invested so much in adaptive surfing.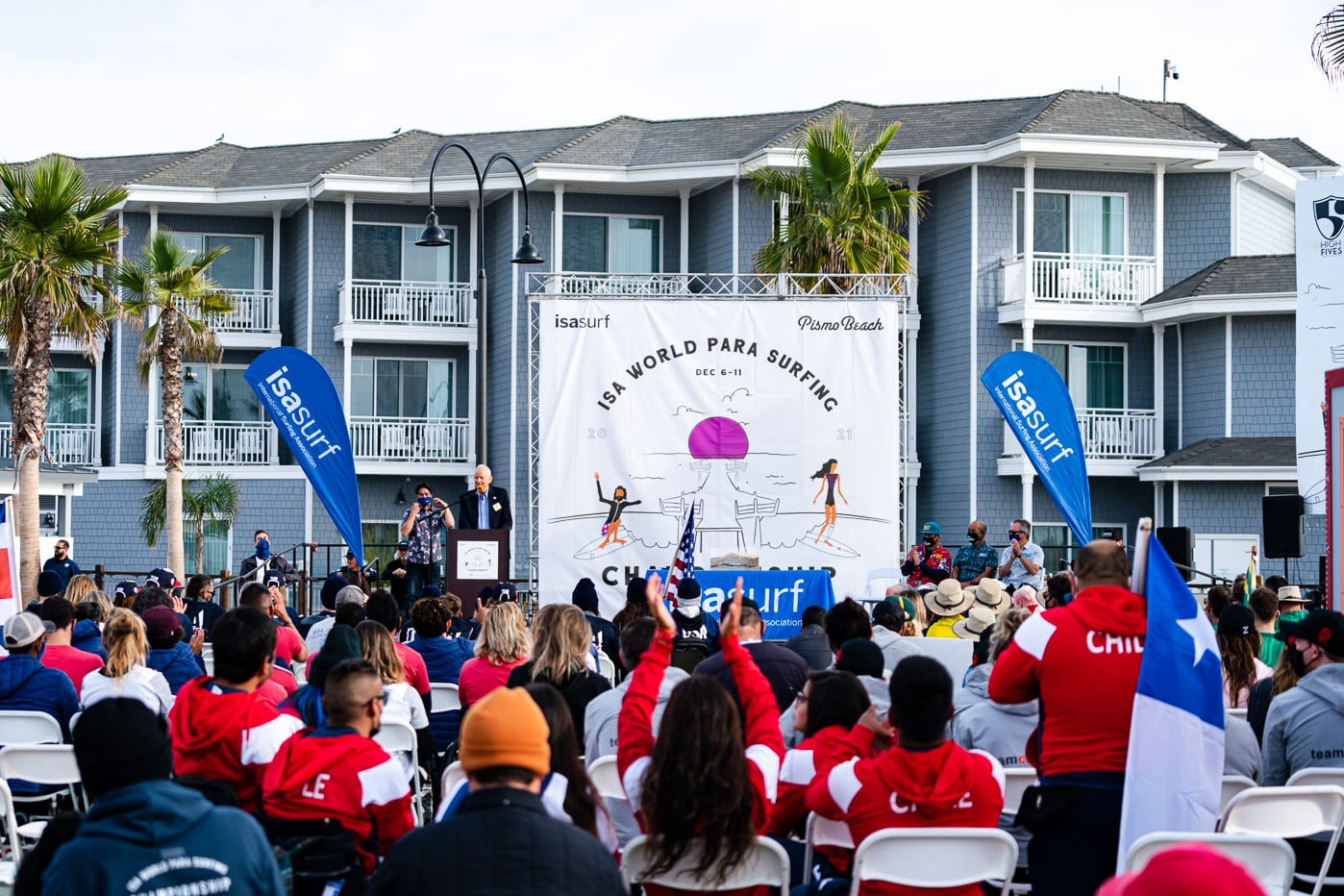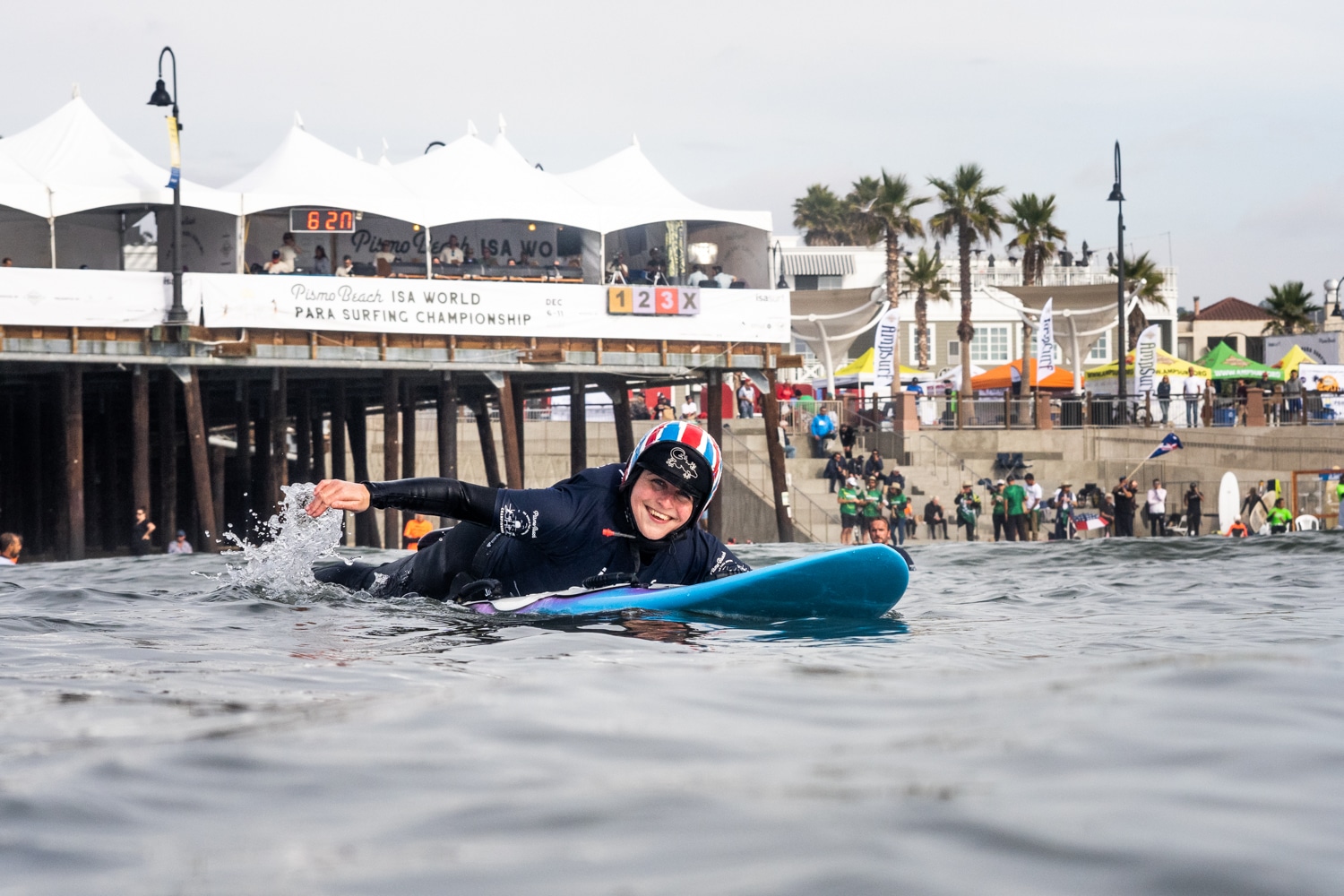 Englands Hannh Dines all smiles Photo: Sean Evans
Now to the event itself, each of our athletes did incredibly well which meant by the end of the five days of competition the English team ranked seventh out of 24 teams one of our highest (if not highest) positions to date and including three medal winners.
The weather in Pismo during the week was generally dry but in the mornings pretty cold (4C) and apart from one more stormy day the surf was very contestable in the 2 to 4 foot clean range perfect for the competition.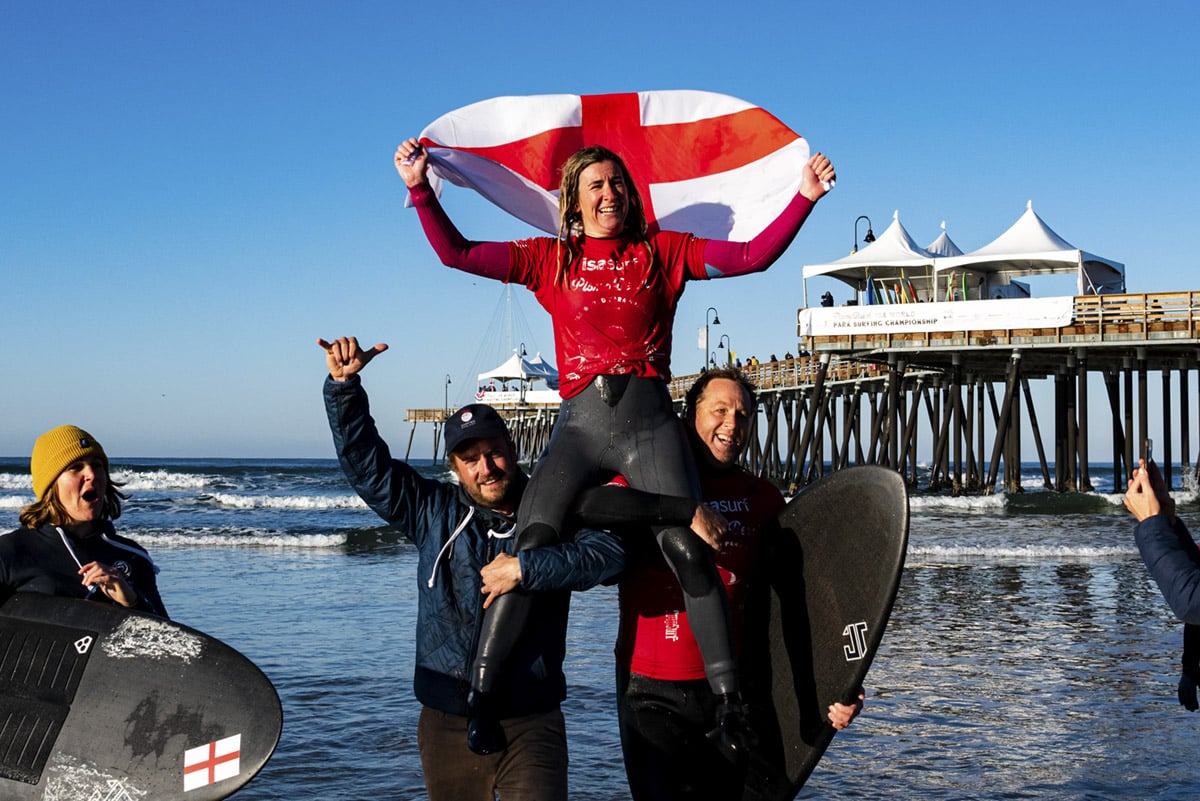 Melissa Reid (above) in the visually impaired category took her third gold medal, in a really strong set of performances with Isle of Wight's Matt Harwood acting as a guide, some brilliant waves surfed in some really good offshore conditions for the finals.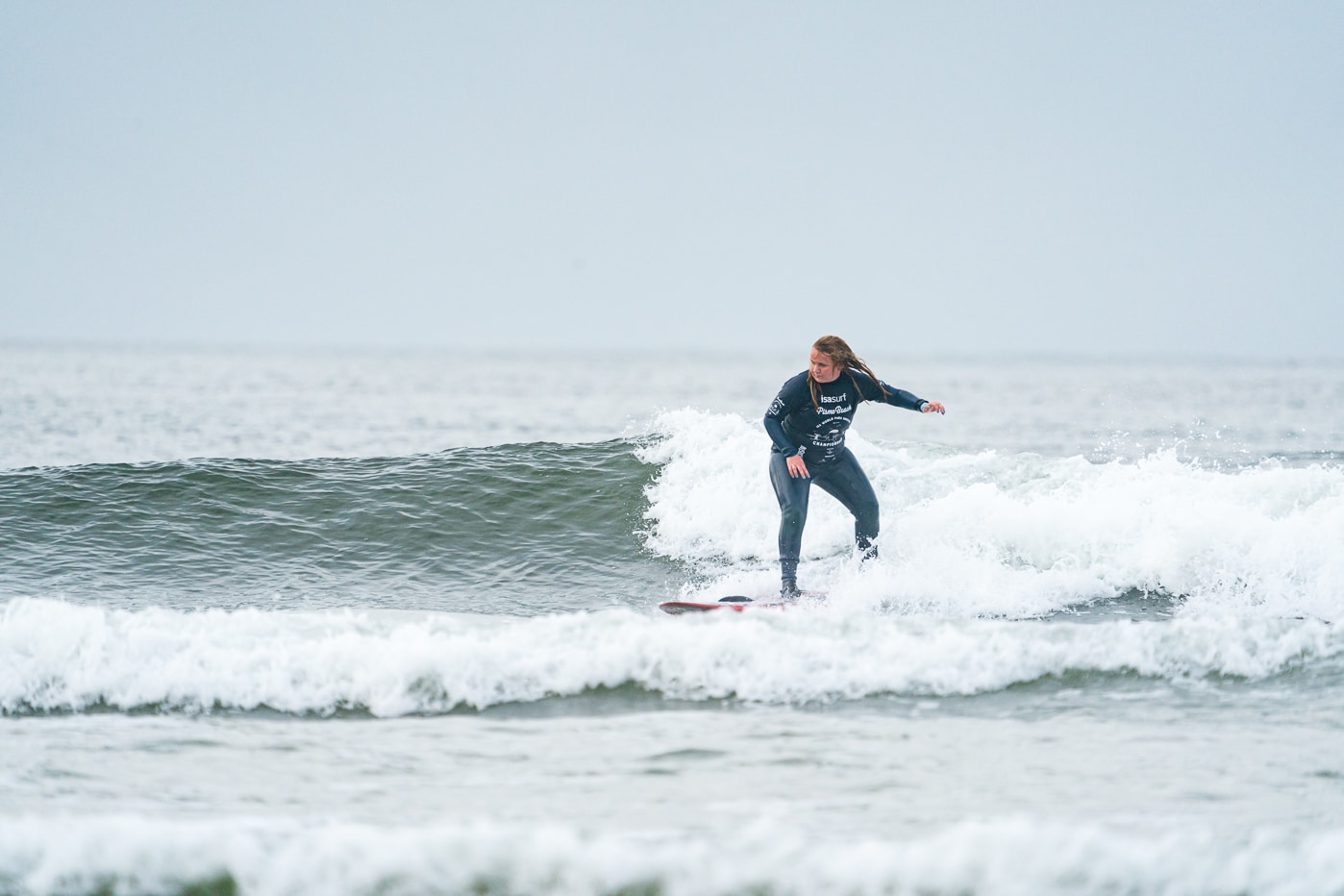 Charlotte Banfield, Team England Photo: Ben Reed
In a very strongly contested prone assist division we had to female athletes, Tash Davies competing again in the games and very narrowly missed out on the final, and Hannah Dines in her first-ever games just squeezed into that spot, and came fourth overall (copper metal) with the assistance of her pusher and catcher Matt Harwood and Newquay's Mike Young.
Dorset's Zoe Smith, had a fantastic inaugural world surfing games in the stand division, just missing out on the final but with brilliant performance and she only started surfing in the summer !! The futures bright.
The final member of the women's team was experienced surfer Charlotte Banfield who once again made the final and despite not feeling well did her country proud with a copper medal.
In the men's division (Wave ski) unfortunately head of stoke Spike Kane badly injured himself in a competition at Huntingdon Pier just the week before, but that wasn't going to stop him putting on a rash vest, being wheeled down to the beach, touching the water, and therefore gaining valuable points for the team, and that highlights the spirit and attitude of the para surfing community.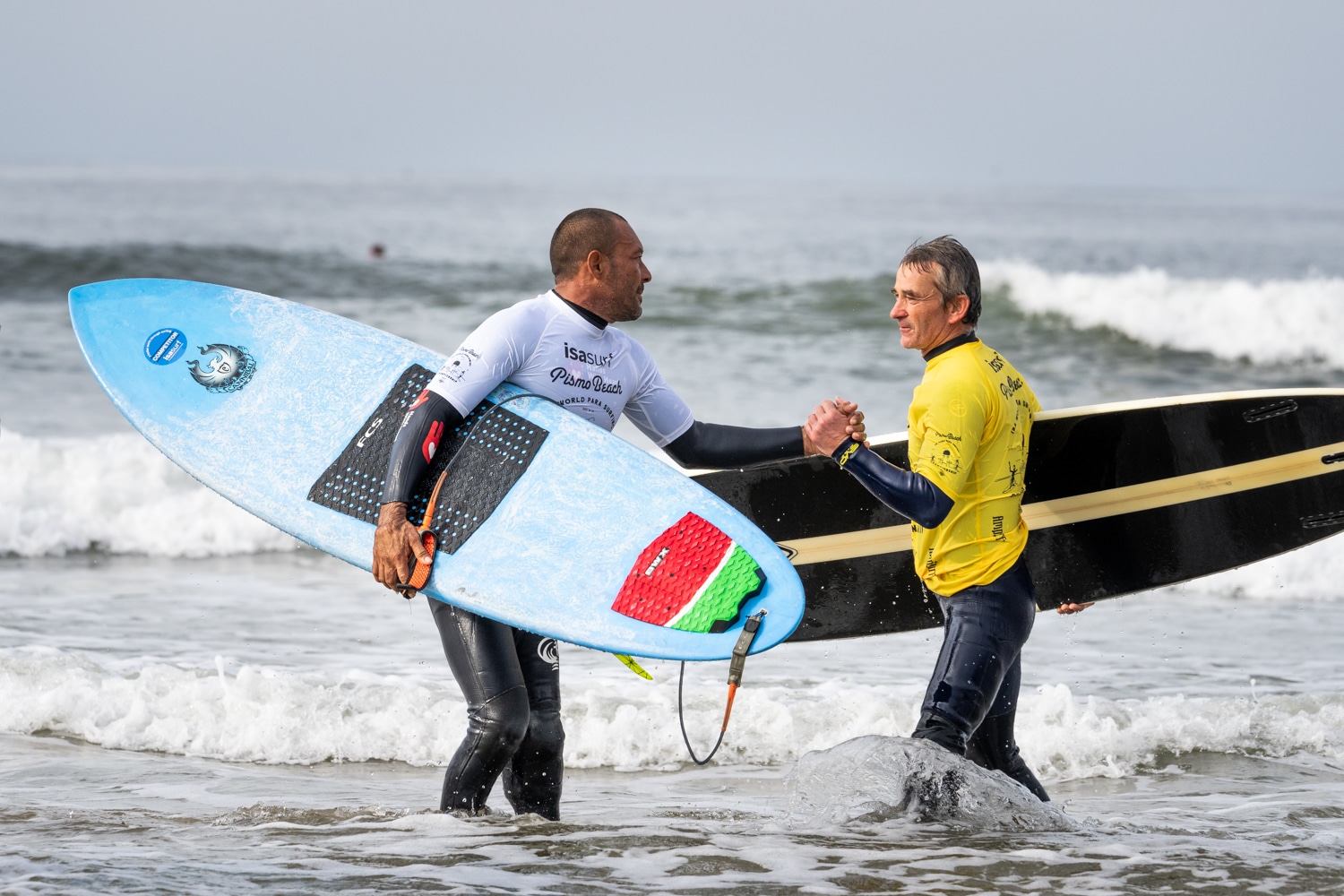 Pegleg Bennet, Team Englad and below in action Photos: Sean Evans
Dave Lewis in his first world games surf really well in the visually impaired category with local guide Rodney, who joined the team to help out for free from Pismo Surf Academy a big thank you to him.
In the men's standing Pegleg Bennett an experienced campaigner and also assistant coach on this trip surfed really well to get to the semi-finals but just fell short to 3 other strong athletes to miss out on the finals. Some great waves caught, in what turned out to be a very high-scoring affair.
The final member of the England team was Cornwall's Martin Pollock once again experienced in world surfing games, and just missing out on the final this year in the Kneel Division. It should be mentioned that Wales Llewellyn Sponge should actually be world champion but sadly due to an interference he was pushed down to 3rd place but surf brilliantly throughout, and I'm sure will learn for the future, well done Sponge.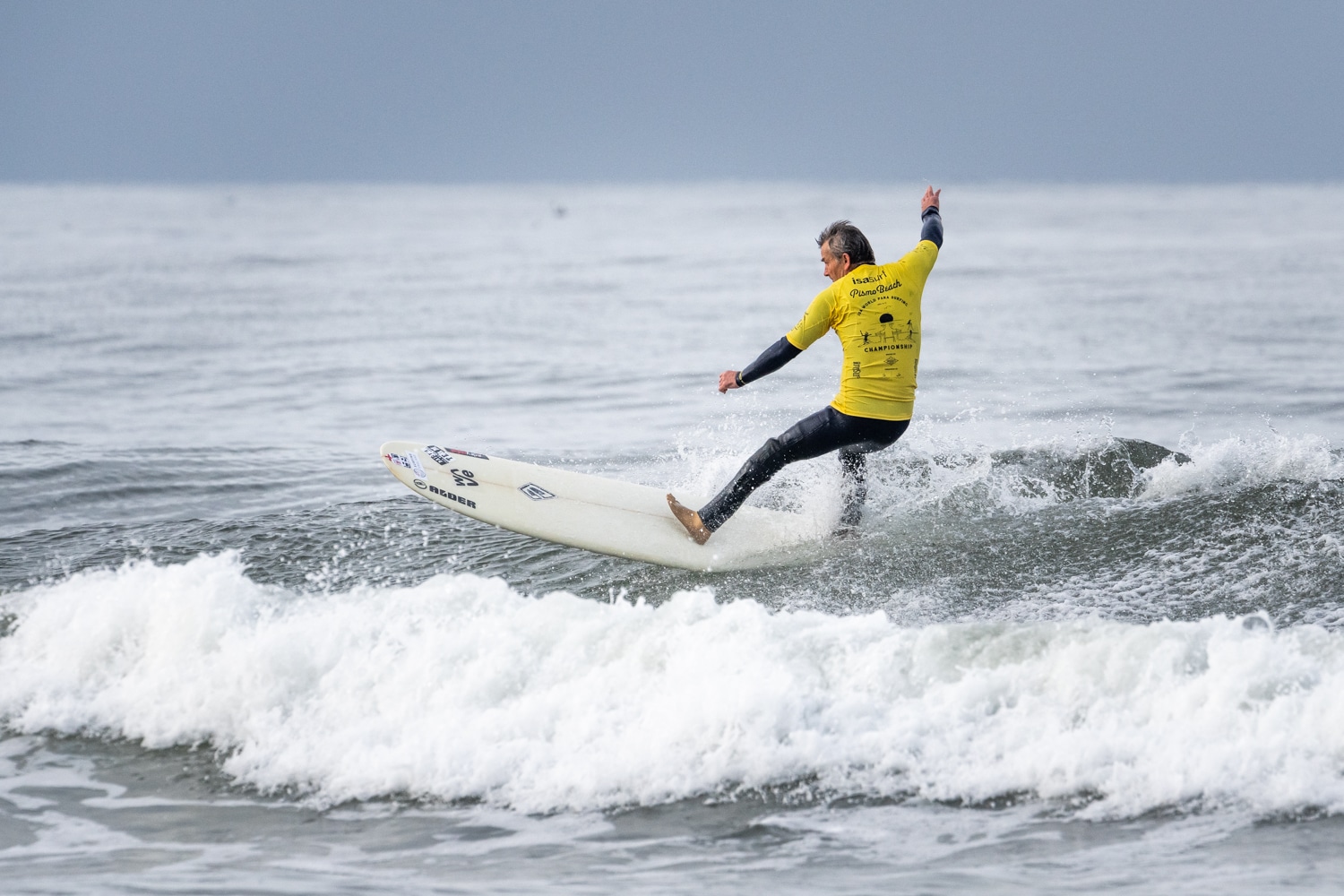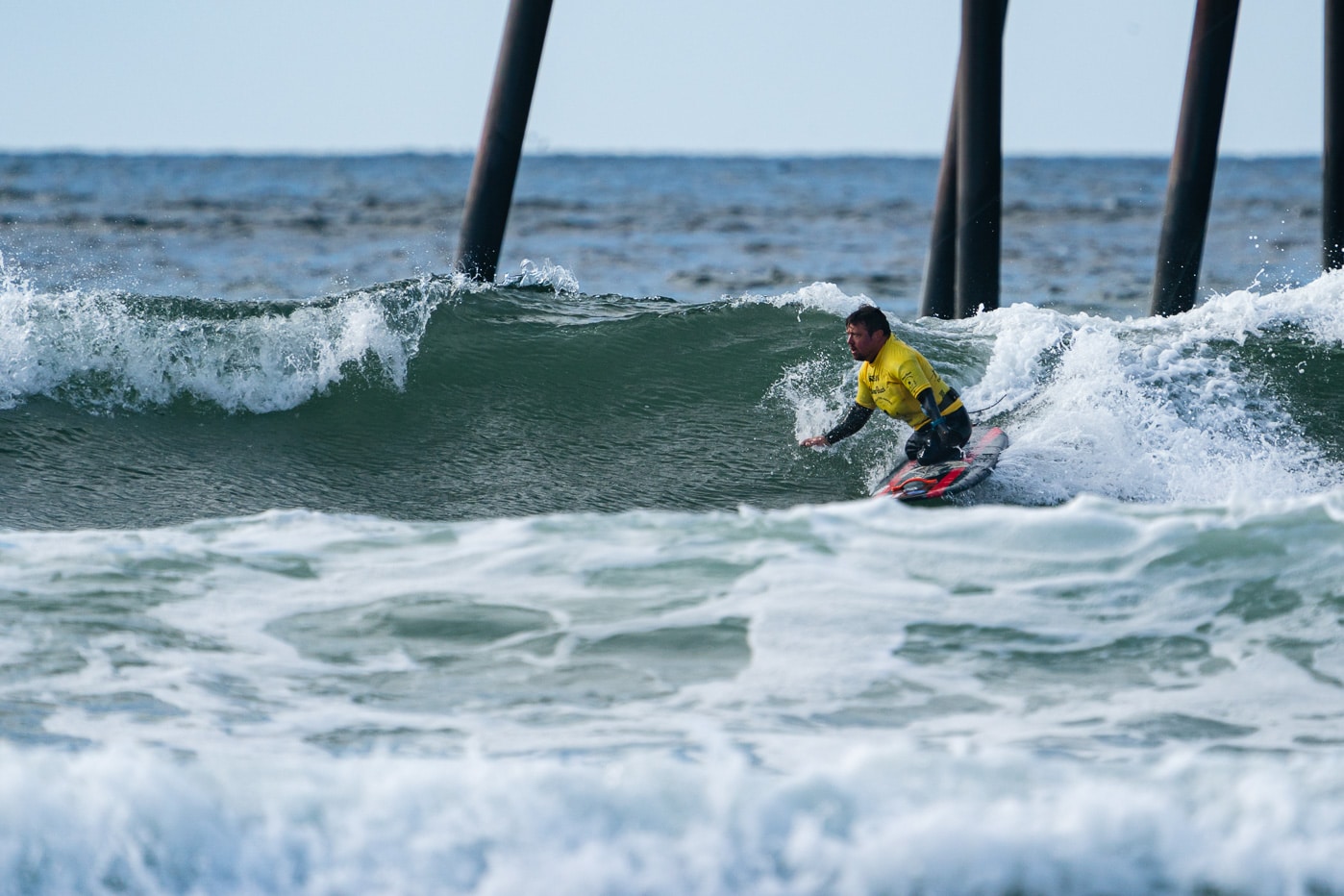 Martin Pollock, Team Englad Photos: Ben Reed

As always, these events finish with a formal closing ceremony, followed by a night of celebration, fun and music. For me personally at these games I learnt so much which hopefully we can build into the plans for the future as the para–Surfing England team grows and grows not only in the coaching areas, but also in all the other topics which add up to make a team really really strong.
I personally want to say a massive thank you to the Surfing England team, and also to 'The wave' who very kindly stepped in as headline sponsors without you things would have been so much harder. I also want to thank the numerous messages of support back in the UK, and coverage from the Surfing media. In my additional role as chief team photographer, I know that we were able to get the images out to the public swiftly and that really helped bring the games closer to the British supporters.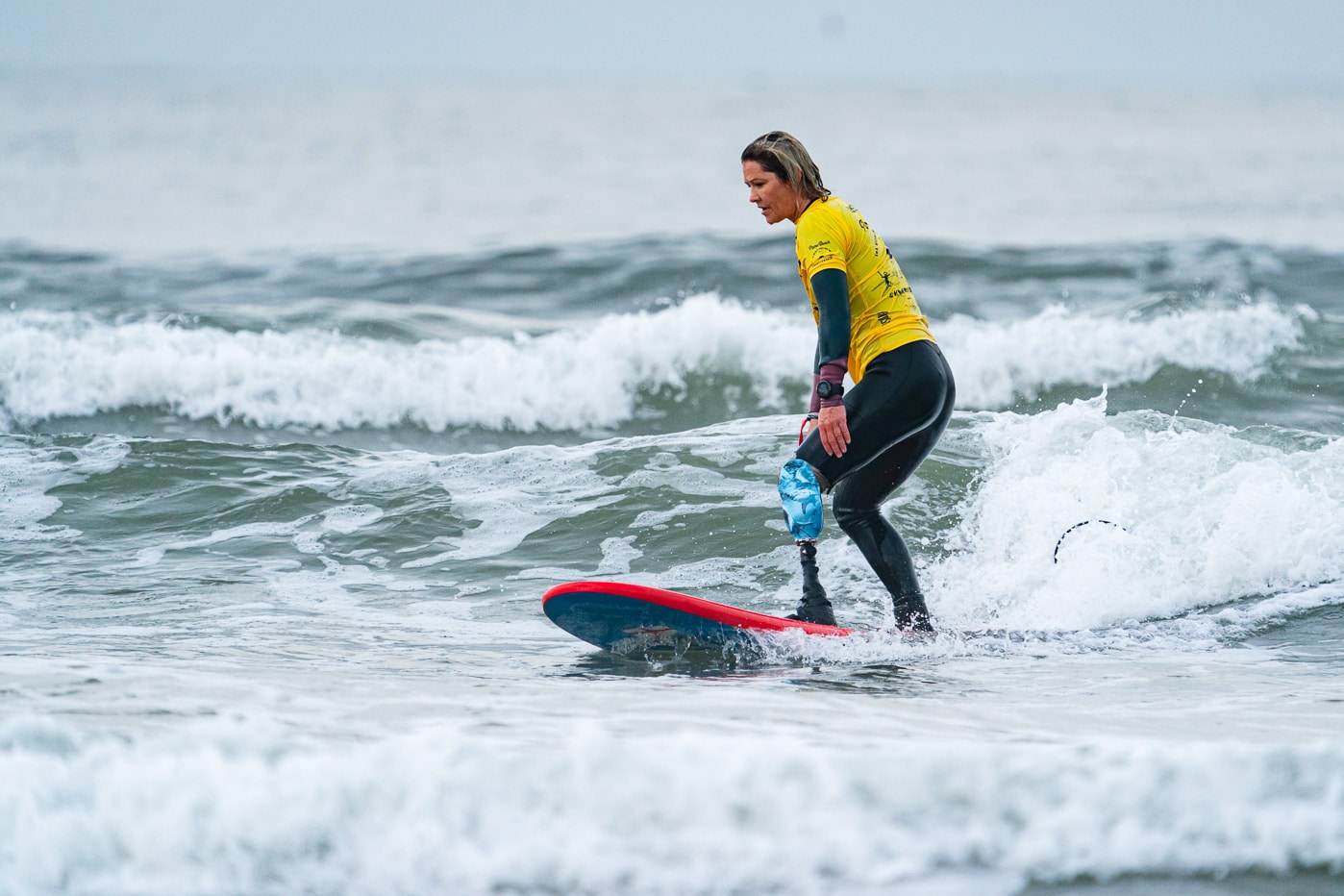 Zoe Smith, Team Englad Photos: Ben Reed
Also, I want to thank Christian Surfers UK for their ongoing support in these initiatives, and releasing me for two weeks to serve the team, and for their prayers to ensure that the athletes remained in good shape so that they can concentrate on the event itself.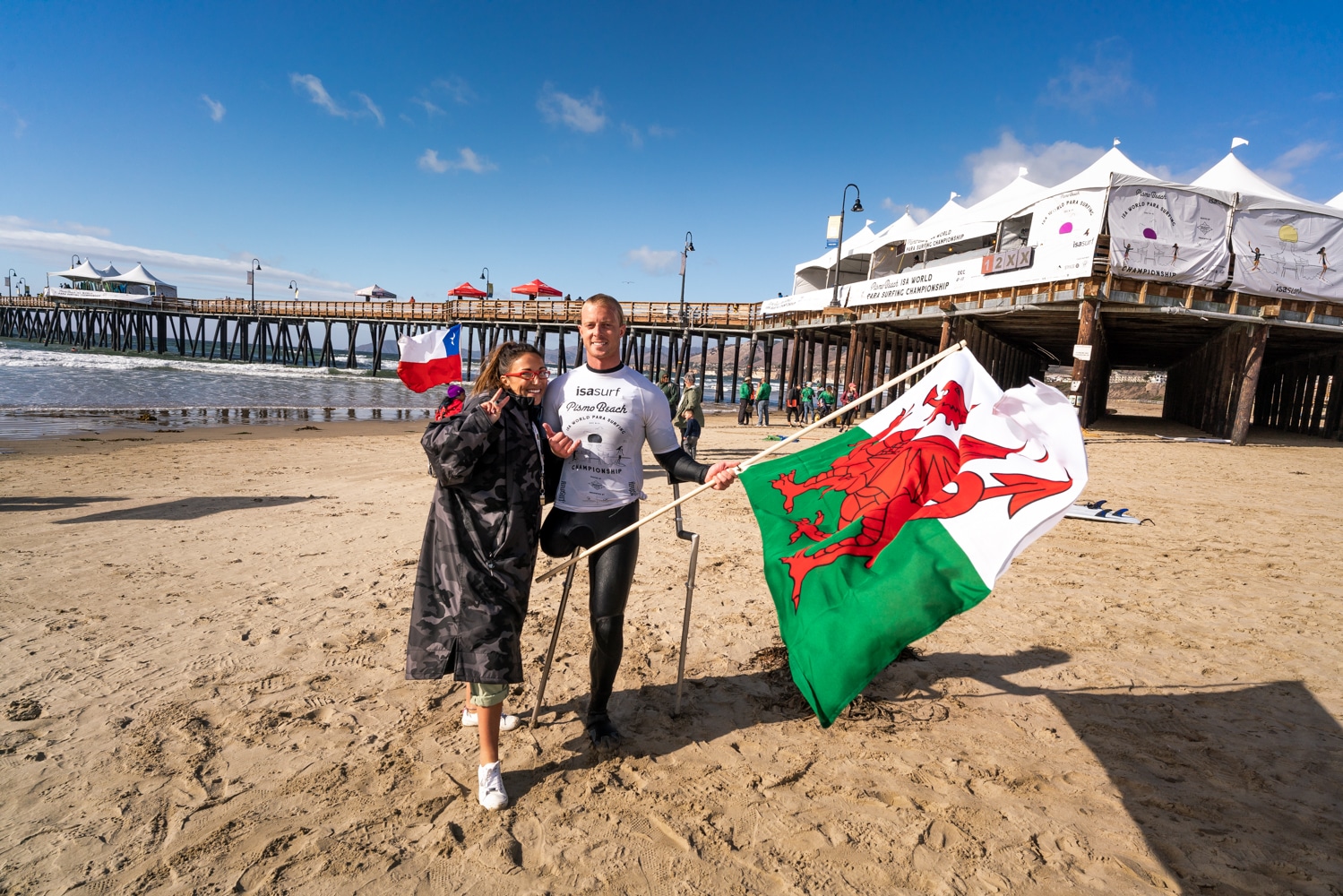 Llywelyn Williams, Wales Photo: Sean Evans
The ISA and Amp Surf along with their supporting partners put on a fantastic show of which I know all the athletes and support staff really appreciated, so thank you to them.
Finally, a huge thank you to the support team which consisted of Andy Joyce (coach), Nick and Luca Hounsfield, Matt Harwood, Seren Dixon, Toby Mai Smith, Mike and Lyndsey Young and Tanya Banfield, a huge team effort which I think will only get stronger. So much to be learnt and looking forward to 2022, I think still at Pismo where hopefully we can be joined again by Welsh and hopefully a Scottish team as well.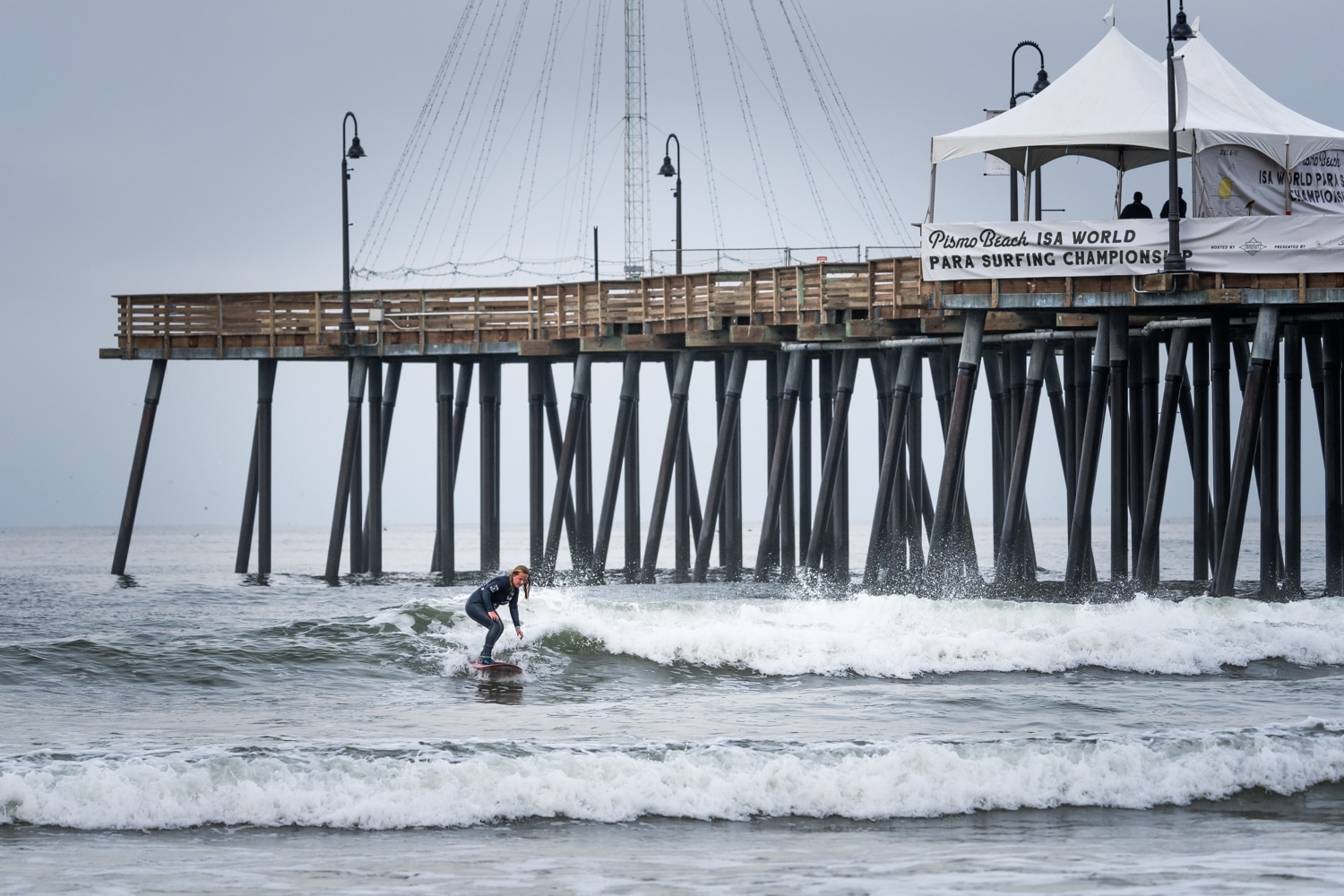 Charlotte Banfield  in action Photo: Sean Evans
Thank you again for the opportunity Surfing England to serve the team and for the support throughout from so many of you during the games. Have a fantastic Christmas and look forward to seeing your soon. For full report and pictures go onto the ISA website here. 
PS I know that The Wave have got opportunities for Adaptive surfing as well as one or two other specialist organisations such as Surfability in the UK so as a good starting point contact Surfing England who will point you in the right direction.