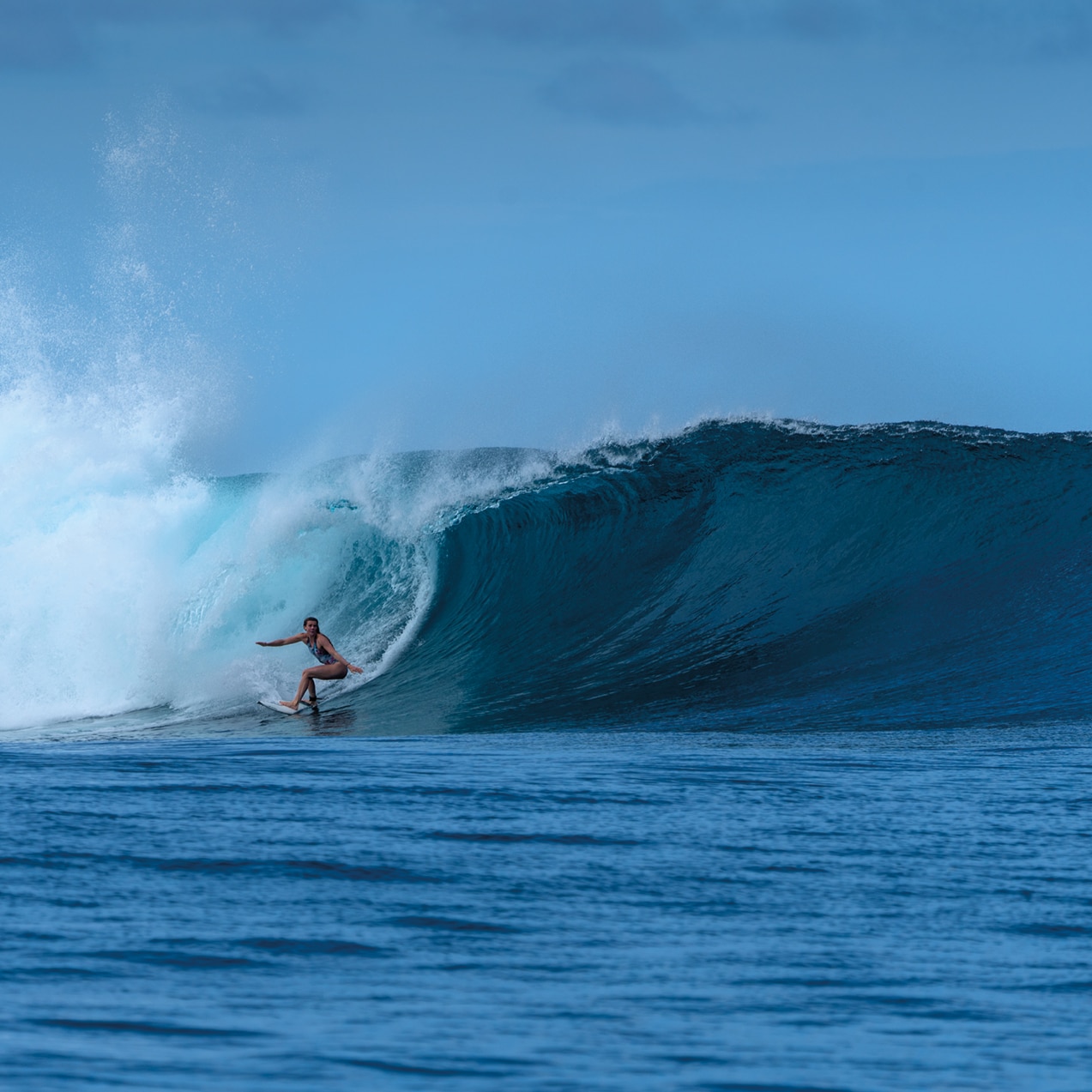 Words Lucy Campbell Photos Sharpy

A sense of freedom is different for everyone: Running along coastal trails, skydiving or getting lost in a good book. Whatever it is that helps us to break free from the pressures around us, puts a glow in our hearts and a smile on our face, is what we should do more of. I'm guessing, if you're reading this, that your escape, like mine, is found in and around the ocean. So life floating around Sumatra on board the OA3 catamaran was, for me, freedom in its purest form! Surfing with friends, free to explore whichever remote little Islands and waves we wanted, no time constraints and just us with the big blue sea for company.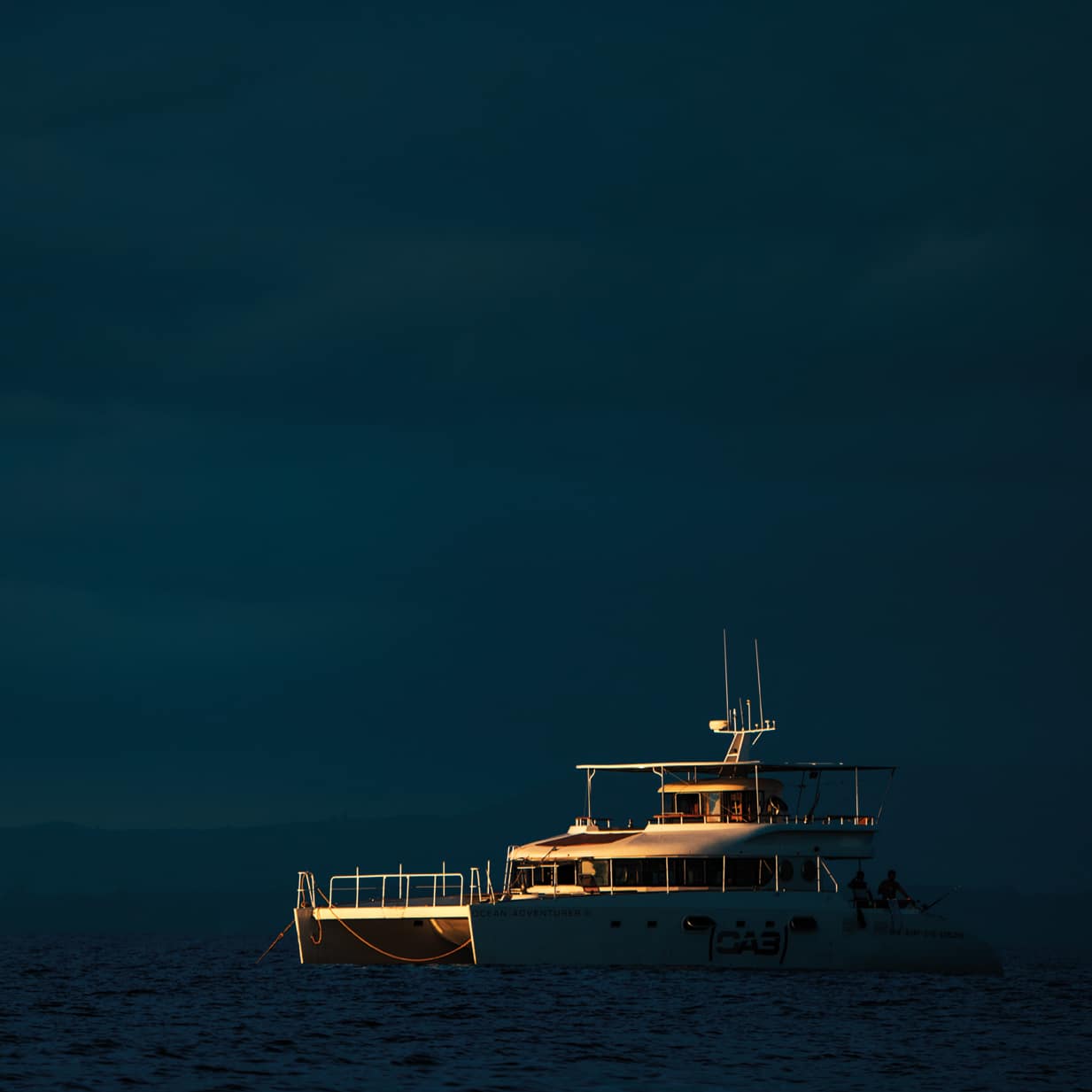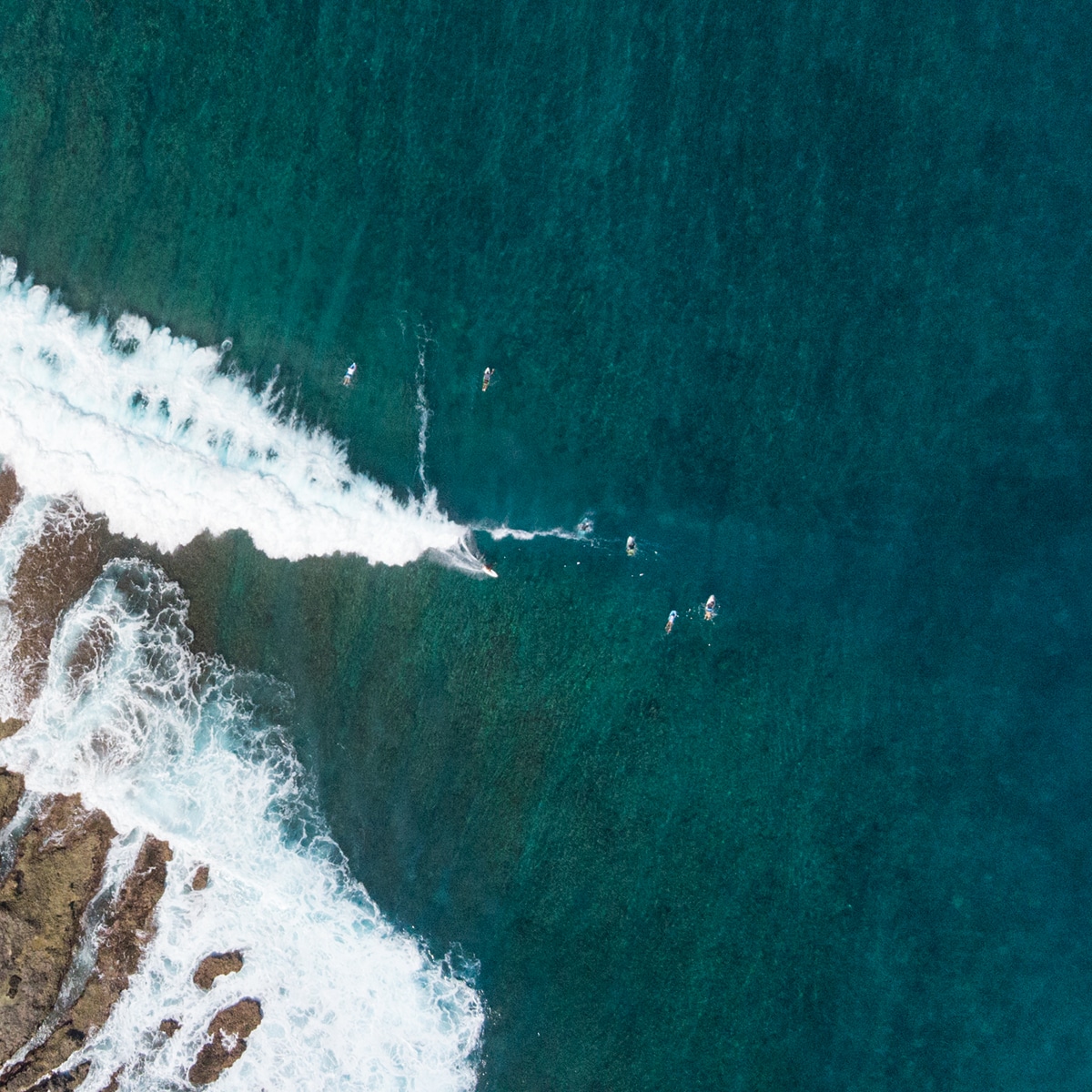 From reeling rights and points with peeling walls, to shallow, hollow lefts, we surfed all types of breaks.
From reeling rights and points with peeling walls, to shallow, hollow lefts, we surfed all types of breaks. It proved impossible to be on the boat watching perfect waves go by un-ridden, without getting over-excited and jumping back in! We would pull up at a spot, drop anchor and spend the day dipping in and out of clear blue waves, coming back to nap, eat or wait for the tide to change, then move onto the next spot. No mobile signal, no wifi, just surfing, reading, fishing, plenty of card games and belly laughs. It was bliss.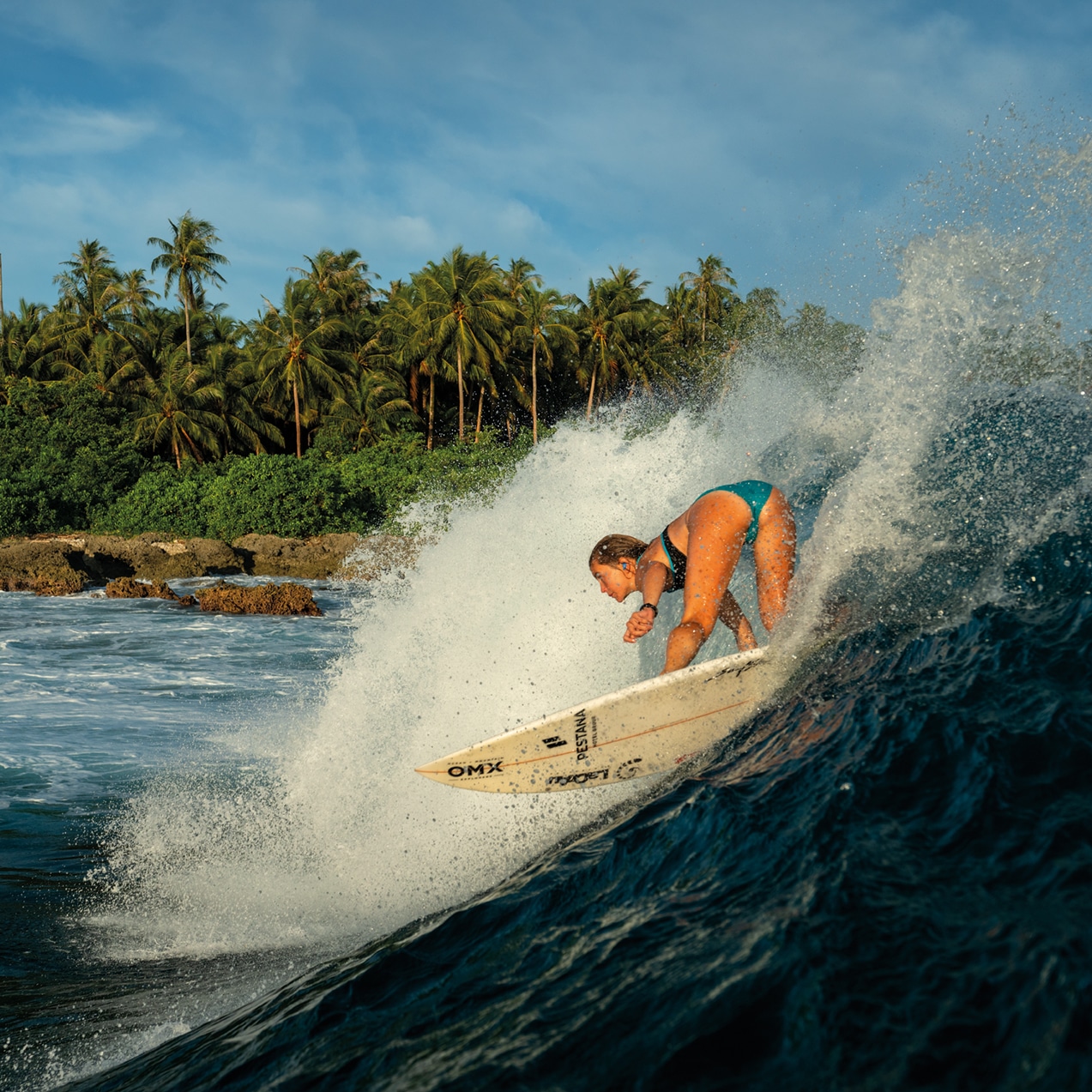 My favourite evenings were spent surfing until sunset, awestruck by the incredible colours in the palm-lined sky and the silky tones of the ocean. Returning to the boat in the dark, bruised, reef cut, a little sunburned and surfed out, but beaming. Then we'd lie down on the bow of the catamaran after dinner, joking, counting shooting stars, gazing at the night sky above us and the luminescent plankton flickering below us. 
It seems that days on the islands are spend picking coconuts, fishing and spending time with family. Our first introduction to the locals was somewhat alarming, when a couple of us tried to swim to a sandy bay to get a better view of the wave, and a man came running down the beach waving a large stick around his head, shouting and signalling for us to go back where we came from (which we did rather hastily)! However, as it turned out, he protects the beach to keep the nesting turtles safe. For the rest of our adventure, everyone we met was lovely and eager to talk with us. On the rare occasion that we surfed with anyone else out, we all chatted, exchanged advice on waves to try, places to see and took turns catching waves.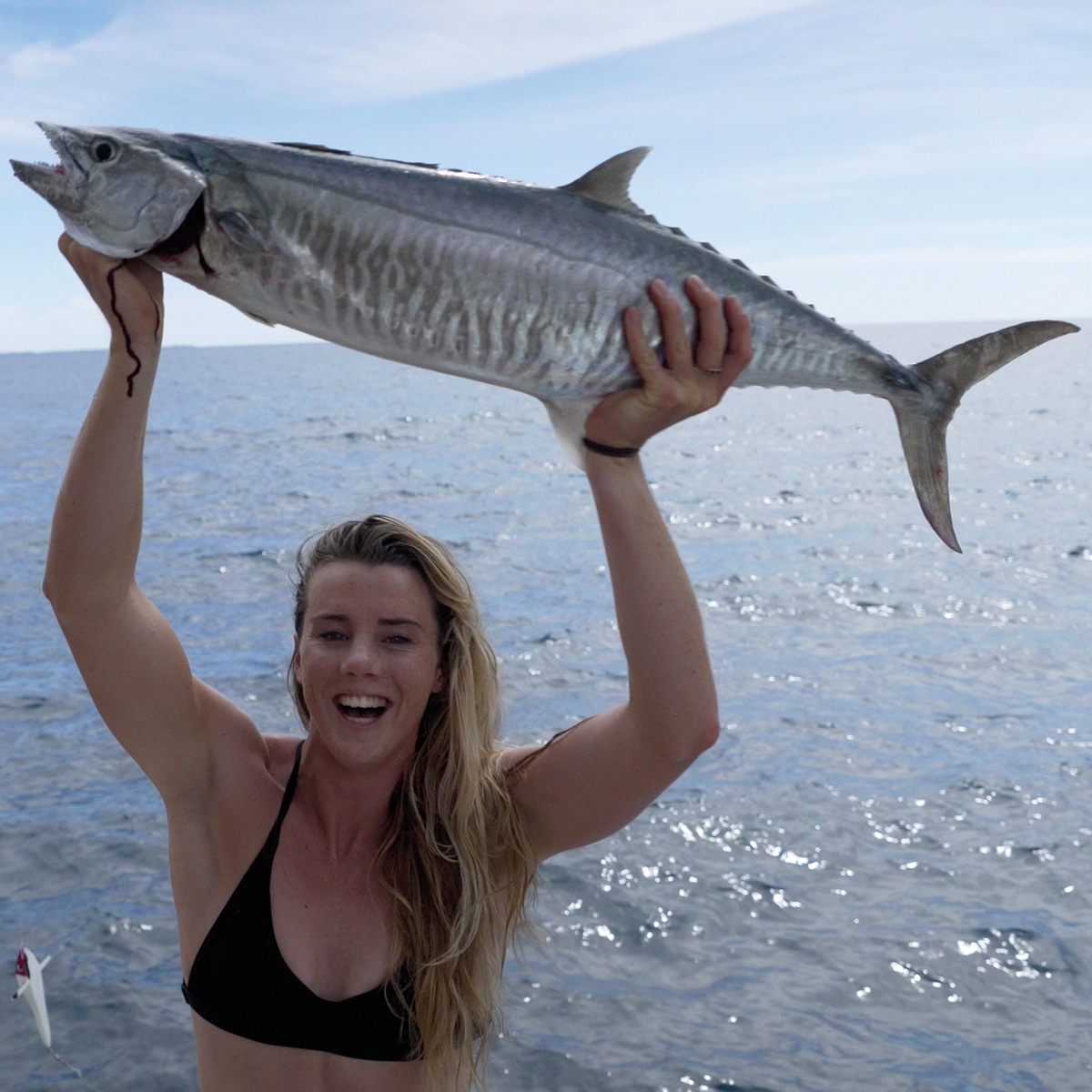 Sailing back to port, pondering back over the two weeks, my favourite snippets – other than the waves – were the views as we cruised past teeny tropical islands; the fresh sashimi right after we'd catch a fish; sitting out back each day watching the underwater paradise; snorkelling over the coral beds in turquoise water and night swimming in the sea with the sparkly plankton. I did catch one fish, but accidentally released back into the sea, the dived in to re-catch it with my hands. I also discovering that the only way to get signal on the Banyak Islands is to stand on a big, dead tree on the beach – which felt a bit silly but was worth it load a surf forecast and set sail with a new plan.
I'm sure Leonor (the lovely, Portuguese shredder) will agree, how amazing it was to surf with the guys on board the boat. They were always calling us into waves and encouraging us. And watching them get some of the craziest barrels and make insane drops was inspirational.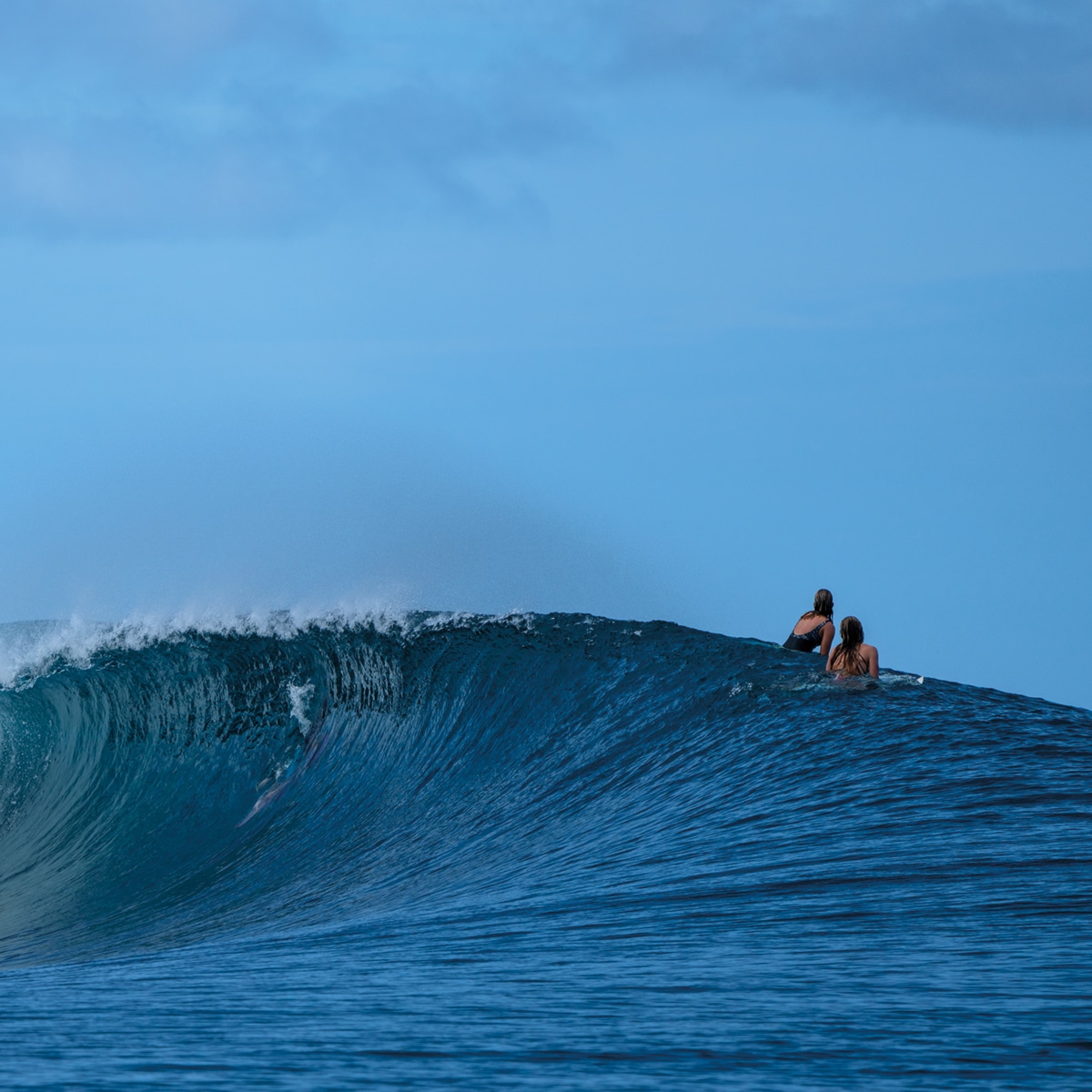 A boat trip has been my dream adventure for many years, and I can safely say it was the best trip I've had the pleasure of being a part of – with a group of new friends that now feel like a little family! Sometimes it takes a little courage to find freedom. Boarding a boat for two weeks with a group of people I barely knew was for me, a little scary, but I've come away with hundreds of fantastic memories. Thank you to the whole crew for making me laugh all day long, push my surfing (and fishing) and for the memories of a lifetime.